Five USDGC spots are up for grabs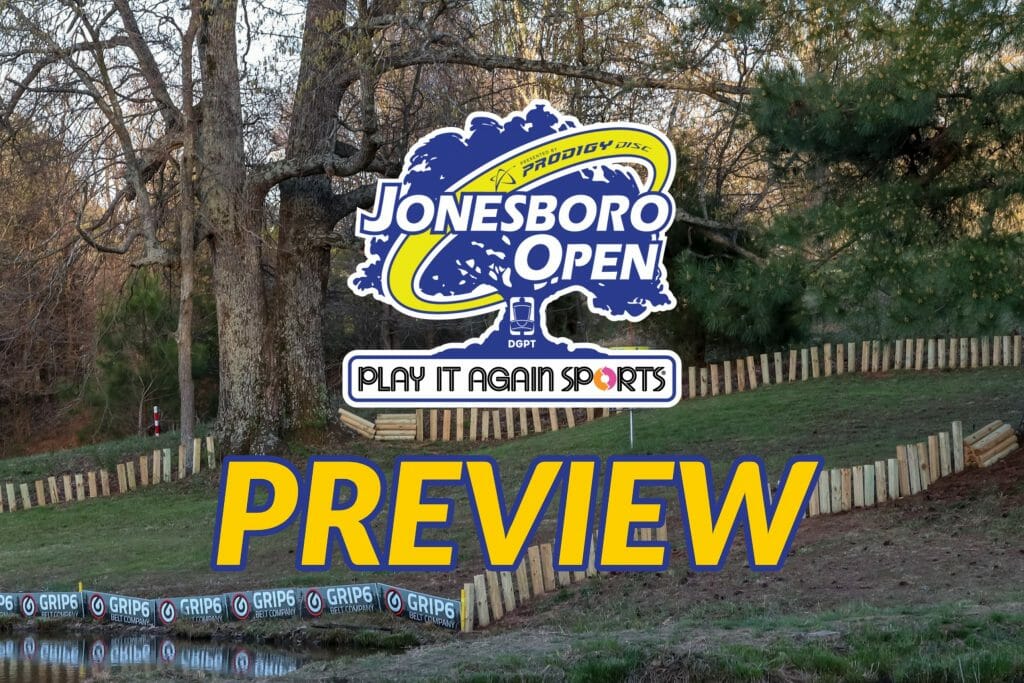 Coming into the Jonesboro Open, Colten Montgomery has got to feel strong after his surprising-but-not-surprising win at WACO over a stacked — wait a second… hold on… sorry, must have gotten confused. Jonesboro was meant to be the third event of the season, following WACO and preceding the west coast swing, but then… you know. Instead, here we are at the penultimate event of the 2020 Disc Golf Pro Tour season, the Jonesboro Open. 
They say good things come to those who wait so by that logic, the Jonesboro Open is going to be incredible.
Traditionally, Jonesboro has held an early slot in the touring calendar which has made for some interesting weather and challenging conditions in the past, including snow, frost, wind, rain, clouds of locusts, frogs, hail, darkness, livestock pestilence, and lice. No word on if we will see boils this year, but Jacob Wilkins should have more on that with the weather report soon. In addition to combating wonky weather, most players aren't usually  in mid-season and max-distance throwing form in April. At Disc Side of Heaven, distance is key and and after a full-ish season, most players should be feeling primed and ready to let it fly.
Many players will be coming off of a two week break since the New England swing of the tour, which included Arkansas's own Kevin Jones taking down the Green Mountain Championship, Paul McBeth taking the win at the MVP Open, and Paige Pierce earning back-to-back titles at both events. McBeth and Pierce are the defending 2019 Jonesboro Champions, and Pierce has won all three DGPT events on the property. Both Smuggs and Maple Hill have course elements similar to Disc Side of Heaven, such as the need to hit or manage gaps which can be two to three hundred feet down the fairway, and oftentimes well up hill or way down hill, or somewhere in between.
Hailey King has been enjoying a late season run of podium and top five finishes. In fact, King hasn't missed the top five since the restart. Pierce bested King in Vermont by a mere two strokes, and were it not for a final round triple bogey, she would have made the podium at Maple Hill. Could this be the weekend King gets her first Elite Series crown?
Two-time champ "Raincoat" Ricky Wysocki is taking the weekend off before USDGC, so a probable podium spot is open on the Open side. Adam Hammes hasn't been on the main tour since a disappointing Ledgestone Open, so maybe he can get warmed up before Winthrop. Or it's just a good weekend for a wildcard with a decent share of players electing not to travel down south.
What We're Watching
In the past, Jonesboro has been the first time we've seen Chris Dickerson on the tour each season. He's never finished below 11th, and has two top five finishes including a third place showing last year. Maybe with some more big field events under his belt before heading to Arkansas means Dickerson will be even more prepared in 2020.
There hasn't been much consistency in the Open Women's finishes at Jonesboro outside of Pierce. It isn't uncommon for players in the 930s and below to find the podium, meaning we may have an Emily Beach or Kat Mertsch on the lead card at some point.
With the year's only major looming, will Jonesboro be a "trap" tournament for those with their eyes already on Rock Hill?
Past Winners
| Year | Tier | MPO | FPO |
| --- | --- | --- | --- |
| 2022 | DGPT | Calvin Heimburg | Kristin Tattar |
| 2021 | DGPT | Ricky Wysocki | Catrina Allen |
| 2020 | DGPT | Calvin Heimburg | Paige Pierce |
| 2019 | DGPT | Paul McBeth | Paige Pierce |
| 2018 | DGPT | Ricky Wysocki | Paige Pierce |
| 2017 | DGPT | Ricky Wysocki | Paige Pierce |
The Course
Disc Side of Heaven: MPO – par 64, 9,885 feet; FPO – par 66, 8,537 feet
Disc Side of Heaven is a long, hilly, and something of a hybrid between a wooded course, an open course, and a park style course. Players won't be carving lines through thick woods, but there are plenty of tall, deep, dark stands of old growth trees and thick clusters of bushes and briers which, if a player gets careless, can eat up strokes and derail chances at the win.
Disc Side of Heaven Caddy Book
Extended Forecast
A cold front moved through the Jonesboro region yesterday afternoon, leading to cooler conditions for the tournament. High pressure will settle into the region Friday, leading to mostly calm wind conditions. The next cold front will approach the region Saturday, but the rain should hold off until late Saturday evening and into the overnight hours.
Thursday: Temperatures to start the day will be in the mid to upper 50s. Afternoon highs will top out around 72º. Northwest winds up to 15 mph will be possible.

Friday: Temperatures will be near 50º to start the day. Highs will only top out in the mid 60s. Calm winds are expected with an occasional breeze up to 5 mph.

Saturday: Once again temperatures will be around 50º to start the day. Temperatures will warm into the mid to upper 60s by the afternoon. Southeast winds of 5 to 10 mph possible.
How To Watch
DGN will have live coverage per usual for the opening rounds before simulcasting to its YouTube channel for the final. Jomez will have MPO lead card, Gatekeeper will have MPO chase card, and GK Pro will have FPO lead. Newcomer to the tour, Under Par Productions will have FPO chase. UDisc Live will be providing up to the minute live scoring updates.