Round 1 Recap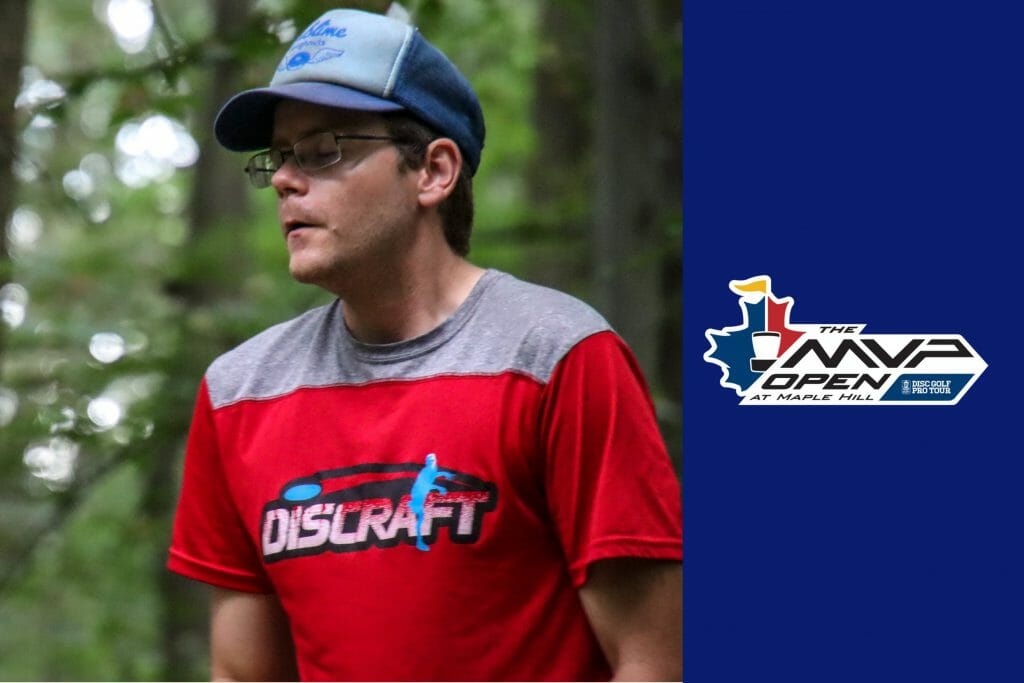 The tour continues its tour of the northeast, returning to the ceremonial home of the Disc Golf Pro Tour at the MVP Open at Maple Hill.
Playing on a card with three other players with Ultimate Frisbee backgrounds — and filmed by Ultiworld Disc Golf — Andrew Fish shot himself to a two stroke lead with a 1079-rated 9-under par opener. Fish recorded the only bogey-free round on Friday, and did not let the putter hit the ground inside 33 feet, going 12-for-12 from Circle 1X. The unofficial 1079 matches Fish's second-highest rated round of his career.
Kyle Klein was in the Sap House early with a 7-under par that held for much of the morning as the low score, and sits in solo second place. Klein has been on a nice stretch of play since the restart, with last weekend's Green Mountain Championship being the first time in 2020 he's missed the cash line. His rating has risen 10 points to 1028 since the July ratings update.
A log jam in third sees Paul McBeth, Garrett Gurthie, Ricky Wysocki, and Kevin Jones knotted up at 6-under par. Gurthie had turned in an 8-under par round but was penalized after the round. It may have been misplays on holes 2 and 15.
McBeth had the highlight on live coverage with an ace on hole 8, dropping in a Luna with finesse. Cardmate Jordan Castro drew metal right after McBeth. Steve Brinster also recorded a 1 on his scorecard on hole 8. Hole 8 was giving major score separation with a rule change in the caddy book, having players going OB off the tee proceed to a drop zone at the white tee, still requiring a tough water carry. Seven players posted triple-bogey 6s including Ricky Wysocki.
Wysocki was able to shake off the blow-up on 6 to score seven straight birdies from holes 9-15.
---
The lead card of Fish, Klein, Gurthie, and McBeth tees off at 1 pm EST
Coverage
2020 MVP Open at Maple Hill | R1F9 | K. Jones, McMahon, Gurthie, Newsom | Jomez Disc Golf