Who will be making the pond jump on Sunday?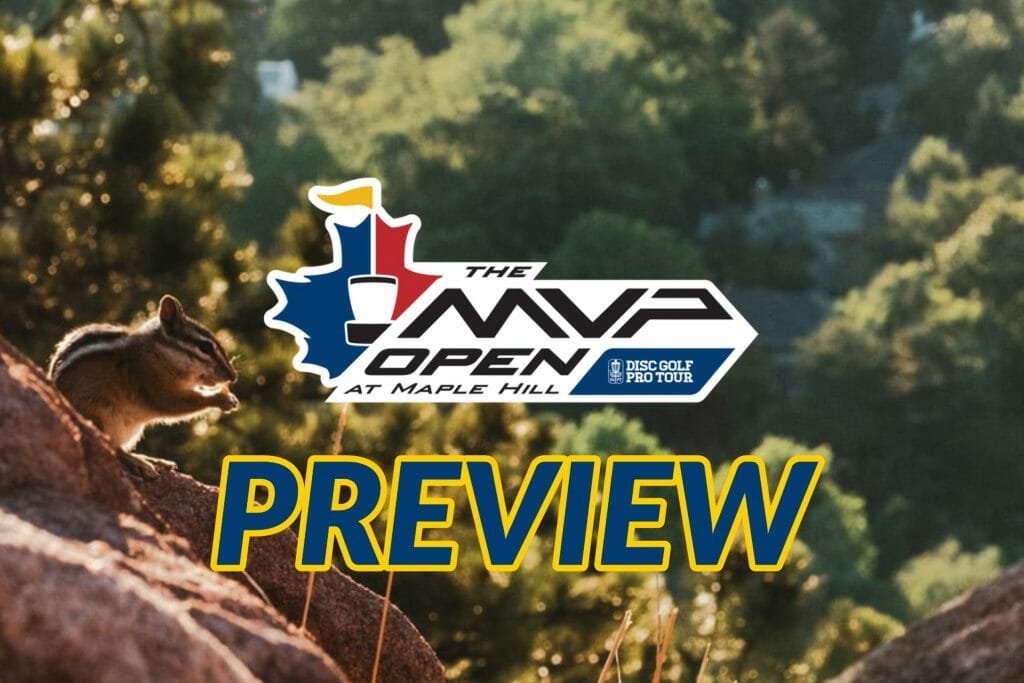 Time flies when you're in lockdown, and the surest sign of fall (back to school sales and fantasy football drafts aside) is finally here with the MVP Open at Maple Hill. This event is one of the sport's crowning jewels, owing to the beautiful scenery, the challenging play, and the enthusiasm with which players make a point to get to Leicester as the Sunday afternoon of summer slowly winds down.
Normally the tour stop at Maple Hill feels like an end of the summer party, probably in part to Tournament Director Steve Dodge's Festival of the Flying Disc, The 8 Holes, and that many of the players camp out on the property for the duration of their stay in central Massachusetts. 
Like so many things in 2020, the tournament this year has a decidedly different feel thanks to the COVID shutdown and restart, the fact that this event will be a fan-free affair, and (on a decidedly more positive note) we will be seeing the debut of a new FPO tournament layout at Maple Hill. More on the Diamondlayout later. Another thing to consider going into this weekend is just how competitive the tour has been all season– we have only had one multi-event winner in MPO, and despite the lack of European talent in the pool, Paige Pierce "only" has one win since early July.  Could this weekend be a chance for someone to bag a second (or third) win of the season, or will we see yet another new champion crowned in 2020?
Kevin Jones and Pierce's wins at GMC do bode well heading into the very Smuggs-esque course they will be attacking this weekend. Maple Hill offers a combination of Brewster Ridge style woods holes, and some more Fox Run-ish open holes. Pierce has won at Maple Hill four times, while Jones  has never finished inside the top 20 at Maple Hill. It is worth noting that the only player in MPO to bag multiple wins at Maple Hill are Paul McBeth, he won in 2013 when the event was a National Tour stop, and in 2019 on the Disc Golf Pro Tour, and Ricky Wysocki. 2017 and 2015.
What We're Watching
The course, duh. Four of the DGPT Dream 18 can be found at Maple Hill — holes 1, 8, 11, and 14 all earned that honor. Holes 1 and 14 are on the Ultiworld Dream 18, too. For those of you who have never been there, it is a unique and special place that often brings out the best in the touring field.

Missy Gannon has cooled somewhat after back-to-back second place finishes to restart the season, but she finished 8th here last season and tends to play well in New England, close to her New York roots. Let's see if she can finish the season strong.

How will the Diamond course play? Hole 17 will be real interesting, I think.
Past Winners
| Year | Tier | Open | Open Women |
| --- | --- | --- | --- |
| 2022 | DGPT | Simon Lizotte | Natalie Ryan |
| 2021 | DGPT | Adam Hammes | Catrina Allen |
| 2020 | A/DGPT | Paul McBeth | Paige Pierce |
| 2019 | A/DGPT | Paul McBeth | Paige Pierce |
| 2018 | A/DGPT | James Conrad | Sarah Hokom |
| 2017 | A/DGPT | Ricky Wysocki | Paige Pierce |
| 2016 | A/DGPT | Bradley Williams | Paige Pierce |
| 2015 | NT | Ricky Wysocki | Paige Pierce |
| 2014 | NT | Jeremy Koling | Paige Pierce |
| 2013 | NT | Paul McBeth | Valarie Jenkins |
| 2012 | NT | Cale Leiviska | Catrina Allen |
| 2011 | NT | Nate Doss | Sarah Hokom |
| 2010 | NT | Nikko Locastro | Sarah Cunningham |
| 2009 | NT | Barry Schultz | Sarah Cunningham |
| 2008 | NT | Avery Jenkins | Valarie Jenkins |
The Course
Maple Hill Gold: MPO – Par 60, 8,465 feet
Long wooded shots, medium wooded shots, open crushers, open techy shots, and of course a couple water carries to seal the deal. One of the most challenging and rewarding courses on tour, no. 1 rated in the US, what more is there to say?
Maple Hill Diamond: FPO – Par 61, 7,435 feet
Diamond includes a mixture of the Gold, White, and Blue layouts at Maple Hill, and this year will debut some new tee and pin locations specifically designed for the FPO field and this event. It will be interesting to see how the new layout is received. For a preview, check out Simon Lizotte's vlog episode.
Simon Lizotte Maple Hill Diamond Vlog
For more details, check out the caddy book here.
Extended Forecast
High pressure will settle into the northeast United States Friday, leading to nice conditions for Friday and Saturday. An advancing cold front will bring some changes to Sunday, but overall the weather looks great for the MVP Open this weekend.
Friday: Temperatures will be around 65º to start the day and will warm to around 70º by the afternoon. A northeast wind around 5 to 10 mph will be possible throughout the day.

Saturday: Temperatures will be near 50º to begin the day. Mostly sunny skies are expected as highs top out in the mid to upper 60s. Easterly winds of 5 to 10 mph will be possible.

Sunday: Winds will shift out of the south throughout the day. This will usher in slightly warmer temperatures as highs top out in the low 70s. A band of rain and storms will be to the west of the region and move toward the area throughout the day. Isolated showers may be possible before competition ends Sunday afternoon and evening.
How to Watch
The Disc Golf Network will have live coverage for MPO and FPO. JomezPro will have lead card MPO, Gatekeeper Media will have chase card MPO, and GK Pro will have FPO lead card for post produced coverage.
Final round live coverage will also be on the DGPT YouTube channel. UDisc Live has live scores all weekend.