Two very different, very challenging courses always put on a show in the Vermont mountains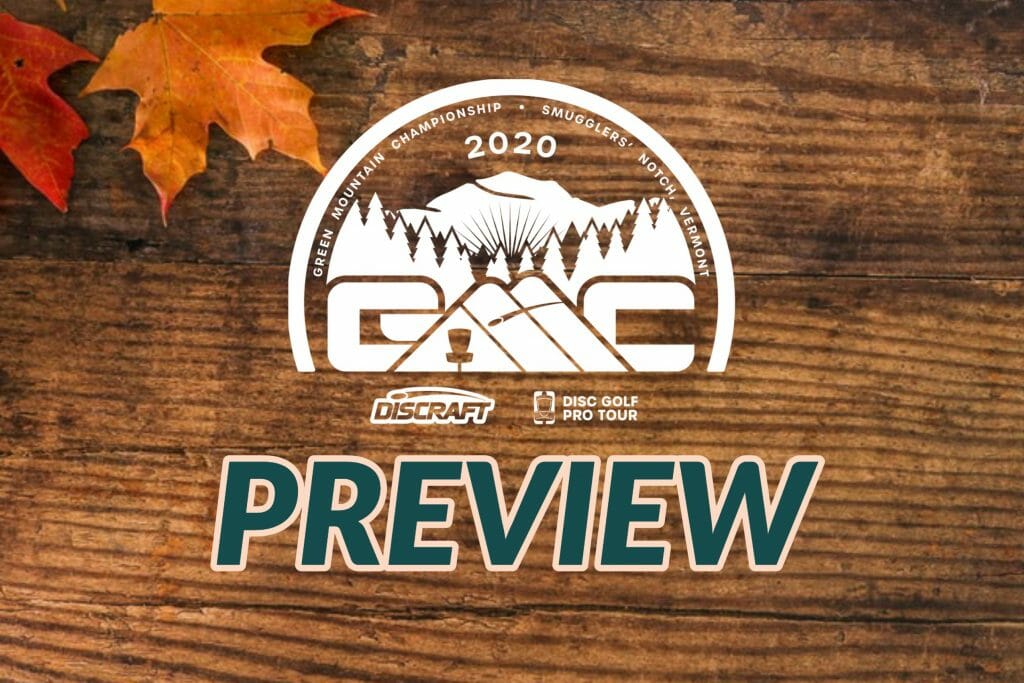 Late August in New England is a special time, and New Englanders are giddy with excitement1 for the east coast swing of the Disc Golf Pro Tour, which kicks off this weekend in Vermont at the Green Mountain Championship. Hosted at Smugglers' Notch, one of the most pristine, beautiful, and challenging properties on tour, and site of the 2018 Pro World Championship,this is the home-property of DGPT Director, Jeff Spring, and we expect a real treat.
Ricky Wysocki and Catrina Allen will both be coming into this event fresh off of their first DGPT wins of the season at Ledgestone. Both players have a record of success in Vermont. Allen won the event in 2015 and 2016, as well as the DGPT Championship in 2016, and Wysocki is a four-time winner, taking down the event every year from 2013 to 2016. Both players got off to a "slow" start to their seasons, but have come on strong since the resumption of play in June. Allen has only missed the podium once since the Dynamic Discs Open, a sixth place finish at DGLO; Wysocki missed a top three finish by a single stroke at Idlewild where he finished fourth.
Conversely, Paige Pierce and Paul McBeth got off to a scorching hot start to, and resumption of  the season, but have been somewhat inconsistent over the past three. McBeth finished 10th at DGLO, fifth at Idlewild, and second at Ledgestone. Pierce is faring better in an admittedly more shallow field, a win at DGLO followed by fourth at Idlewild and second at Ledgestone. Both will be looking to reassert themselves this weekend in Vermont.
Missy Gannon and Kevin Jones have been knocking on the door all season, and both have the tools to put something special together at Smuggs. With two distinct courses and playing styles to contend with, GMC always requires the most out of a player.
Time may be the real wild card this weekend. After a blistering re-start to the season, players will be coming into the weekend with a two week break from the DGPT. Only a few have been able to play some smaller events, but many will have taken a true break with quarantine measures needed for those traveling to the event. We'll see how the time off impacts the physical, and mental game.
What we're watching
Will the forced quarantine at Smuggs really affect play? A lot of players have been hiding out at the resort which means they've also gotten extra practice in. Will the time off but on premises mean a player like Eagle McMahon who hasn't jived with the courses before will be in a better place?
Staying on the Discmania team, does Simon Lizotte's engagement give him some extra incentive out on the course? Doesn't matter, just wanted to say congrats to Simon.
Sarah Hokom proved last season that just because half the tournament is played on Fox Run doesn't mean you have to have the biggest arm. Her five stroke win was the largest over a four round DGPT event on the property since 2016. So it's not all about Pierce and Allen.
Past Winners
| | Tier | Open | Open Women |
| --- | --- | --- | --- |
| 2021 | DGPT ES | Chris Dickerson | Hailey King |
| 2020 | DGPT/A-tier | Kevin Jones | Paige Pierce |
| 2019 | DGPT/A-tier | Paul McBeth | Sarah Hokom |
| 2018 | n/a | n/a | n/a |
| 2017 | DGPT/A-tier | Nate Doss | Paige Pierce |
| 2016 | DGPT/A-tier | Ricky Wysocki | Catrina Allen |
| 2015 | A-tier | Ricky Wysocki | Catrina Allen |
| 2014 | A-tier | Ricky Wysocki | Anne Lewis |
| 2013 | B-tier | Ricky Wysocki | n/a |
The Courses
Brewster Ridge: MPO – Par 61, 7,935 ft; FPO – Par 61, 7,500 ft 
Brewster Ridge is one wooded half of the weekend, featuring long, challenging tee shots which require precision and shaping off the tee. This is the more stereotypical New England-ish course of the two.
Fox Run Meadows: MPO – Par 63, 9,530 ft; FPO – Par 63, 8,575 ft
Fox Run is more open, with plenty of OB, both artificial and natural. Fox Run requires more attention to the landing zone, rather than the flight path. 
Extended Weather Forecast
An advancing cold front will be the main weather story this weekend in northern Vermont. The cold front will bring gusty conditions, as well as much cooler temperatures to the weekend. Fortunately the front looks a little moisture-starved, so no rain is in the forecast at this time.
Thursday: Morning temperatures around 57º will warm to around 75º by the afternoon. A gusty northwest wind will subdue some as it shifts out of the southwest. The southwest wind may pick up again in the latter stages of the afternoon and early evening.

Friday: The cold front should move through the region during the early morning hours, before competition begins. This will lead to breezy westerly winds. A temperature around 57º to start the day will only warm to around 67º during the afternoon. Wind gusts in excess of 25 mph will be possible.

Saturday: We typically see the coolest conditions a day after frontal passage, and it looks like that will be the case this weekend. Morning temperatures may drop back into the upper 40s. Afternoon high temperatures will only warm into the low to mid 60s, and if cloud cover increases, even 60º may be a struggle. Westerly winds around 15 mph will be possible, with gusts as high as 25 mph.

Sunday: Winds will shift back out of the southwest on Sunday leading to rebounding temperatures. Morning lows in the low 50s will warm to the mid to upper 60s. Southwest winds around 5 to 10 mph will be possible.
How to Watch
DGN will have live coverage of both MPO and FPO, with the Open side teeing off first at 1 pm EST. JomezPro will have MPO lead, Gatekeeper will have MPO chase, and GK Pro will have FPO lead card covered.
---
take our word for it ↩