Final Round Recap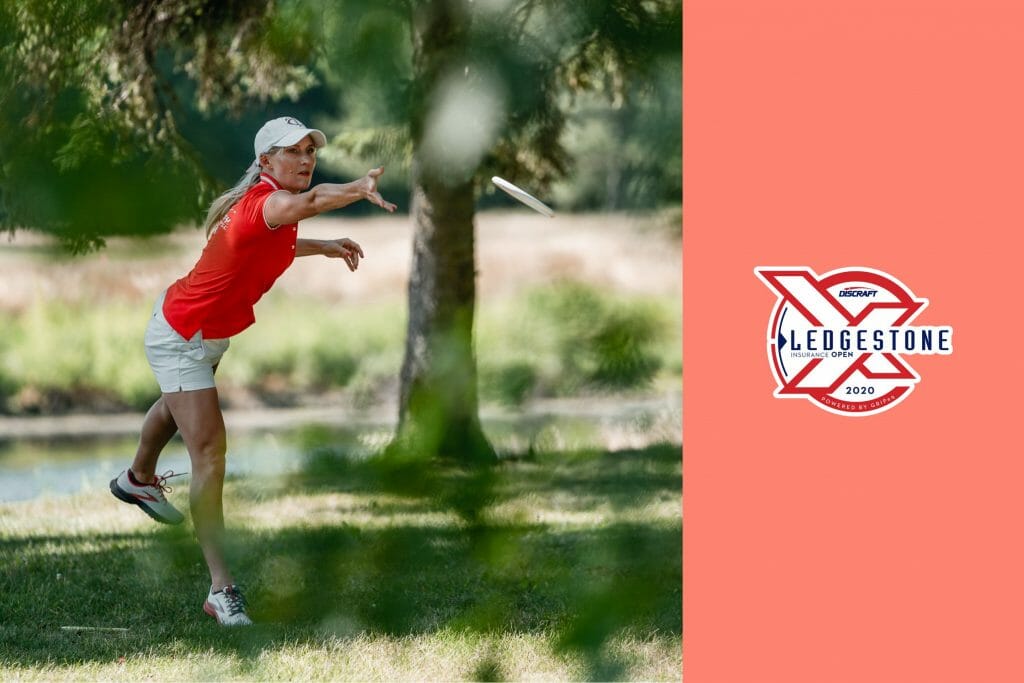 It's been a couple of years, but Catrina Allen is back in the winner's circle at the Ledgestone Insurance Open, and she earned her place after a convincing couple of days in Perkin.
The final round wasn't as clean as the rest of the tournament — four holes played over par compared to four holes over par combined the previous three rounds — but it wasn't needed with an 11-stroke lead. Allen still went 3-under par shooting close to her rating on Sunday, and finished in first by three strokes at 24-under par total. She led the division in every major driving category.


With the exception of picking up five birdies out of the opening six holes, including her first birdie of the weekend on hole 5 and hitting chains with her drive on hole 4,  it was a pretty uneventful victory lap. She was 1-over par on her final 12 holes in her first Disc Golf Pro Tour win of the year.
It was a big hill to climb to try to catch Allen, and Paige Pierce would have needed help to try to get back near first after two subpar opening rounds. She did her part in posting an 11-under par, and at least put the pressure on Allen, but ran out of holes to make a real run. She was top three in all but one major statistical category as OB strokes stung her again. Pierce finished in second at 21-under par total, getting as close as three strokes of the lead with two holes to play.
Averaging 21 points over her rating, Heather Young's bogey-free final round was another putting clinic, as she went 100% from Circle 1X and added a C2 make for good measure. The third place finish is Young's first DGPT podium. She finished at 15-under par total after a 6-under par Sunday.
If you want to know what doomed Hailey King's chances at Ledgestone, it was a very similar case to Pierce. Her fourth place showing saw her top the division in birdies, and she was top three in C1 and C2 in regulation and C1X putting, but her OB rate ranked 34th out of 40 players.
Heard
"A long drive to Peoria, gave me time to have a long overdue talk with my friend and coach, Natalie Holloköi, who helped me start the week in a positive mindset, we were able to get a mental game plan… This win has a much deeper meaning for me. A year ago at this tournament there was an incident that shook me, and it has honestly taken me an entire year to fight through it. I finally have decided to focus on all the awesome friends, family, fans, competitors and sponsors who are constantly lifting me up and encouraging me instead of the people who continue to try to tear me down, give me a narrative that is not true, and push me out of the sport." – Catrina Allen, on capping off a birthday week with a memorable win.
Statline
With four events in UDisc Live, the Virtual Putting Invitational champion Heather Young is leading the FPO division in C1X and C2 putting percentage at 80% and 25%, respectively. Her 18 makes from long range are more than Catrina Allen has in nine events this season, and one less than 2019 world putting champ Missy Gannon has in 8 events.
Coverage