Round 1 Recap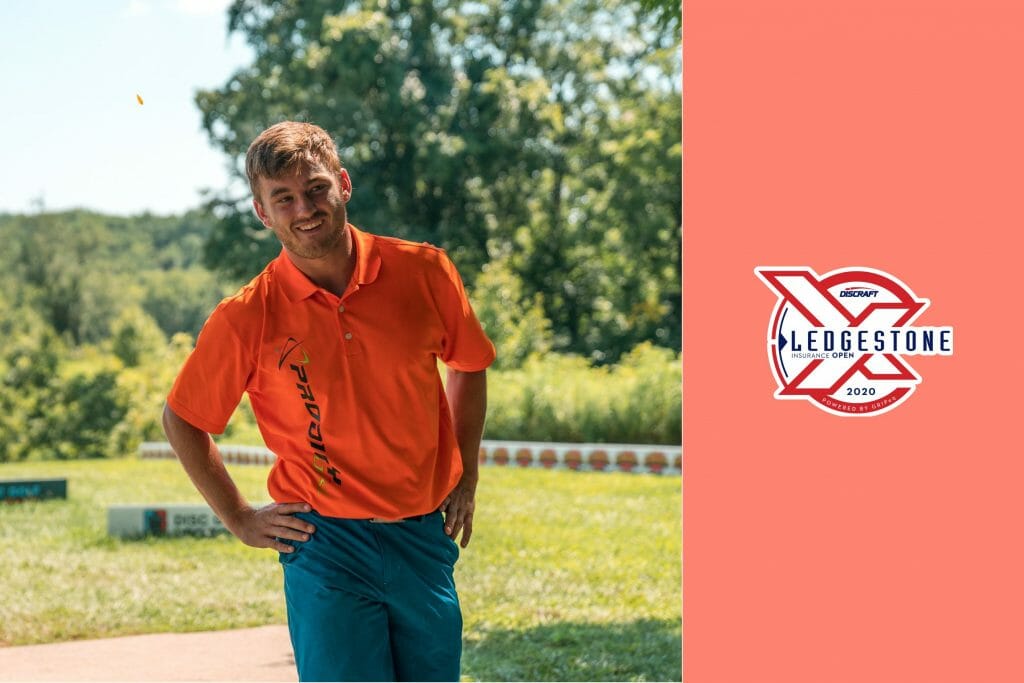 The DGPT went straight from the Idlewild woods to more woods at the Ledgestone Insurance Open starting on the Northwood Gold course we first saw at the 2019 Pro Worlds. There's potential for separation and a way to build up a cushion before heading over to Lake Eureka.
The only player to hit double-digits under par was Kevin Jones, who sits in first at 10-under par. He finished off the hot round with three consecutive birdies and was 100% from Circle 1X and added three C2 putts, all for birdie, for good measure. He leads the field in four categories, including finding C2 in regulation and fairway hits. His round was seven strokes better than his best at 2019 Worlds.
Just off Jones's pace were two bogey-free rounds from Gregg Barsby and Paul Ulibarri, who are tied in second at 9-under par. Barsby was 100% from C1X and added two from deep, and Ulibarri is ranked second in the field in C2 in regulation and fairway hits.
James Conrad turned around a double-bogey on hole 12 to birdie out the rest of the course, the only player to do so. The six birdie streak was enough to give him solo fourth and the final lead card spot on day two at 8-under par. He threw one in from more than 100 feet on hole 15.
Hole 12 continues to punish players, playing 1.71 strokes over par. Only one player, Georgia youngster Alden Harris, recorded a birdie, and he was one of only two players to reach C2 in regulation.
The feature card on the livestream took over four and a half hours to complete its round Thursday. Backups seemed to start around hole 10, and the final card was waiting to tee off on hole 12 for a solid 30 minutes. Maybe day two will be a bit quicker with top scores having separated themselves.
Northwood is right on the scoring average from Pro Worlds, coming in right above 4-over par.
Heard
"I think it's time we label hole 12 at Northwood Gold what it is, a par 6. I'm not a traditionalist, I have no problem with a hole being called a par 6. Currently the hole is averaging 6.76 🤯. To put that in perspective, if it were (correctly) labeled a par 6, it would still be the toughest playing hole on the most challenging course on tour. It's a fantastic hole, too! You have to play it to understand it's greatness. But, realistically, it takes four amazing shots to get to the green, add two shots and you get par. I know some people will say par doesn't matter, but I disagree, I think it's an important part of the game, statistically and psychologically." – Jeremy Koling
Statline
Round 1 already matched the total number of bogey-free rounds as Pro Worlds had combined over two rounds last year. Wysocki's fourth round 11-under and Chris Clemons's second round 6-under were the only two examples a year ago.
Coverage
Ledgestone MPO Round 1 Front 9