Round 1 Recap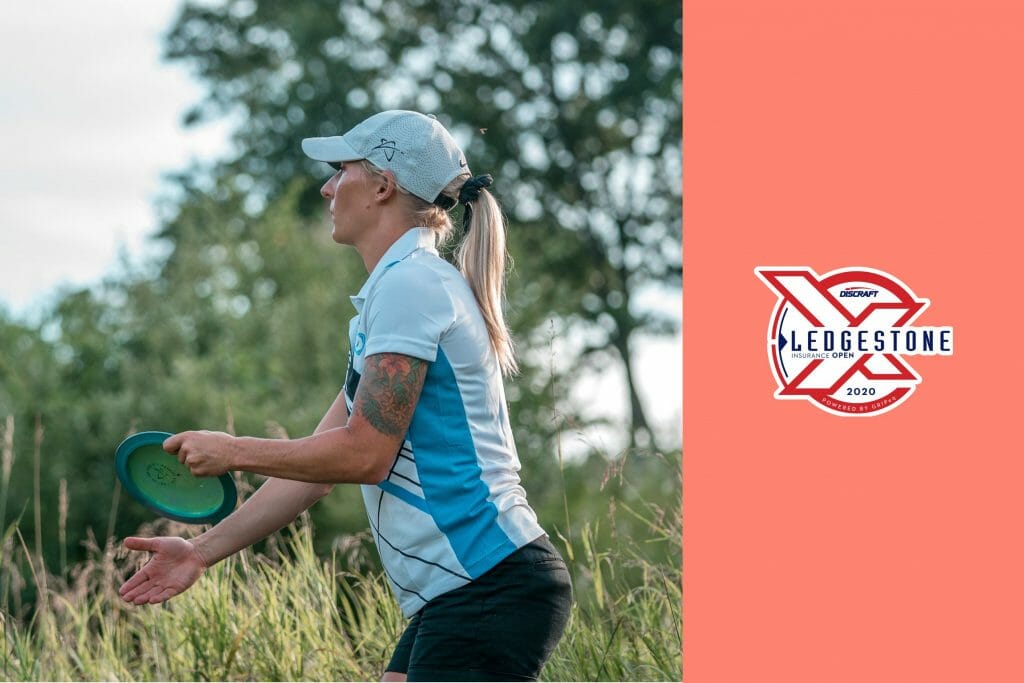 The Open Women's field returns to Illinois to take on a familiar foe in the Sunset Hills course. The converted ball golf track at the Ledgestone Insurance Open offers plenty of scoring opportunities, but the the sand traps and water does come into play.
Birthday girl Catrina Allen recorded the only eagle on the day — a 50-footer on hole 6 — and was rewarded with a share of the lead at 3-under par. She is only top five in one major statistical category, but her first in scramble rate allowed her to stay in front on a day no women shot too low.
Sharing the lead with Allen and finishing the day on one of the first FPO cards out was Vanessa Van Dyken. VVD leads the division in birdies, eight on the day, but hampered herself with a triple-bogey on hole 5. That 3-over hole was immediately offset by four consecutive birdies that included a 100-foot throw-in. She leads the division at finding Circle 1 in regulation.
Keeping up the month of strong play, Ellen Widboom came out conservative. The 2-under par was enough to have her tied with Paige Pierce and Callie McMorran in second place, and she was leading the division in C2 in regulation. Pierce was especially sharp in any area, and continues to find OB; she's 29th in that category.
It was a strange event on the second card which was partly caught by the livestream. Starting around the 3:17 mark on hole 15, it appears Lisa Fajkus set her bag in the middle of the fairway and used it as a directional aid to aim at while recovering from the rough. Fajkus would record a bogey 5, but was later assessed a penalty and her hole score changed to a 7.
Former Ledgestone winner Jessica Weese had a rough start to her round and was unable to recover. Starting 8-over on the opening five holes, she would even out for the remaining two-thirds of the course, but sits in 36th.
Statline
During last year's Pro World championships, the two rounds played at Sunset Hills with a full field averaged about 2.5-over par. Thursday's opening round was a full stroke over that average at 3.6-over par. With five fewer players in the field at Ledgestone, there were more OB strokes recorded in round 1 than either of the two rounds at Worlds. The hot rounds were also six strokes behind hot rounds at Worlds.
Coverage