Final Round Recap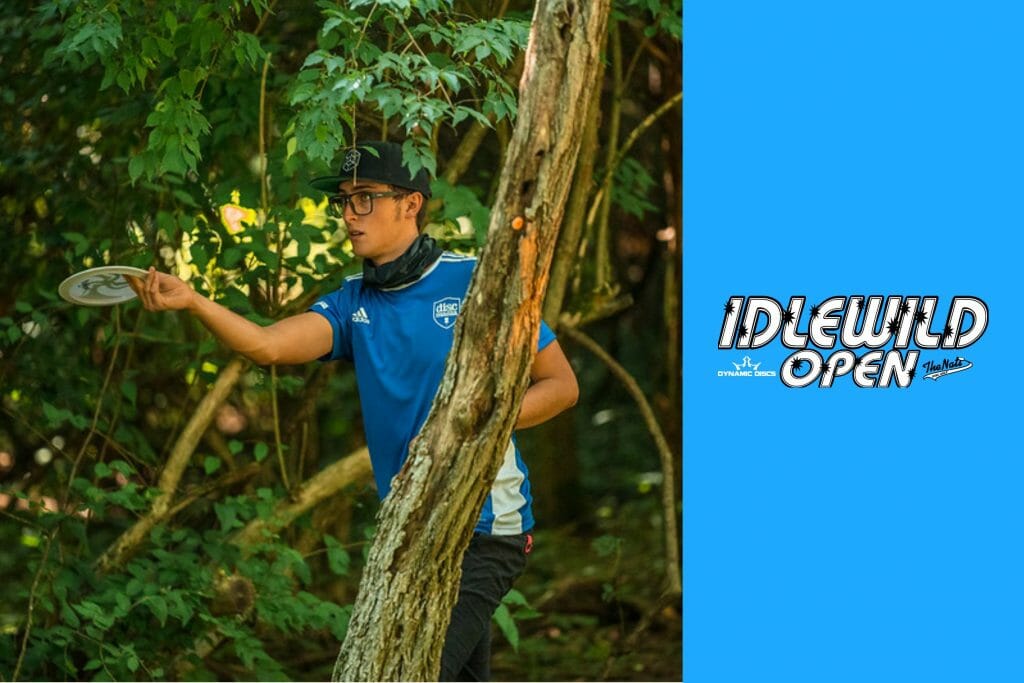 The Idlewild Open has consistently thrown us surprises since joining the Disc Golf Pro Tour in 2017. This season was no exception as Idlewild crowned a fourth champion in as many years, and its second from off the chase card over the same time period.
Having given up the lead on moving day, Eagle McMahon turned a slow back 9 from Saturday around and was out with a flash Sunday. Starting the day four behind the leader, Paul McBeth at 19-under par total, and on the chase card, McMahon began his round 4-under par through three holes thanks to a 200+ foot throw-in for eagle on hole 2. It was an onslaught from there, as McMahon dropped his score to 11-under through 11 holes and had taken the lead by the turn.
McMahon was only 1-under par for the remaining seven holes, but the work had been done. As the lead card failed to shoot low, McMahon's main competition was actually several cards ahead of him  in Chris Dickerson, who was setting a course record with a 14-under par.
Finishing with a 12-under par round and at 27-under par total, McMahon won his second consecutive DGPT event, and his second consecutive DGPT event that he was participating in for the first time. It's the first time in his career McMahon won back-to-back Elite Series events. He led the field in finding Circle 2 in regulation, was second in C1 in regulation, and fourth in C1X putting at 94%, hitting 31 of his 33 putts inside 10 meters.
With no expectations on him, starting eight strokes off the lead and in a tie for 17th, Dickerson put together a worldy. Throwing one of only 12 bogey-free rounds — out of 194 played — Dickerson's 14-under included two eagles and catapulted him 15 spots into solo second place at 25-under par total, two strokes behind McMahon. He was never quite able to take the lead into the clubhouse, but provided the biggest challenge to McMahon on the back 9 of the course. Ricky Wysocki similarly threw a 1079-rated, 14-under par in the final round to move up 18 spots into solo fourth place.
McBeth and the rest of the lead card — Jeremy Koling, Adam Hammes, and Jordan Castro — were never able to get the energy level up enough to hold those lower cards in check, and never seemed to have the momentum. A double-bogey by McBeth on hole 7 allowed McMahon to catch the leader, and McBeth would be at least two strokes back for the second half of the day. A 3-over par finish on the final two holes pushed him down into a tie for 5th with Hammes at 22-under par total. Koling finished tied for 7th, and Castro tied for 11th.
Playing a steady weekend on the chase card and earning a solo third place podium finish was Andrew Marwede, who shot a steady 9-under, 7-under, 8-under, three rounds to finish at 24-under par total. His 6% holes over par rate was tied for the lowest in the event, and his three total strokes over par were the fewest recorded.  He was top 5 in only one major statistical category, birdie rate, but top 10 in five, including C1X putting and finding both greens in regulation.
The Open field finally recorded an ace to push Idlewild's ace streak to four years. Trey Martin aced hole 3 and finished tied for 63rd.
Heard
"A lot of people expect Idlewild to be one of my favorite courses on tour because it is wooded. If I am being honest, I have a love hate relationship with the course. Hole 17 is my least favorite hole on the course because it is all about luck. Hole 2 in previous years has been my favorite hole. But I was disappointed to see the new basket placement this year. I don't enjoy holes that feel gimmicky or rely on luck. I want to shoot my round on a course based off of my play." – Chris Dickerson
Statline
While chase card wins like McMahon's are rare, they aren't unheard of. However, for every player that finishes on the podium to be playing from the chase card or lower may be completely unheard of. At Elite Series events from the past five seasons, we were unable to find another instance than the 2020 Idlewild Open were no player from the lead card finished with at minimum a tie for third place. Two other close instances include the 2019 Portland Open, where Eagle McMahon and Drew Gibson went into a playoff for the win off the chase card, and the 2017 Hall of Fame Classic, where Simon Lizotte and Paul McBeth forced a playoff with Ricky Wysocki while playing from the chase card. Lizotte tied with Seppo Paju for third in Portland to prohibit the chase card podium sweep; Wysocki was on the lead card in Augusta, and would win the event.
Coverage
Idlewild Front 9 Eagle mcMahon