In the lead-up to the Dynamic Discs Open on CBS Sports, Zucker talks about his background in the sport, and how the media side of the game can grow.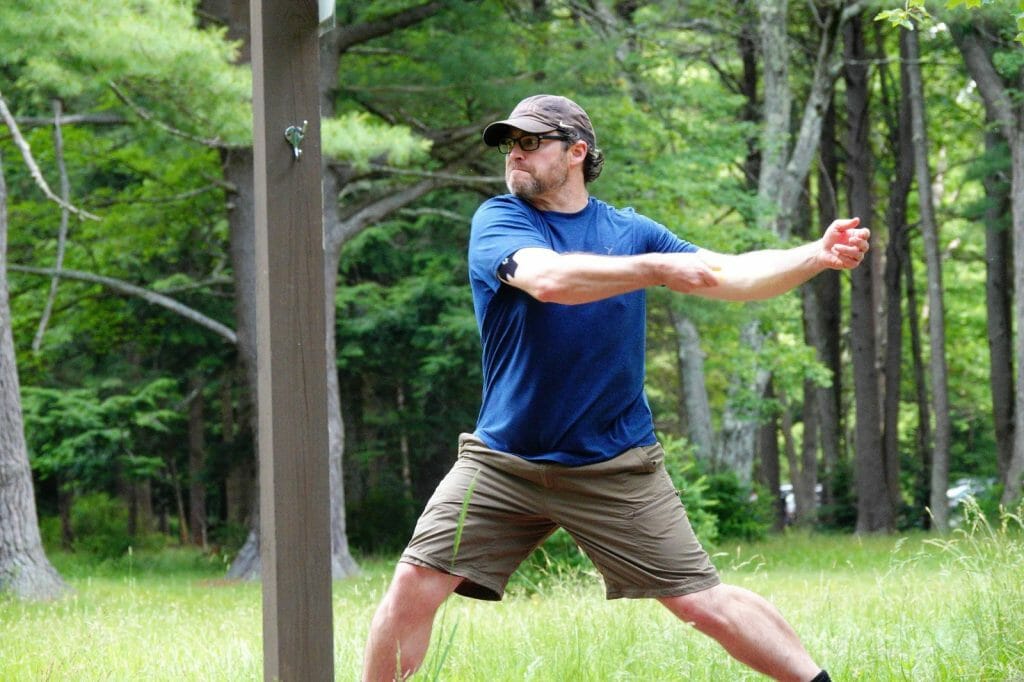 By his own description, CBS Sports studio host Adam Zucker is a simple man who likes to watch and talk sports. He includes disc golf in that list. 
"I'm a sportscaster who got lucky chasing his dreams. I fell in love with disc golf along the way, and I'm pumped to see the sport featured on a bigger platform," Zucker says. 
A bigger platform is something that Zucker is uniquely qualified to speak on. Zucker was named host of College Football Today, CBS Sports' pre-game, halftime and post-game studio show in 2014. He also serves as lead anchor for CBS Sports Network, hosting various studio shows including Inside College Football and Inside College Basketball. His employer will soon be featuring a Jomez Pro-produced series of specials on the Disc Golf Pro Tour's Dynamic Discs Open.
After graduating from Syracuse in 1998, Zucker started the career train that led him to CBS. His first anchor gig in the Scranton/Wilkes-Barre, Pennsylvania area also introduced him to disc golf. He had been casual Ultimate player during his collegiate days, but it was a friend in PA that got him to the course. 
"When I moved to Wilkes-Barre/Scranton, I played pick up [Ultimate] with students at Wilkes University, and one of those guys, my buddy Dean, lived across the street from me and introduced me to disc golf," Zucker says. "I told him I knew what Frisbee golf was — throwing at objects — and he explained that it was a whole different sport than what I had been playing. That was in 2000. 
"We were walking home, and he said let's meet outside at 9 am tomorrow, and I'm taking you to the closest course. He took me to Francis E. Walter Dam. Not the ideal first course. Lots of blind holes, rough terrain, undefined fairways, and it was long in spots for a beginner, but I loved it. You really had to craft your throws and figure out your release angles and disc selection. Soon after a nearby state park called Hickory Run, sight of the largest boulder field in North America, added 18 baskets and that became a great compliment to the Dam. 
"I actually assumed most courses were on dams because the course that became my favorite, and still holds a special place, is Prompton State Park, further northeast in Pennsylvania. I want some ashes spread there on hole 2…It's wide open, big arm type course with elevation. There's a lake and it's beautiful anytime, and I really learned to let it rip there. I would wake up at 8 am and try to play two rounds, get back home, shower, shave, go to work from 2:30 until 11:30, and then try to do it all over again the next day. 
"I was hooked. I ended up doing stories on disc golf for the local news, covering Ice Bowls, the Big Arm Classic, and when Worlds came to Allentown. That's how I ended up hosting the DVD with John Duesler."
2005 PDGA Pro Worlds Adam Zucker
Even with all the practice, Zucker says he has a unique, but perhaps frustrating, style of game. 
"What kills me is I'm ambidextrous. My flick is with my left hand, backhand right hand. So other than the occasional bush requiring a few inches to clear, I'm one-handed," Zucker says. "I'm more a backhand hyzer player. I'll throw the Captain or Boss or Heat to get flippy, or go straight. Less of a flip-up hyzer with an overstable disc until I watched more pro stuff. On a really good rip I can get 360-375 feet on flat ground, so nothing earth-shattering.
"My putting has always been my overall weakness, but I've been really enjoying the Warden putter. I told Jeremy Rusco the Warden has been getting me out of jail lately."
It was during some of the early days of golfing that one of Zucker's fondest memories playing the game occurred. It involved a chance encounter with one of the game's all-time greats, Steve Brinster.
"A while back I played the mecca of Warwick — hole 17 long. Me and my friends were standing where our second shots had landed, about to throw our upshots into the woods and we saw a guy at the tee pad alone. We waved him on, thinking we were hot stuff; we were 930-rated at the time. This guy threw his drive, and it's a laser beam. It went over our heads. It was Brinster. 
"He continued with us when we started our second round, and I'll never forget, after I crushed a low overstable shot that skipped close to a blind basket, I think hole 6 in the current layout, he gave me a super-duper handshake to celebrate. I was like, 'This is the greatest moment I'll ever have in disc golf.' I missed the putt."
Like every player, Zucker has a fondness for his local courses, and affection and respect for the people in his local scene who make the game possible to play in the first place.
"The course I play the most was designed by Matt LaCourte. He has a PDGA number in the 4000s and been sponsored by Innova forever. He designed this course at Harry Dunham Park in Liberty Corners, New Jersey. It's nine holes, two tees per hole, and is a great place to bring my son and daughter. We meet other families there and play some holes and stay at least six feet apart these days. It's pretty open so the kids don't get too frustrated hitting trees, but on a windy day with some of the sneaky OB, it's a fun challenge. We've been going there at least once a week with the kids."
Its on some of the local haunts that Zucker still gets out to tournaments on occasion.
"I played a tournament at Camp Tecumseh, and I got my first career win playing MA40. There were seven guys in my division and I got to play with my kids that day. So I won that on a Friday, and finished last at Hickory Run two days later, and I went there with full confidence too. When I played there weekly 15-20 years ago, I had muscle memory for the course. It seemed short and wide, and I could tell you my disc selection in my sleep, but now I go back and everything seems long and narrow! I smacked some trees I never even saw before! Also it wasn't a great idea to sleep four hours, drive two hours, and play 36 holes," Zucker laughs.
"Thank goodness the sport grew the way it did and that courses got put in when they did. There are four courses right off the Garden State Parkway that weren't there 10 years ago, including an old Rockefeller ball golf course that was left to Ocean County years ago, and another one in the old sand dunes and pineys near Long Beach Island called Doc Cramer. The course near me that I wish I played more is Greystone Woods. It's a hilly, technical, long course in a beautiful spot, but I wouldn't want to have my kids play there yet."
Perhaps because of his experiences in and around major sports, as well as his long years playing disc golf, Zucker has nuanced opinions on how newer players should be welcomed into the game, how courses and events can be run, and how to leverage existing resources to grow the game.
"These courses are increasingly jammed with people. It's great that more people, especially families, are going out and having fun. What's not great is reading on the Facebook group pages about people who aren't part of the scene or the volunteer army who litter and don't respect the course and rules, including Covid group size rules. I agree that experienced players should go out of their way to welcome them, and that includes sharing the rules and expectations. 
Zucker also isn't afraid to get his hands dirty in the organizing sense.
"I'm working on a project to have a repeat of a nine hole takeover at my local municipal golf course. Last year we had local families come and participate and it went great," Zucker says. "The city recreation department did social media blasts and posters, and the local disc golf community turned out. We had the NFL games on in the clubhouse, never had a huge back up. People paid 20 bucks and could play all day. LaCourte did a clinic and [we had] 110 individuals pay to play."
As for "legitimizing" disc golf on a broader sense, Zucker thinks it'll come in due time.
Most disc golfers can relate to the experience of talking about the sport with friends, family, and coworkers. Let's be real, disc golf is a small (but growing) sport which people have, rightly or wrongly, some preconceived notions about. Talking about disc golf with an uncle who could-have-been-Phil-Mickelson-if-only, or a coworker who was a three sport varsity athlete, can be a study in eye rolls and condescension. When you talk about how disc golf is growing at an incredible pace with the passion of the converted zealot, we can all sound like the guy who was ranting about Bitcoin in 2010. Well, look at Bitcoin now.
Zucker's experience talking about disc golf in the workplace was perhaps a bit more fraught than most of us considering he's surrounded by professional athletes all day.
"For years with an almost tongue in cheek smirk I'd talk up disc golf to anyone who came across my path, including my friends in programming who form our partnerships and decide what we put on TV, from college football to World Team Tennis," Zucker says. "Disc golf has grown up so much more in recent years, but it's still a big accomplishment if a moment makes the SportsCenter Top 10, but it hasn't had an event on TV, where even Ultimate has had matches. 
"One of the early projects I was involved with when we were CSTV was play-by-play for Ultimate, and so folks at the network, they've known about my passion. It gets brought up not really in jest, but as a celebration for my passion, to where more and more people will mention having seen a basket somewhere.
"I always bring my discs on work trips, and a couple years ago one of our camera guys at the SEC Championship asked me if I came prepared. Thank goodness I did because he had a car and ended up being my witness when I got my second ever ace on the "Fox Hole" at Perkerson Park in Atlanta — a straight downhill that turned over for me at just the right second."
Of course this year, with the Dynamic Discs Open, disc golf appears to have reached a major milestone on national media channels at CBS.
"This spring I got a call from our programming execs asking who the big names were including pros, companies, events, courses, etc. It ended up where the big connection on this was from our other main studio host, Brent Stover, who is from Emporia and shares a mutual friend with Dynamic Disc Owner Jeremy Rusco. Next thing I knew I was on the phone with Jeremy, really just going back and forth about our paths and excitement about the sport," Zucker sys. "He actually started Dynamic in 2005 at the World Championships when I was hosting that DVD. Wish I had met him then! So I'm just really pumped that we're doing this. Kills me I couldn't be at the event because of Covid, but I really would have been sick if another network beat us to it.
"My role has been mostly as a passionate supporter of whoever was in support of getting disc golf on our stations. It wasn't and hasn't been about me, it's about our people here looking at the numbers, the growth of the sport, the technology that is available to cover it, and disc golf answers the call."
Because of his job, Zucker is also qualified to discuss what is working in disc golf media, and where there is room for improvement.
"What I'm seeing now from Jomez, Central Coast, and DGN is already worlds better than the stuff I did on DVDs over a decade ago," Zucker is quick to admit. "Just as anything in sports TV, you get better with reps. If you see the same players at the same courses year after year, there's just going to be more history attached to memory that no outsider will have experienced, even if they're a professional play-by-play guy.
"Jim Nantz isn't just in another world calling golf because he's Jim Nantz. He's lived golf for decades, think of all the events he's witnessed and his recall is amazing. Having Val Jenkins and Nate Doss, and Nate Sexton and Jeremy Koling, they are developing real chops, and I wish I could take a seat next to them some time. I think they've come a long way and they're doing well with the live stuff. It's not easy!"
He does still think there is room for improvement.
"As time goes on I hope they can cover more holes than just the lead card. Sometimes I think there's maybe too much focus on the scores among the players on the lead card and who will be on the lead card the next day," Zucker says. "I get the bonus of being on the lead card because it's the only one with dedicated coverage as well, but if I'm watching moving day, I can figure out who the lead card is, but if Chris Dickerson is making the big push, I want to see that. I want to see the leaderboard more often. That will come with covering more holes."
All in all, however, Zucker is just enjoying the ride disc golf is currently on.
"Even though many of us have seen this day coming, the exposure is in its infancy and it's beautiful baby. Now we're seeing it blow up with the number of events, the DGPT, and even just how hard it is to get into a local event. 
"It's like trying to get Phish tickets at MSG."