Long-time media figure makes another move.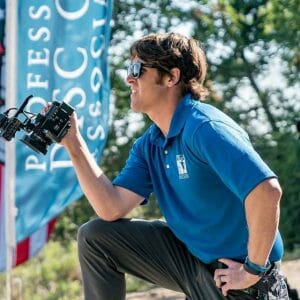 PDGA Media Manager and former Ultiworld Disc Golf editor Steve Hill has accepted a new job at UDisc to serve as the company's Director of Marketing, Hill announced on Twitter yesterday.
"We've worked with Steve for many years at Ultiworld and the PDGA," said UDisc co-founder Matt Krueger. "He's dedicated to the sport of disc golf and we're thrilled to have him join the UDisc team!"
Steve Hill has been a public face and voice of the PDGA since starting with the governing body in early 2018. He rebooted PDGA Radio, the organization's podcast, and continued to report on the elite series while serving as a public relations figure.
"The biggest thing is being able to stay home more," said Hill, who is married and has a nine year old daughter, about his decision to leave the PDGA. "When I saw UDisc had an opportunity, knowing Matt and Josh and how great UDisc is, I said, 'Yea, I might as well give it a shot.'"
Hill said he's excited about how much potential UDisc has given its wide appeal to pros and brand-new players alike. Hill will do less content creation in his new role, focusing more on high-level strategizing. He will start with UDisc in late August. He will continue to host the PDGA Radio podcast until October.
UDisc, a disc golf scorecard and course reviews mobile app, has continued to grow. The organization has established itself as the go-to statistics and live scoring resource for professional disc golf, overtaken Disc Golf Course Review as the preeminent place to look up courses, and expanded from simple scorecards to a league management tool.