Final Round Recap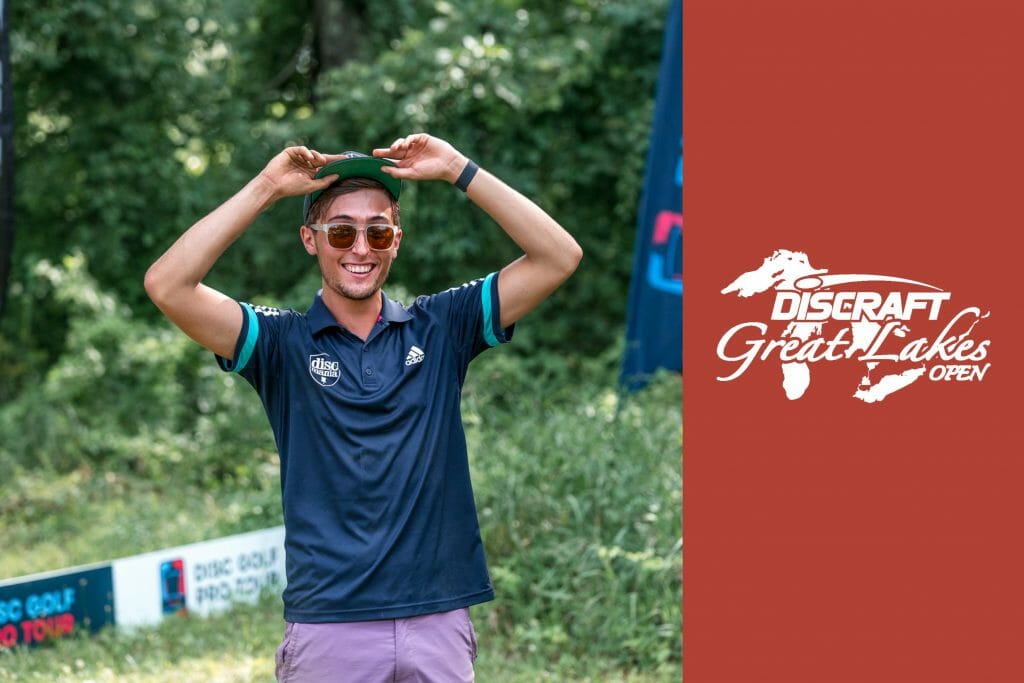 During a birdie or die final round, the Eagle came out on top of a four-man race for the Great Lakes Open title.
It was down to the final putt to crown Eagle McMahon the winner Sunday. McMahon, who came into the day tied with Kevin Jones for the lead, finished an 11-under round with a Circle 2 birdie to win the event by one stroke with a final score of 33-under par.
McMahon first took an outright lead on hole 12, but relinquished it with a par on hole 16. A steely approach from the rough on hole 17, a place he had also found himself during round 2, led to a birdie to keep pace. McMahon was not checking scores, so his winning putt on the final hole did not immediately register.
McMahon was eighth or better in every major UDisc Live statistical category. He led the event in finding C2 in regulation, doing so at an 85% rate. He had no bogeys on the weekend. This is McMahon's second DGPT victory, and first time playing the GLO.
Jones had built up a three stroke lead on the front 9 by birdieing seven of the opening eight holes. He'd let McMahon, Ricky Wysocki, and Chris Dickerson back in, however, by going 1-over par on holes 9-13. The final nail was a short approach on hole 17. Jones would hit the cage on a long uphill birdie look, but it wasn't enough. He led the event in fairway hit and C2 putting percentage, and was second in parked shots. He did not hit a C2 putt Sunday after collecting seven during round 2. He finished in fourth at 31-under par.
Dickerson was one hole ahead of the leaders, and posted an inspiring final stretch to keep the pressure on. A perfect roller on hole 18 left only a 25-footer to finish Dickerson at 32-under par and basically guarantee him a spot in a playoff if the lead card wasn't able to pull it off. He birdied the final seven holes and shot the hot round, 13-under par.
Ricky Wysocki would finish tied in second with Dickerson at 32-under par, and appeared to be feeding off his card mate at time during the round. He also had a par streak around the time Jones slowed in the middle of the course, and had to scramble to a par on hole 16 like McMahon, failing to take advantage of the opening. His 88% C1X putting rate was not as good as some recent events, but much higher than the early season tournaments.
Paul McBeth salvaged a top 10 finish, coming in tied with Ezra Aderhold, 12 strokes behind McMahon.
Statline
Hole 16 was one of the three easiest holes on the course to par every round, yet McMahon was never able to card a birdie. He led the field in C2 in regulation, and was sixth in C1iR, but never had a putt.
Heard
"Not really. I had thrown it into a bush about 75 ft off the tee the 2 previous rounds so I was just trying to get it through the gap and trying to land it in the fairway." – Chris Dickerson, on if he felt any pressure when lining up his roller on hole 18.