Round 1 Recap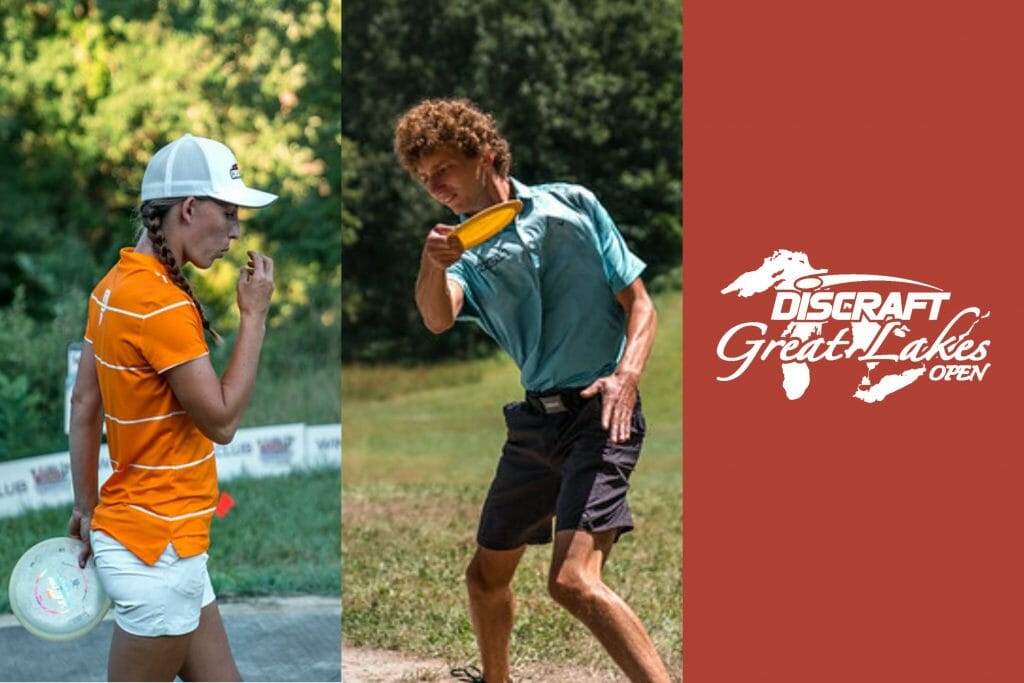 It's a hot weekend in Michigan and the scores are reflecting the weather at the Great Lakes Open.
Open Women
Paige Pierce picked up where she left off, coming into the clubhouse with the lead at 5-under par. The score could have been lower, but either the adrenaline or fatigue got the better of her. After recording an eagle on hole 17 and getting a Circle 2 look for birdie on hole 18, Pierce would take three putts to finish with a bogey. She leads the division in finding greens in regulation, but is 22nd of 32 in C1X putting.
There's a logjam in second, as five players are tied at 3-under par, two strokes off the lead. Kona Panis played the cleanest round of the bunch, with only a bogey on hole 8. Missy Gannon, also tied in second, equaled Panis by going 100% from C1X on the putting green. Catrina Allen, is still struggling inside C1X, but hit a couple from C2 to lead the division. Hailey King and Jessica Weese round out the fivesome.
2018 champ Sarah Hokom is sitting in 10th,  six strokes behind Pierce, but led the field in parked shots. She also struggled to get into consistent scoring position.
Statline
The par change year-over-year looks to be pretty accurate for FPO, even as the course gained some length. During last year's final round, the FPO division averaged almost 7 strokes over the par 60 layout. The opening round this year was 3.4-over par on a par 64 layout.
---
The lead card of Pierce, Panis, Allen, and Weese tees off at 4 pm ET on the Disc Golf Network.
Open
The feature card with two-time reigning champ Paul McBeth showcased the best golf of the day but it wasn't in the Discraft pro's hand. Calvin Heimburg, who finished fourth in 2019,  posted the hot round 13-under par and leads the division by one stroke. Despite hitting fewer C2 putts than the players chasing him, and two-putting once as well, Heimburg built his lead off near-perfect play off the tee, leading the tournament in parked, C1 and C2 in regulation.
Pushing Heimburg on the lead card was Ricky Wysocki, who looked like a vintage version of himself. He tossed in three C2 putts and would have tied for second if not for a late two-putt on hole 18. He is tied in third with Eagle McMahon at 11-under par. McMahon, playing the event for the first time, added four C2 putts and was perfect from inside 10 meters.
Kevin Jones, who fell to McBeth by one stroke in 2o19, is back in second place at 12-under par. He also added three C2 putts, all birdies, and is tied with Heimburg in first in parked percentage, 22%.
Eight of the top 10 players went bogey-free, including all four players that will make up the lead card on Saturday.
McBeth is tied in 15th at 7-under par. His lone bogey was on hole 18, but he didn't look comfortable for much of Friday's round.
The only eagle on the day came on hole 4 via a 200-foot throw-in at the hands of Kerry Pauley.
Statline
The most important stat in McBeth's two wins in 2018 and 2019 seems to be leading the event in C2 in regulation. Heimburg is currently leading that category along with Colten Montgomery (15th). McMahon and Wysocki are close behind tied in third.
---
The lead card of Heimburg, Jones, McMahon, and Wysocki tees off at 2 pm on the Disc Golf Network.