Leiviska promised shredding, and there was shredding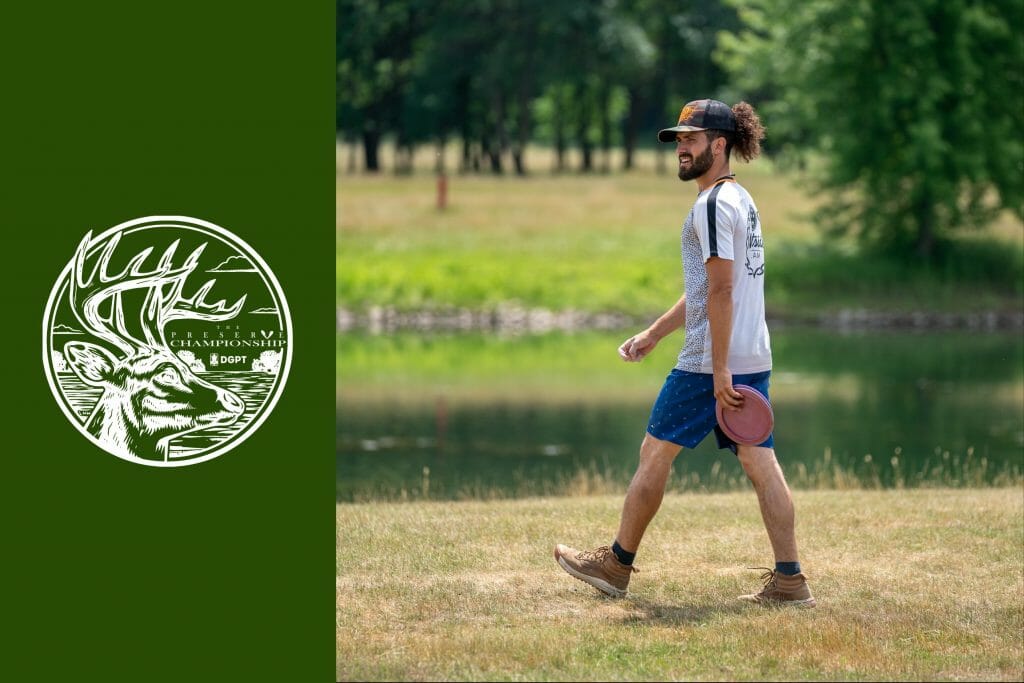 Our first look of the Black Bear layout at Airborn Disc Golf Preserve for the inaugural Preserve Championship supplied plenty of fireworks on Fourth of July weekend. Course designer Cale Leiviska said there top pros were "gonna shred" the course and he wasn't wrong.
Open Women
Hitting double digits under par was round 1 leader Paige Pierce, notching a 1010-rated 10-under par 55. She led the field in finding the greens in regulation, and connected on 9 of 10 putts from Circle 1X, a 90% rate good for third in the division.
While OB exists, it also isn't much of a danger at Airborn. Pierce only hit 75% of fairways, including missing the intended landing zones on holes 14 and 15 while airing the disc out.
Missy Gannon continued her good form from last week's Dynamic Discs Open to open her tournament with an 8-under par, good for solo second. Unsurprisingly, Gannon was 100% from C1X, 11-for-11, and was top five in every major driving category. She did find OB twice, including on hole 1.
Kona Panis and Jessica Weese were the only two players to finish bogey-free. Panis is tied in third with Catrina Allen at 5-under par. Weese recorded her only birdie on hole 18 and is tied in eighth at 1-under par.
The Open Women averaged under par for opening round. Holes 8 and 15 were not birdied, and hole 9 did not see a score over par.
Statline
Panis and Weese's bogey-free rounds were the fifth and sixth blemish-less Open Women's rounds on UDisc Live this season. Ohn Scoggins (Challenge at Goat Hill), Paige Pierce and Lykke Sandvik (The Memorial Championship), and Paige Shue Las Vegas Challenge) are the other four.
Open
Nikko Locastro and James Conrad are tied in first at 15-under par 49. Locastro's 1075-rated effort came via 15 birdies, while Conrad eagled hole 18 to tie Locastro who was in the clubhouse ahead of him. Both players were bogey-free. Conrad hit every C2 in regulation but is 32nd in C1X putting. Locastro was 100% from C2 putting, going 3-for-3.
Of the 104 player Open division, 22 rounds were bogey-free, or 21% of the field.
Twenty-one players are within five strokes of the leaders. Anthony Barela is included in that group, and set a UDisc Live record of consecutive birdies for a player. He closed out the Challenge at Goat Hill with 10 birdies, and opened up his Preserve with eight straight, topping Dustin Keegan's former record of 16 from the 2019 Las Vegas Challenge.
Course designer Leiviska started the round with a double-bogey 6 on hole 1 but rallied to get back to 9-under par. He's tied in 24th.
Emerson Keith is tied in eigth at 12-under par and got there in an unconventional way. He was 100% putting from C1X, but 59th and 78th in finding C1 and C2 in regulation, respectively. While going bogey-free, four of Keith's birdies were from outside C2, including a 123-foot throw-in on hole 18. His round was not featured on the livestream or any post-produced coverage.
Statline
Hole 18 gave up nine eagles to close out rounds. The only other eagle on the day was a 60-footer by Ezra Aderhold on hole 4. Aderhold also got the eagle on no. 18.
---
The lead Open card of Locastro, Conrad, Simon Lizotte, and Calvin Heimburg tees off at 2 pm Central on the Disc Golf Network. The Open Women's lead card of Pierce, Gannon, Panis, and Allen joins the coverage at 4 pm.