Round 2 Recap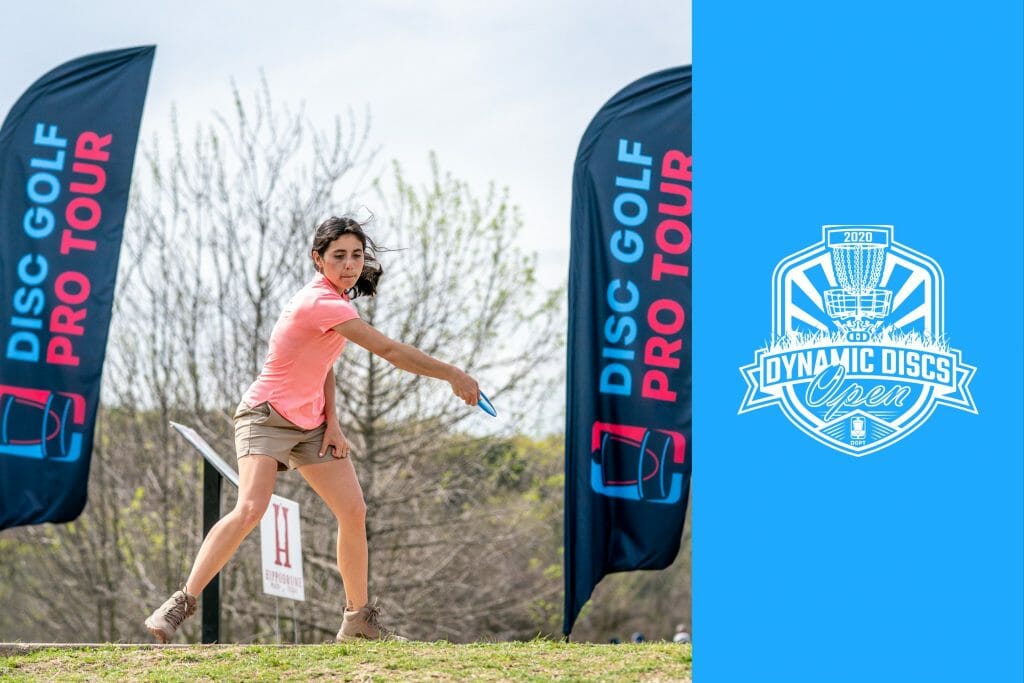 It was a hot one in Emporia and the scores reflected the weather during round 2 of the Dynamic Discs Open. First place just got further away but the battle for a podium position is just heating up.
The potential finishing blow for the tournament came early from Paige Pierce. Starting the day eight strokes ahead, she quickly added five birdies over the first six holes, including a 100+ foot throw-in, to distance herself from the pack. Pierce wouldn't match the 7-under par round 1 score, but a 6-under par 61 moves her to 13-under par total, 12 strokes ahead of second place.
Pierce is first is every major driving category, fairway hits, parked, Circle 1 and Circle 2 in regulation. She only recorded 2 bogeys Saturday despite six two-putts.
Missy Gannon looked to have secured solo second place with a strong 5-under day going before two late bogeys dropped her to a 3-under 64 day. Gannon's world champion putting stroke was the star of the day as her putter didn't hit the ground inside 10 meters. She is in third at even par total
Paige Shue had another steady day, avoiding the major stroke swings, but came in late to pick up tough birdies on holes 16 and 17, the same two holes Gannon bogeyed. The four-stroke swing moved Shue ahead of Gannon by one stroke to where she sits currently in second place at 1-under par total. Shue also tossed a 3-under par round Saturday.
With the only other under par round of the day, Catrina Allen moved up three spots into fourth. Kona Panis dropped off the lead card, due in part to a 6-putt 10 on the par 5 hole 9. Panis recovered quickly by parking hole 10 for a birdie.
Statline
Pierce's 64% C1X putting may seem low for a player on pace to win a tournament, but it's not even the lowest rate in the Open Women's field for a champion this season. Catrina Allen has won two tournaments this season, Las Vegas Challenge and The Majestic, shooting 48% and 35%, respectively, from C1X.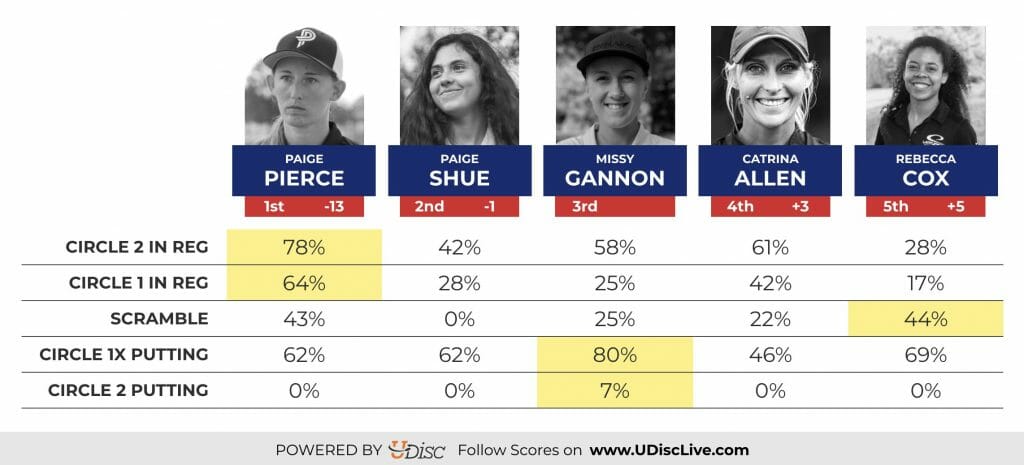 ---
The lead card of Pierce, Shue, Gannon, and Allen tees off at 4 pm Central on Disc Golf Network and YouTube.