Round 1 Recap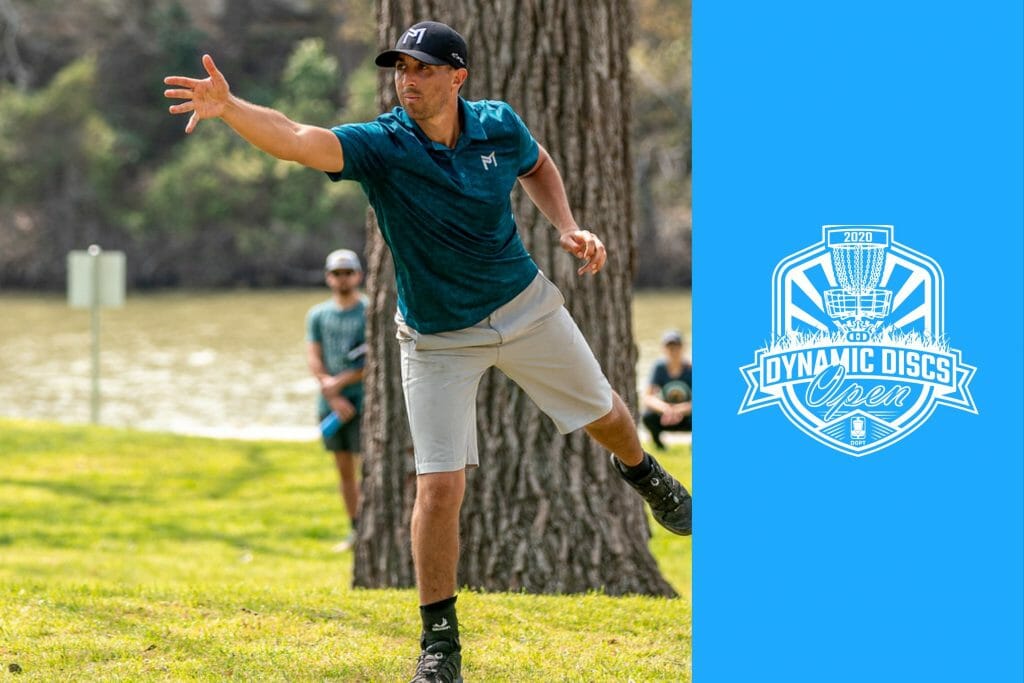 The return to the Elite Series at the Dynamic Discs Open showed a bit of competitive rust on the players. With the field being very familiar with the course at Emporia Country Club, however, we were able to see some impressive outings on day one.
The only blemish-less scorecard of the day belongs to day one leader Paul McBeth. McBeth was the only player to go double-digits under par, 11-under 54, and is up three on the field. The 1085-rated round included one two-putt and two birdies from Circle 2.
Initially, the feature card of Ricky Wysocki, Eagle McMahon, Jeremy Koling, and Eric Oakley looked to be in for a rough day. After a couple holes, however, the kinks were worked out. McMahon was 2-over par without a birdie through six holes before rallying to grab nine birdies over the remaining 12 holes to finish 6-under par 59 in a tie for fifth. He's first in finding C1 and C2 in regulation, but early putting troubles has him 55th in C1X percentage.
Wysocki followed a nice opening birdie with a turkey of bogeys to start the day. From there it was all blue on the UDisc Live leaderboard and he finds himself in second at 8-under par 57. It was early OB that held Wysocki back, as his C1X rate is currently 100%.
Emerson Keith is tied with Wysocki in second and Kevin Jones brings up fourth place at 7-under par. With three OB strokes and two two-putts, Jones has the easiest mistakes to diagnose and correct to lower his potential score on day two.
It wasn't WACO winner Colten Montgomery's day. A 14-over par included 12 OB strokes. Memorial champion Calvin Heimburg is tied in seventh at 5-under par after finishing his round with five straight birdies.
Tristan Tanner had a good round burned by two bad holes, including a triple-bogey on 18 to finish the round.
Heard
"They had a water guy driving around, putting on fresh gloves to fill up your water every time. And they broadcast over the PA to tell the 10 spectators that are here to stay on the sidelines and stay separated. They are most definitely trying. A+ for effort from what I can see." – Michael Sizemore, on the safety precautions and efforts of the DDO staff.
Statline
McBeth never shot lower than 8-under par and never had the hot round in last year's Glass Blown Open victory. Last year's final round was heavily-affected by weather, where this year at the DDO it looks to be relatively calm.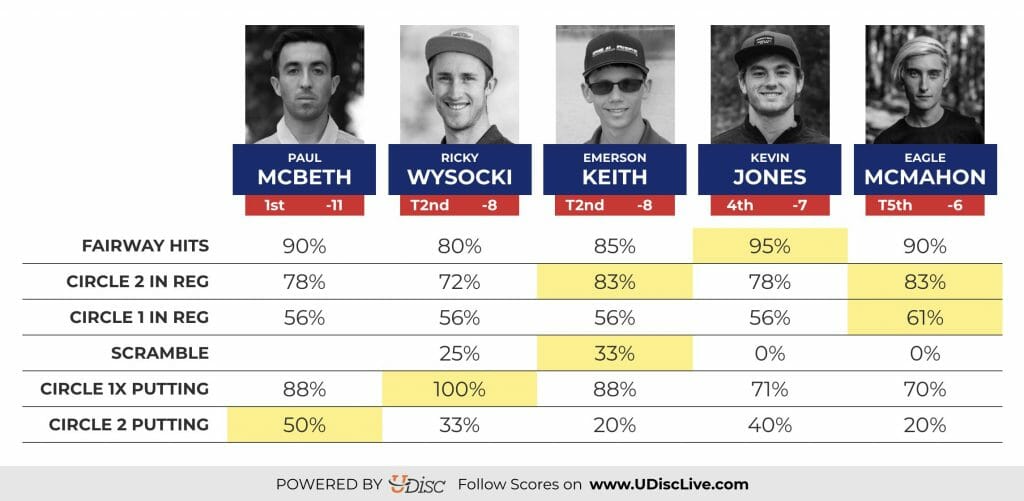 ---
The lead card of McBeth, Wysocki, Keith, and Jones tees off at 2 pm Central on the Disc Golf Network. Coverage starts at 1:35 pm.