Valarie Jenkins headlines class of five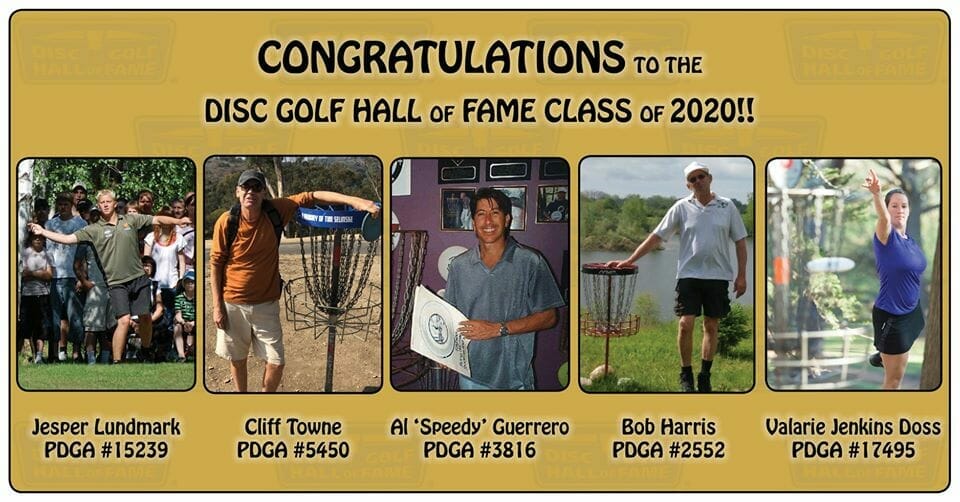 Just before its planned induction ceremony at the 2020 Pro Masters World Championships was canceled yesterday, the Disc Golf Hall of Fame announced its Class of 2020. Five new inductees were voted into the Hall by current members and approved by a Board of Directors.
Valarie Jenkins Doss, Jesper Lundmark, Cliff Towne, Al "Speedy" Guerrero, and Bob Harris will soon have plaques at the International Disc Golf Center among the sport's other greats.
Potential Hall of Fame members are judged by four criteria:
Favorable standing and an honorable reputation within the disc golf community.
Significant contributions to the sport of disc golf through development, promotion, leadership, and/or sportsmanship-that merit recognition, remembrance, and respect.
Sustained the sport with a passion that transcends personal gain.
At minimum 15 years of service to the disc golf community.
Jenkins is one of the most decorated disc golfers of all time. She is the 2001 Junior World Champion, four-time Pro World (2007, 2008, 2009, 2016), and two-time U.S. Women's Champion (2010, 2011). The five-time FPO Player of the Year was also awarded the 2015 Bob West Memorial Sportsmanship Award, and was Chair of the PDGA Women's Committee from 2011 to 2018 and founder of the Women's Global Event.
Lundmark toured from 1999 to 2014, during which time he became a seven-time Swedish Champion. Signature wins include the 2008 Scandinavian Open and 2009 European Open (Majors), and the 2010 European Championships.
Towne helped get the first permanent disc golf course installed within the Los Angeles city limits, while also picking up tourney wins and organizing tournaments himself. He's been involved with the PDGA as Editor of the PDGA Course Directory and Coordinator of the PDGA's Affiliate Club Program.
Guerrero is an enthusiast ambassador for disc golf, and was the Disc Golf Hall of Fame's administrator for the past 20 years before stepping down at the end of 2019. He continues to be the curator of the Headrick Memorial Museum at the IDGC, and has helped grow the sports from Indiana to Georgia.
Harris has been playing disc golf since 1980, and over the past 40 years has been a staple in the Ontario, Canada community. He has been the recipient of the prestigious Jim Olsen Service Award and the Ontario Disc Golf Association Dedication Award, and continues to TD events today.