And Why I'm So Glad I Finally Did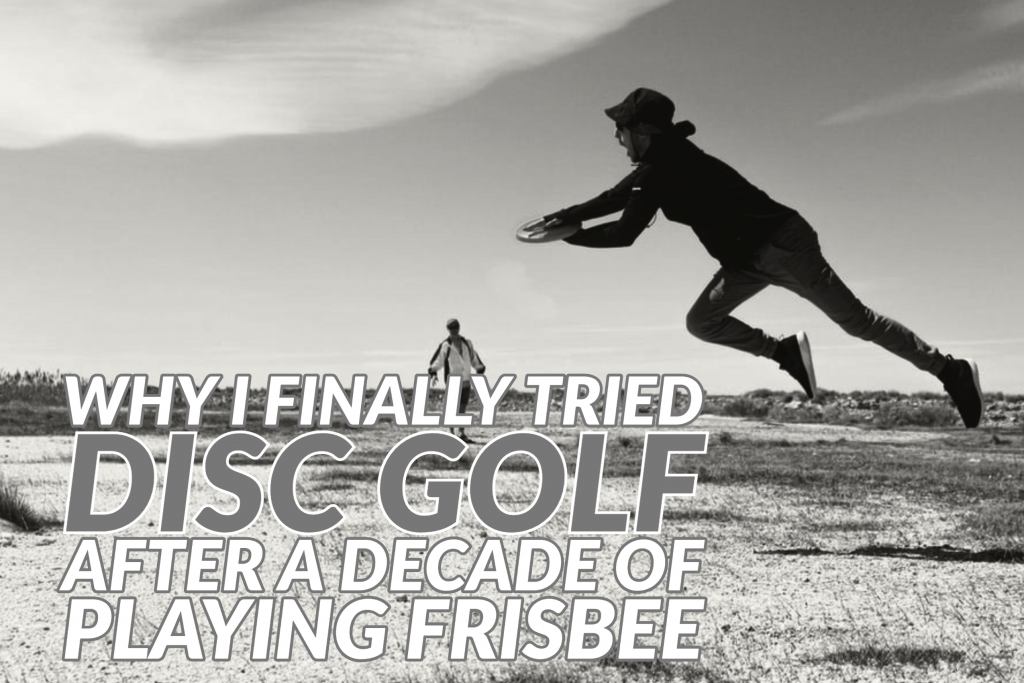 I grew up around Frisbees and all manner of off-brand variations, including flying rings and giant-sized fabric discs. For me and my siblings, they all definitively fell into the category of "yard toys."
It was in college that Frisbee took on a different dimension for me. My roommate and I started tossing discs around to pass the time, and it quickly turned into a daily habit. For the next six years, we met up at least once a week (sometimes four or five times) to play.
We played Frisbee with collies, terriers, and an amazingly talented Labrador. We played on skis and wakeboards. We played across highways. We played on multiple continents. We played while riding motorcycles. No joke.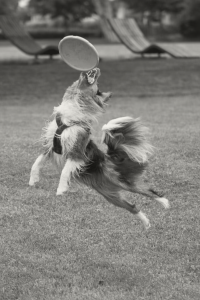 Was some of it ill-advised? Yep. Should we have filmed it? Oh yeah.1
At this point, disc golf was barely on our radar. I thought of it as something hipsters did, and frankly had no idea that it was a decades-old sport.
There was a joke I liked to make — "Disc golf is for people that want to play Frisbee, but can't catch." From the time I first thought that was funny, it would be almost 10 years before I realized how wrong I was.
Shift happens
After almost a decade of playing, I dropped the Frisbee habit when I moved to Finland with my wife and son. I didn't have anyone around who could play at the level I'd gotten used to enjoying.
Disc golf is extremely popular in Finland, and getting me there was fate's first big move in setting me up to try the sport. A torn ACL was its second.
With soccer, football (this is the kind I play), and even running off the table for quite some time, a buddy from back home in Georgia was finally able to convince me that disc golf was worth a try. I couldn't deny that fresh air, competition, and a safe level of exercise sounded like exactly what I needed.
(It helps that I live just half a mile from Finland's best course, as well as the locals' favorite gear shop.)
My buddy linked me to some JomezPro highlights and I started to get pumped. Not only did disc golf actually look pretty fun, but with all my Frisbee experience, I'd be great at it (or so I thought).
Then things got weird…
Just a few days after I bought my very first discs, coronavirus led to the surreal quarantine experience that we're all now a part of.
Staring at the discs on a shelf just irked me, though. I'd spent the last week or so getting stoked to try the sport, and this virus did not have permission to stop me.
With course play being actively discouraged, I went out and bought a basket. Since then, I've tried to throw 1,000 putts a week. Here's what I've learned, and why I'm so glad to have finally taken the leap into disc golf:
Disc golf is not easy
"It's throwing a Frisbee at a stationary basket," I always thought. How challenging can that be?
Plenty challenging, as I found out on day one. I'm not even talking about the ability to drive 300-plus feet (which I definitely can't do) or safely split a narrow hall of trees (ditto) – I'm talking about making a 15-foot putt.
Disc golf is for people who want to play Frisbee but can't catch? I couldn't have been further from the truth. Competitive golf requires both greater power and greater precision than anything I ever approached as a freestyler.
Disc golf teaches humility
I thought I'd be a natural at disc golf because of so many hours spent playing Frisbee. That turned out to be completely false. On the same afternoon that I set up my basket and attempted my first putts, my perception of the sport and the people at the top of it totally changed.
Disc golf takes every bit of the ambition and commitment to get to the top of the professional ranks as it does the NBA. I now have the same respect for those who do it that I have for top athletes in other sports.
Disc golf is community
Disc golf can certainly be played alone, and the outdoorsy, "getting away-ness" of it definitely holds a lot of appeal. On the other hand, when you really enjoy something, that often translates to wanting to share it.
It's beyond obvious to people who already play, but I had never taken the time to consider the community aspect of the sport. I don't think the day will ever come when freestyle isn't my favorite disc-based sport, but it has a serious drawback – unlike disc golf or Ultimate, it's hard to find people who are really passionate about sharing the experience of it.
Disc golf could be the future
I'm speaking for myself here. As someone who can't get enough of sports, but always seems to get injured, a low-contact choice like golf is probably a smart route to take. Of course, that would be moot if it wasn't a sport I was legitimately into. Even though current circumstances have prevented me from having completed a single round, I'm confident that I'll be playing disc golf for the long haul.
Underestimating a popular pastime, making silly assumptions, and then pulling a 180-degree turn to go all-in – for me, those are just par for the course. Bottom line: it may have taken me until 30 to get interested in the sport, but I'm here now and happy about it.
I can't wait to see you out there.
---
YouTube was in full swing at this point, but we had neither the expertise nor the ambition to be a part of the content revolution. ↩