We have some questions surrounding the Ultimate player's foray into disc golf but mostly we are enjoying the show.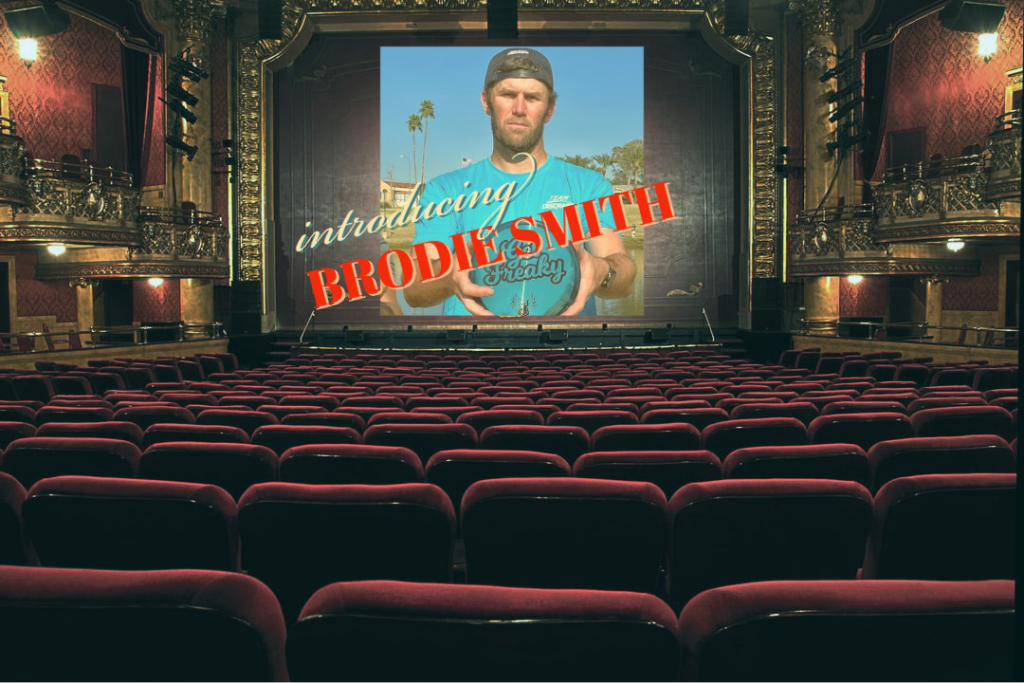 Brodie Smith has given me lots to think about. His foray into disc golf spawned some very compelling questions, the type of questions that make ideal fuel for spirited sports talk. Naturally, as an Ultiworld Disc Golf columnist, I have answers, and possibly even some new questions!
Brodie's sudden presence in the sport has people speculating about his potential to become an elite disc golfer and ability to "Grow the Sport." Many also wonder about his true motivation for suddenly going "all in" on disc golf.
On top of all this – and to a degree because of it –  Brodie Smith seems to be a somewhat polarizing personality. I'm basing this on comments I've read in online threads that mostly relate to interactions from his Ultimate days. Having never met the guy I prefer to reserve judgement for when and if I have a personal interaction with him, but as a commentator I appreciate the added color. It makes these already fascinating Brodie storylines even more fun to follow.
But wait, there's more! Now comes the news that his first tournament action ever will be at the Disc Golf Pro Tour's Waco Annual Charity Open, where we can all watch it unfold live on Disc Golf Network as he is on the feature card along with Paul McBeth, Cale Leiviska, and Drew Gibson.
This just gets better and better.
Before I ask and answer what I feel to be the most compelling questions surrounding Brodie Smith and disc golf, here's a little background. This likely isn't necessary, so I'll make it brief:
Brodie Smith first became known as a star on championship college and then professional Ultimate teams.

A series of Frisbee trick shot videos he posted on YouTube earned millions of views and set him up for a legitimate career as a social media influencer.

Brodie announced his retirement from Ultimate in mid-2018 and shortly thereafter declared his intention to become a competitive (ball) golfer.

After a spirited but failed attempt to qualify for the U.S. Amateur Championships he turned his attention to disc golf, signing an endorsement deal with Discraft after declaring a commitment to the sport as his new competitive obsession.

Since his announcement at the turn of the year, Smith has posted nearly 20 videos on YouTube and signed up for several pro tournaments. 
If you want more details, check out this great discussion between Ultiworld publisher Charlie Eisenhood and Jamie Thomas on The Upshot podcast, and this episode of SmashBoxxTV where Brodie Smith sits in for an extensive interview.
I respect Brodie Smith's accomplishments in Ultimate, and I sincerely admire his marketing chops. He turned something he loves into a lucrative career. Conceiving and executing a YouTube channel that gains enough traction to produce a full-time income requires creativity and dedication. Sustaining that channel also demands a steady flow of new content and lots of time and effort, which leads to our first question.
What is Brodie Smith's primary motivation for pursuing professional disc golf?
When asked in his Smashboxx interview how serious he was about disc golf, Brodie indicated that he's as serious about competing as anyone on tour, using phrases like, "This isn't a hobby," and "This isn't a YouTube career move." The message was clear: disc golf is his job now.
Brodie Smith obviously has a deep-seated drive to succeed athletically, and the self-styled Dark Horse seems to embrace any opportunity to beat the odds. He also possesses advanced flying disc skills and enviable physical traits. While these were likely all contributing factors in Brodie's decision, I have to think his primary motivation for embracing disc golf is indeed to further his career as a social media influencer. Despite what he said, that is his job – the one that pays the bills, at least. In the same Smashboxx interview, he also mentioned that, "disc golf is not a financial move."
I'm not saying that moving to disc golf will elevate Brodie's profile as an influencer in any way. If anything it's a step down based on a comparison between his subscriber and viewership numbers to anything in our sport. But like all YouTubers he needs a constant flow of fresh content to keep their core subscribers watching, and his core likes flying discs. Since his body can't do Ultimate anymore and coming up with new trick shots can't be easy, disc golf is a natural next choice.
Like any smart business owner, Brodie is also diversifying his YouTube operation. He runs a separate YouTube channel, Brodie Smith Golf. He has 337,000 subs for that channel, and has posted five videos there since announcing his dedication to disc golf. 
If he's just using disc golf to advance his career as an influencer, how should we feel about that?
I don't think Brodie Smith is getting into disc golf for the sole reason of advancing his social media career, but even if he were I wouldn't hold it against him.
The entrepreneur in me admires the business he's built for himself and I wish him nothing but the best. The disc golf advocate in me who wants to see the sport thrive into the future sees no downside to what he's doing.1. The disc golf spectator in me considers him must-see TV. I've long said that sports are the original reality television. I can't wait to watch him play against real competition, by the real rules, in real time, on some real challenging courses, then talk about it at length afterward.
How good can he be, and how good will he be?
Brodie Smith has a ton of things going for him, so he's got the potential to get good at this sport awfully quick. Consider the following assets:
His size – 6'5" with a very athletic physique.

A proven mastery of controlled flying disc flight.

An already-demonstrated ability to throw far and putt decently.

A good understanding of course management from his time playing ball golf.

An analytical and inquisitive mind while practicing and playing- crucial to ongoing improvement.

Mentoring from Paul McBeth, the world's best player and, something McBeth has demonstrated in their videos together, a pretty good teacher as well.
Given all this, I can see Brodie quickly reaching the point where he's better than 95% of disc golfers in the world. The power to throw 500 feet and hit a high percentage of putts in Circle 1 will likely translate to at least a 960 player rating. But two things will keep him from getting close to winning a DGPT, National Tour, or even an A-tier event for quite some time.
A truly challenging course requires next-level flight control in order to navigate obstacles and score with the world's best players. Dialing up the exact right combination of disc, spin rate, angle of release, trajectory, and release point – and then pulling it off – is a learned skill that comes with time. The difference between a very good player and an elite player may seem marginal if you watch them shot-by-shot. Then you see the scorecard at the end of the round and realize it's a pretty wide gap. The little things take time to master, and in disc golf there are just so many of them.
All that being said, I think Brodie Smith could be the exception but for one other factor: his "day job." He is documenting this journey on YouTube, and he is both the story and the storyteller. Will he be able to focus entirely on his game during tournament rounds and block out thoughts of his next video? The two seem intertwined. How about the cameras trained on him while he lines up a 35-footer to save par? To be successful in golf we need to focus narrowly on executing each shot. In Brodie's unique situation that is going to be particularly hard.
Should we want him to become a top disc golfer?
If I could script the way the Brodie Smith story plays out, he'd spend at least a year being humbled every time he tries to compete as a pro at top-tier events. His quest should be good entertainment, and I want it to last.
My other reason for feeling this way comes from a sense of protectiveness about my sport. I don't want to see anyone taking up the sport and quickly being able to beat our best. I cherish and wholeheartedly believe the oft-repeated claim that disc golf is "easy to learn but hard to master."
Therefore, I'd actually enjoy seeing Brodie winning a big event – someday. In my preferred scenario, he'll keep at it, and slowly work his way up the ladder. However long it lasts, I expect some good entertainment.
What kind of impact will Brodie Smith have on disc golf's growth and visibility?
With more than 2 million YouTube subscribers and between 50,000-250,000 views for each of his videos since he launched into disc golf, it stands to reason that those numbers will result in new disc golfers and new disc golf fans. Especially since nearly all those subscribers predate his disc golf days.
Metrics at the end of the year will give us an idea of just how much of this type of impact Brodie has, but I suspect it will be incremental and won't result in any earth-shattering news. I see bigger potential in his ability to serve as a conduit between disc golf and a much bigger celebrity. I'm not thrilled about it, but (as I predicted in my book) disc golf's tipping point moment is likely to be the result of a random famous person bringing the sport to the attention of a broad swath of mainstream media.
The bottom line for me is that this is going to make for great theater, spirited discussion, and at the very least a bump in the number of people who play and pay attention to disc golf. 
So don't be a hater. Just enjoy the show!
---
Well, maybe just one – more on that below. ↩