A new way to dive deeper into disc golf.
We are excited to announce the launch of Ultiworld Disc Golf's new subscription, which features a host of benefits for fans of disc golf!
From subscriber-only articles to exclusive segments of The Upshot podcast, an UWDG subscription helps you get more insight into the professional tour and closer to the game.
Here is a look at the options: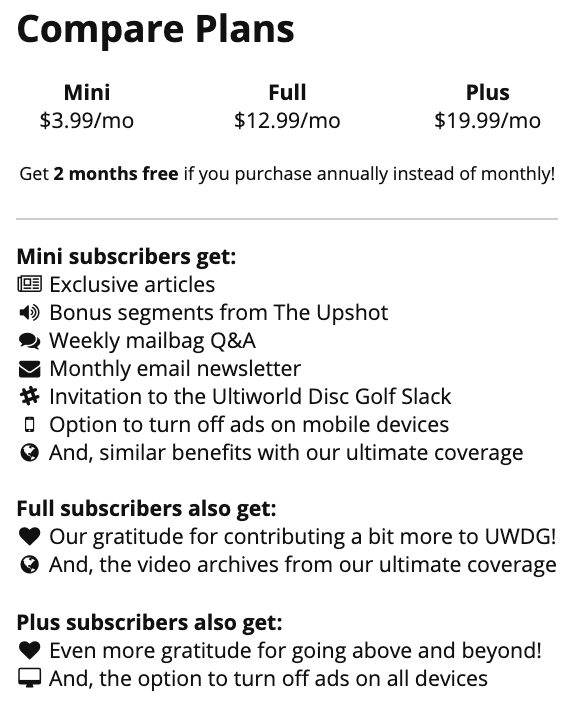 For the majority of readers, the Mini plan ($3.99 a month) will be the best choice! For less than the cost of a beer (at least in New York City…) a month, you get access to all of the following:
Exclusive articles, both long-form and short-form.
Bonus segments from our podcast, The Upshot, hosted by Charlie Eisenhood and Jamie Thomas.
Weekly mailbag Q&A open to all questions, comments, and ideas—with a free one-month Mini subscription (or equivalent discount) for the best submission each week!
Monthly email newsletter, focusing on off-the-field news in the realms of business, sport development, people and leaders, and more, with inside knowledge and original reporting.
Option to turn off ads on mobile devices will appear in My Settings.
Similar benefits from our ultimate coverage, automatically available without any extra setup.
A subscription is the best way for readers to support everything we do at Ultiworld Disc Golf. We have purposely shifted our fundraising focus to these new, bundled subscriptions because they allow us to raise funds from the most popular aspects of our coverage and subsidize less immediately profitable coverage.
If you enjoy our analysis articles but also want to support expanded tournament coverage, a subscription is a great way to do it! If you religiously read all of our MPO coverage, but want to support FPO coverage, a subscription is a great way to do it! If you appreciate all of our reporting but you really just want to make sure Charlie & Jamie can survive another year of The Upshot, a subscription is a great way to do that too.
And, yes, for those who love all disc sports, you get reciprocal benefits across both our ultimate and disc golf sites with just one subscription!
Why We Are Starting A Subscription
There are sure to be questions about the new subscription, and we'll be happy to answer any that you have here in the comments or by email.
Broadly, we are making these changes for the following reasons:
1. We think that we can provide better value to our most supportive readers.
2. We want to create new opportunities for more ambitious journalism and writing.
3. We need the support of our readers in order to survive as an organization.
It's worth expanding on that last point. Although we have worked and continue to work to support our operations with advertising, it has become clear that Ultiworld Disc Golf will not be able to thrive in the long-term without direct support from readers. You can help us to continue to provide high quality content with a subscription. We are grateful for your support!
Some Possible Questions
Is Ultiworld Disc Golf going to be behind a paywall?
Definitely not! The vast majority of our content will still be as it always has been: free and unlimited. Our premium content is designed to be above and beyond our normal writing, podcasts, and other content.
Why are you putting any articles behind a paywall?
We want to change the economics behind some of our most ambitious writing. Being able to support our best writers and analysts in writing longer, more labor-intensive articles is paramount. It will offer us the opportunity to dig deeper into stories and commit time and resources to articles outside the news cycle.
I know you do a lot of ultimate video. Are you going to do more video content in disc golf?
Trust me — we have thought a lot about this! We do expect to start creating more disc golf video content (follow us on YouTube) in the future.
We are sure there will be more questions and comments; check out our updated FAQ page, discuss in the comments below, or email us at support@ultiworld.com!