Delta's abrupt closure has left customers towing a big bag of regret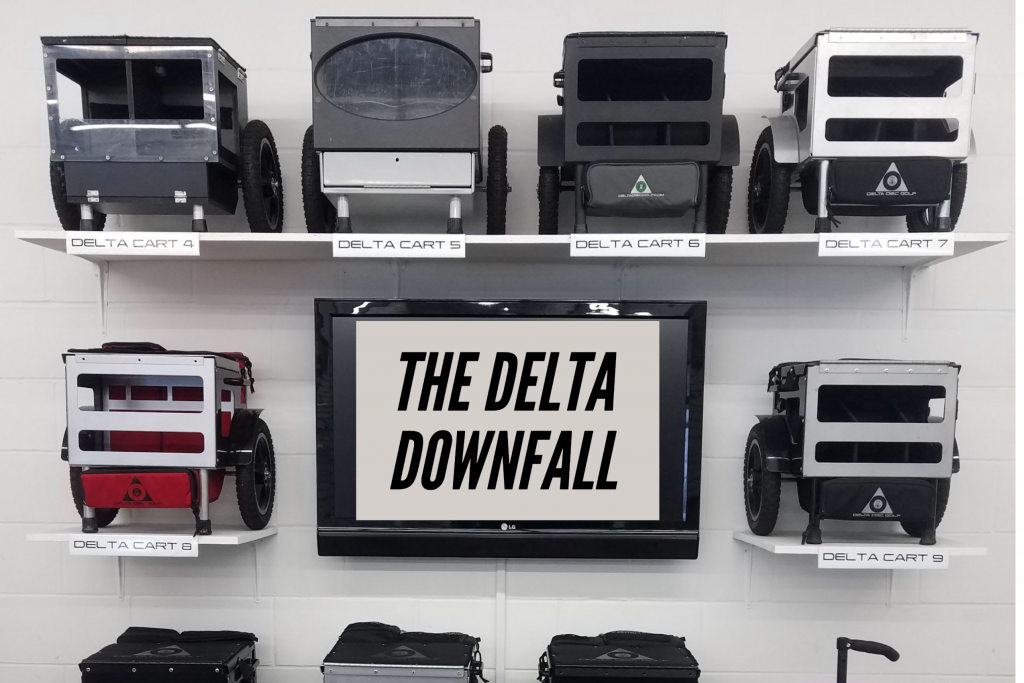 Delta Disc Golf carts debuted in 2015 to positive reviews and grabbed attention when it was seen towed next to pros on tour. World champion Ricky Wysocki put his name behind the product and the cart was hailed for its construction, functionality, and durability.
But, it now seems the company is out of business and has left customers towing a big bag of regret.
Attempts to reach Delta Disc Golf owner and operator Bryan Sterk were unsuccessful. The company website is offline with the message, "We'll be back soon." The phone number for the company is not accepting calls. Sterk did not respond to direct attempts to contact him on Facebook.
Customers who pre-ordered carts have apparently not been able to contact Sterk or communicate with anyone at the company. Delta Disc Golf is being accused of not filling orders and stealing from customers.
"They took my order and closed shop!!! WTF!!," read one review on the Delta Disc Golf Facebook page.
"Return calls/emails…be HONEST AND COMMUNICATE!!!!," wrote another.
Discraft Tour Team player, Alex Geisinger, is listed on the Delta Disc Golf Facebook page as a team member. Geisinger told Ultiworld Disc Golf he is no longer involved with the company.
"It kinda just fizzled out when the storefront closed," Geisinger said. "I think it was fall of 2018 when the store closed in Roseville."
The company's address — 2950 Rice Street, Little Canada, Minn. — is still listed on the Facebook page. Reviews dated before 2018 on the page are mostly positive. The most recent reviews are negative and accuse the company of fraud.
"The cart was sick, super solid and compact. In my opinion, I'm surprised Zuca outlasted Delta based on quality and not much of a price difference," Geisinger said. "Long story short, Brian built a phenomenal product but wasn't the best business operator. The thing about Delta is everyone that actually got one was extremely happy with the product; it's just the people that didn't get it in a timely fashion that are salty about the company. They are in the right and Brian shouldn't have been taking so many orders when he knew he couldn't keep up with demand with his small operation."
"No hard feelings against Brian I just really don't know what happened," said Geisinger.
Delta was apparently still taking payment for orders in April of 2019, even though Sterk had already closed the storefront. Julie Derscheid ordered two carts in April 2019 but received nothing from Delta and has had to dispute the charge on her credit card, she said.
"I ordered two carts on April 1, 2019, for about $1,115 with an expectation of having them in four to six weeks per the Delta site. On May 9, I asked for a status and was told two weeks, an obvious lie. On June 16, they issued me a $300 refund due to their lie. After that they stopped responding to my emails," Derscheid said.
Jerry Breitbach, another customer, told UWDG about a similar experience. Breitbach saw a Delta cart a friend had on the course. He decided to get one for himself. He still doesn't have one.
"I saw one of the Delta 10 carts a friend had. I looked up the site, eventually called the company and talked to Brian about the cart. It was pre-order so I wanted to know about what my time frame would be to get one. It was supposed to be a 45 day period," Breitbach said.
"I ordered on April 9 (2019). Waited 45 days, emailed the company. He said there was a delay in the nylon parts. Waited about another month and emailed again. No response. Called them, talked to Brian and he said still a delay. This went on for about six months. At one point no response, no emails, then the website went offline. No more contact. I called my Visa card company," he said.
Anger from the disc golf community with Delta's business practices is prompting another cart company owner to offer discounts to Delta customers. Joe Robinson, owner of RidgeRoller Carts, is offering Delta customers $50 off one of his carts.
"With the recent news of Delta disc golf going out of business and screwing over its DG (disc golf) customers ? I'm going to offer $50 off the R3Roller with a picture of your invoice from Delta," Robinson wrote on a post to the Official Disc Golf Cart RidgeRoller CARTel page "That's all I'm going to say about the situation ?
For his part, Wysocki has quietly stepped away from his sponsorship and is now toting a custom Ridge Roller rig.
UWDG has been unable to verify a total number of orders affected by Delta's closure, but almost every week another account of failed delivery seems to appear.
Maybe Sterk and Delta will reorganize and restart production, as the company has gone silent for periods in the past. But as it stands now, the outlook is not so good.