King has her eyes on the throne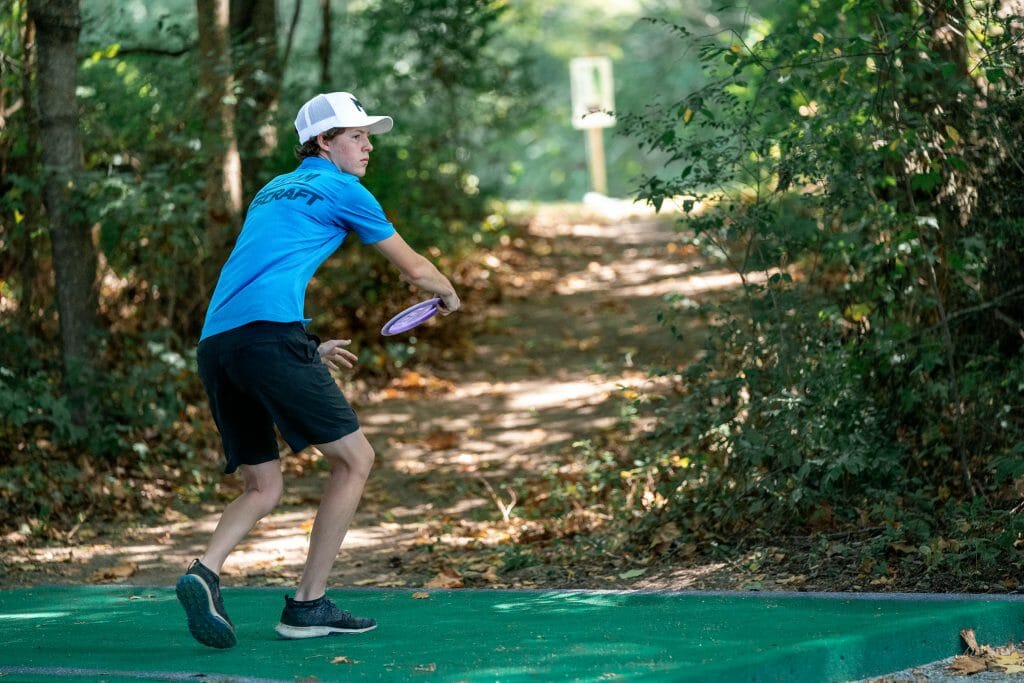 After only one full season on tour, Hailey King has proven that you should get used to hearing her name.
The Wisconsin native already has 17 career wins to her name at only 18 years of age, and if her 2019 debut tour is a sign of things to come, the rest of the Open Women field should consider themselves on notice.
King had 12 top 10 finishes in 2019, including second place finishes at notable A-tiers The Rumble, 303 Open, and Vacationland Open. On the Disc Golf Pro Tour, King took down top five finishes at the Ledgestone Open, the MVP Open, the Green Mountain Championship, and the DGPT Championship. Over the past year her rating has steadily climbed 10 points to a career-high 941, and King is in the top 10 of all but one of the major statistical categories that UDisc Live tracks.
The limit for King does not exist.
---
Like many pros, King got into the game at a young age, learning to play with her father, cutting her teeth on the wooded courses in Wisconsin.
"My dad introduced me when I was 10, I think. We played once or twice that year with my dad," King says. "I think 13 or 14 is when it really picked up and I started playing a lot with a group of my dad's friends, my sister and my dad. I played a lot at Rollin Ridge. It's a lot of wooded shots, a few open shots. But it's a course where you need to learn how to hit your lines. I think it's a really good place to gain some skills. Definitely elevated my game way quicker than I ever expected."
While King had been playing sports her whole life — baseball, softball, soccer, and ultimate all caught her eye at one point — disc golf won out.
King says, "I used to hike a lot with my dad and my twin, we loved it. Disc Golf gives me that opportunity to be in nature as well as being competitive. My family, especially my dad's side, they're all really really active. Like, no matter what we'd be doing something outdoors.
"I was pretty good at soccer and I was gonna do that, you know, for my life," King continued. "Disc golf kind of took my heart, between nature and just being able to travel all around the world."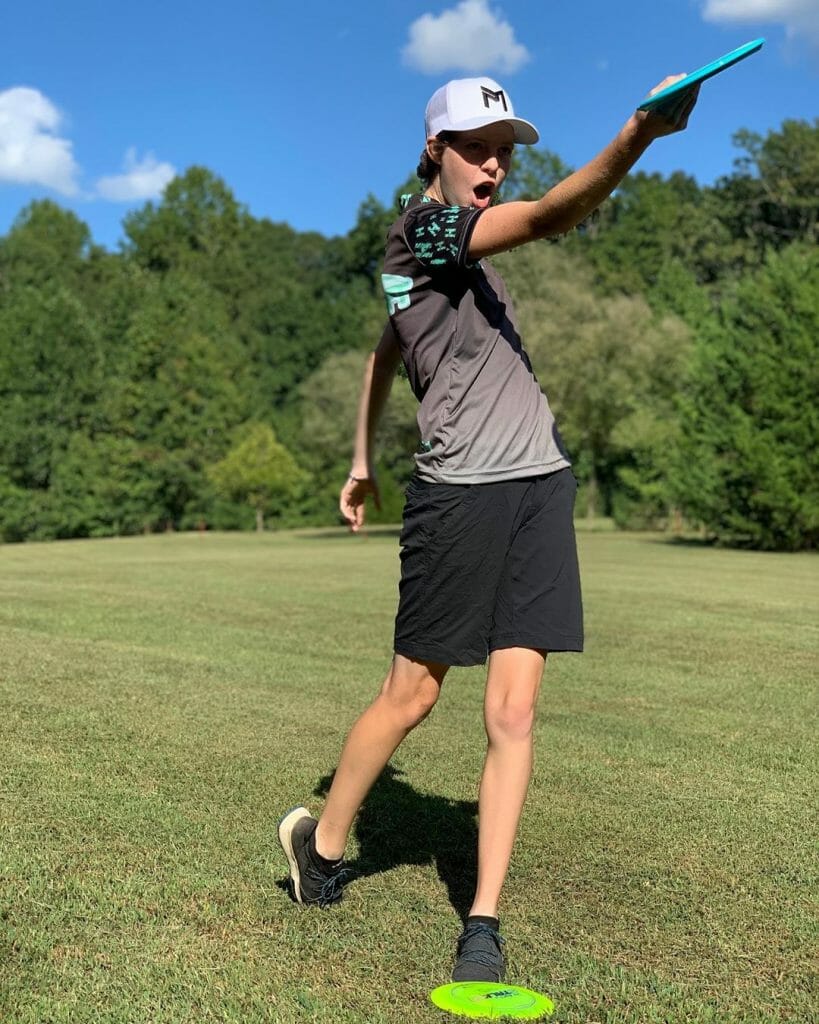 Once she turned her focus toward disc golf, she rose quickly through the ranks. King joined the PDGA in 2016 and in her first year as a registered member won 11 events in every division available to her to play with the exception of Open Women. She credits her father and Midwest legend Barrett White, with helping push her to compete and take the next step in the sport.
"She's the one that actually pushed me, and pushed my dad to play my first tournament, so Barrett White has a huge, huge influence on me," King said.
White may have been on to something. In 2017, King played at the Ledgestone Open in the FPO division. She placed 11th, two strokes out of a top 10 and firmly in cash,1 averaging 897-rated golf on a very difficult track. King identifies her play at that event with her decision to make disc golf her main focus.
"It was actually my first year at Ledgestone [when] I decided that I could actually be good at this and make it my life."
King has certainly made it her life. She is completing her high school education online and putting college on hold while living in Grass Valley, California this offseason. The decision to delay college and pursue disc golf full time was not an easy call, or a popular one.
"My family wasn't too happy with the choice," King admitted."They all are still happy for me, because I'm happy and I'm living my life."
The first full year on the road was an education all its own, and a good one at that. Looking back on her 2019 season, King isn't shy about sharing the moments she is proud of, or speaking honestly about the challenges that the road presented.
"I am very proud of how I played at Ledgestone and then GMC. This year was my third year playing Ledgestone and my second year playing GMC and I really liked those style of courses because it would have both wooded and open," King said. "It felt really good to get a fourth place finish at Ledgestone. That was just huge for me. I love the event, love the area, love the people. That's one of my favorite tournaments no matter what.
"I flew out to Worlds last year, it was my first Pro Worlds with my dad, and that means a lot to me. I toured with Callie McMoran; she was a good person for that. We had some hiccups for sure but we don't need to get into those.
"Being on the road is pretty fun, I meet a lot of really good people," King continued. "I feel like I'm home when I am on the course. Brian Earhart and Paul McBeth have helped me out with a lot. Madison Walker's been a huge help to me. Whenever I have a problem. I talked to her and she always helped me. And we're good friends too, so we hang out a lot. She made last year very comfortable for me."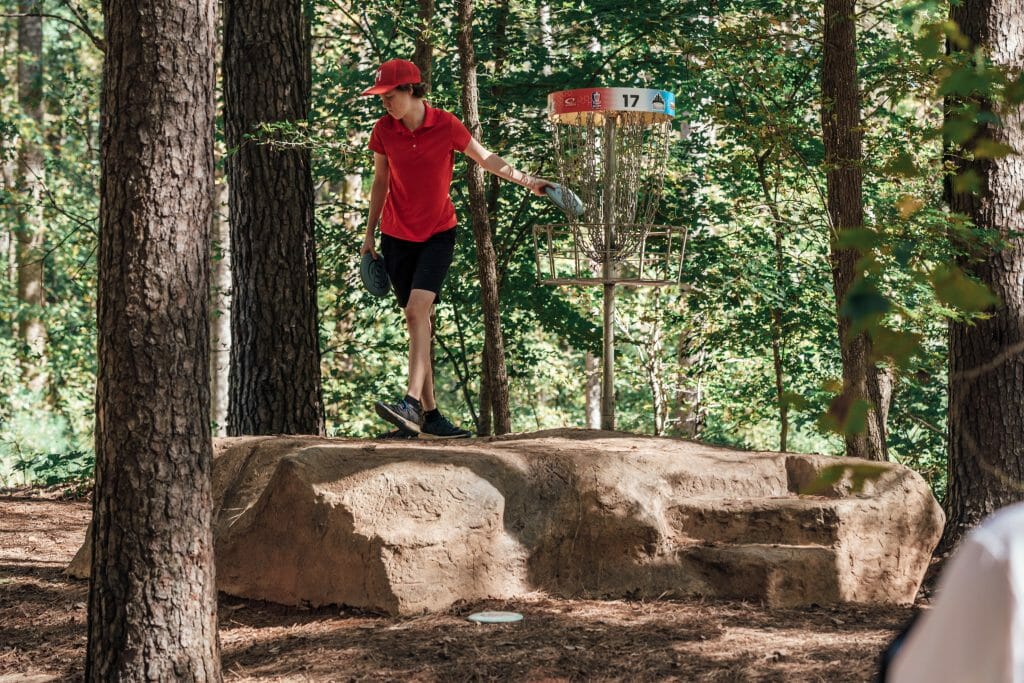 Even with some impressive finishes during her freshman season on tour full time, King has high ambitions for her 2020 season.
"I definitely, definitely would like to win Ledgestone," she says. "The next event would be Worlds in Utah. I've never played out there and I hear good things, so I'm really looking forward to it. Next year I'm gonna have to look at all the places that I'm staying to make sure I have housing and stuff like that. I learned that from last year."
There is also work to be done on the course if King want to get her game to the next level. She is spending her offseason working in the field, trying to improve her backhand, and rehabbing a shoulder injury which nagged her throughout 2019.
"In a sticky situation I would rather throw a forehand," King says. "So this year, I hurt my shoulder and that made it really tough to get out of the woods off the drive leaning on my backhand.
"I'm going to keep working on my forehand form to make sure I don't hurt my shoulder again. And then my backhand, I want to be able to get more distance on it, which I'm working on right now. Just going into those fields and seeing what the best way for me to throw the farthest is."
King was recently promoted to Discraft's Elite Team, their highest tier of support for touring players, alongside Paige Pierce and Missy Gannon. King says the promotion was validating.
"When I got promoted I was talking to Bob [Julio] on phone, and he just told me that they wanted me on the Elite Team just because they see a lot of potential in me. They know that I work hard at what I do."
So far for 2020, King is registered to play at the Las Vegas Challenge, Throw Down the Mountain, and the Glass Blown Open. King has never played in Vegas, and is looking for her first top 10 finish at GBO.
If the last couple of years are any indication, no one should be surprised to see King challenging the throne in 2020.
---
King did not accept payout ↩