Scrambles, metal hits, and chainouts -- oh my!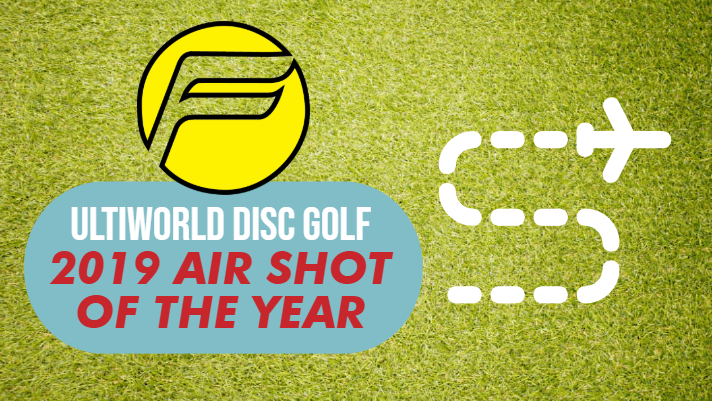 Ultiworld Disc Golf's 2019 Air Shot of the Year voting is presented by Friction Gloves; all opinions are those of the author. Check out our review of Friction's DG Gloves here.
The 2019 professional season was one for the books, filled with shots causing us to pick our jaws up off the floor. And there were so many, we figured we'd enlist Ultiworld Disc Golf readers to help us decide on the season's best.
With that in mind, we are proud to present the fourth of four bracket challenges to close out the year. We've culled highlights from the sport's best media providers and broken them down into four categories: Air Shot of the Year, Putt of the Year, Roller of the Year, and Ace of the Year. After each bracket is decided, the winners will battle in a four-way, College Football Playoff-style bracket that will determine the 2019 Shot of the Year.
Pick up to five shots for Air Shot of the Year to make it to the semifinals. And if you're having fun with this, feel free to share the love on social media.
A special thanks to Jomez Productions, Central Coast Disc Golf, Spin TV, Disc Golf Pro Tour, Par Save Productions, Anhyzer TV, Dynamic Discs, SM Disc Golf, GK Productions, Gatekeeper Media and others for capturing these clips. And we're off!
---
Bryan Vagi at the Wintertime Open
2019 Wintertime Open – Round 2 Bryan Vagi hole 8 throw in
Håkon Kveseth at the Wintertime Open
2019 Wintertime Open – Round 2 Kveseth Hole 6 approach scooter 
Jessica Weese at the Las Vegas Challenge
lvc 2019 round 2 jessica weese hole 9 throw-in
Simon Lizotte at the Las Vegas Challenge
2019 LVC | Round 2| Simon Lizotte hole 7 drive near ace 
Calvin Heimburg at the Las Vegas Challenge
2019 LVC | FINAL Round | Calvin Heimburg hole 18 approach 
Jalle Stoor at Memorial
Round Three 2019 Memorial Championship – Jalle Stoor hole 10 approach
James Proctor at the Oakland City Championships
2019 Oakland City Championship James Proctor hole 2 drive 
Simon Lizotte at Throw Down The Mountain
2019 Throw Down The Mountain Simon Lizotte hole 18 drive tee to green
JohnE McCray at the Tallahassee Open
2019 Open at Tallahassee JohnE McCray hole 11 approach 
Vanessa Van Dyken at WACO
Final Round 2019 Waco Annual Charity Open – Vanessa Van Dyken hole 14 drive
Chris Clemons at WACO
2019 WACO | Round 1 Chris Clemons hole 10 throw-in
Simon Lizotte at WACO
2019 WACO Simon Lizotte 500 ft putter
JohnE McCray at the Glass Blown Open
2019 Glass Blown Open MPO3 Round 3 Front 9 | JohnE McCray hole 9 approach
Eagle McMahon at the 303 Open
2019 303 Open Eagle McMahon Throw-in 
Seppo Paju at the Challenge at Goat Hill
2019 Challenge at Goat Hill Seppo Paju hole 16 drive 650+ feet 
Catrina Allen at Masters Cup
2019 Masters Cup Presented By Innova – Round 3, Part 2 – Catrina Allen hole 14 approach 
Matt Bell at Masters Cup
2019 SC Masters Cup | R2F12 | Matt Bell hole 11 drive
Ricky Wysocki at Masters Cup
2019 SC Masters Cup | R1F12 | Ricky Wysocki hole 5 drive
Manabu Kajiyama at Masters Cup
Masters Cup 2019 – Men – Round 1 of 3 | Back 12 – Manabu Kajiyama hole 13 approach
Seppo Paju at the Beaver State Fling
2019 Beaver State Fling – Final Round, Part 2 – Seppo Paju hole 12 drive
Jennifer Allen at the Beaver State Fling
2019 Beaver State Fling • R3B9 • Jennifer Allen hole 12 drive
Paige Pierce at the European Open
European Open Round 2 Paige Pierce hole 17 drive
Ricky Wysocki at the European Open
2019 European Open Round 4 Ricky Wysocki hole 12 approach 
Eagle McMahon at the European Open
2019 European Open Round 3 Eagle McMahon hole 16 approach
Austin Hannum at the European Open
2019 European Open Round 3 Austin Hannum hole 18 approach
Emerson Keith at the Ponca City Open
2019 Ponca City Open Emerson Keith hole 10 throw-in 
Paul McBeth at the Kansas City Wide Open
2019 Kansas City Wide Open Paul McBeth hole 8 approach 
Reid Frescura at Ledgestone
Ledgestone Round 3 Reid Frescura hole 17 drive 
Kristin Tattar at Pro Worlds
2019 Pro Worlds Round 3 Northwood Blues Kristin Tattar hole 3 throw in putt
James Conrad at Pro Worlds
2019 Pro Worlds Round 4 Northwood Gold James Conrad hole 14 drive
James Conrad at Pro Worlds
2019 Pro Worlds Round 2 Northwood Gold James Conrad hole 9 drive
Kevin Jones at Pro Worlds
2019 Pro Worlds Round 5 Lake Eureka Kevin Jones hole 4 drive
Kevin Jones at Pro Worlds
2019 Pro Worlds Round 1 Lake Eureka Kevin Jones hole 14 throw in eagle 
Jalle Stoor at Pro Worlds
2019 Pro Worlds Round 1 Lake Eureka Jalle Stoor hole 13 throw in eagle
Joel Freeman at the MVP Open
2019 MVP Open Joel Freeman hole 11 approach
Nikko Locastro at the Green Mountain Championship
2019 Green Mountain Nikko Locastro hole 15 drive
Gregg Barsby at the Green Mountain Championship
2019 Green Mountain Gregg Barsby hole 14 approach
Ricky Wysocki at the Delaware Challenge
2019 Delaware Challenge Round 2 Ricky Wysocki hole 11 throw-in 
Joel Freeman at the Delaware Challenge
2019 Delaware Challenge Joel Freeman hole 17 throw-in
Catrina Allen at USWDGC
2019 USWDGC Catrina Allen hole 14 drive
Paige Pierce at USWDGC
2019 USWDGC Paige Pierce hole 17 drive
Nikko Locastro at USDGC
2019 USDGC Round 3 Nikko Locastro Hole 13 albatross throw-in
Albert Tamm at USDGC
2019 USDGC Albert Tamm Hole 10 drive
Simon Lizotte at the Hall of Fame Classic
2019 Hall of Fame Classic Simon Lizotte hole 5 drive
Chris Clemons at the Hall of Fame Classic
2019 Hall of Fame Classic Chris Clemons hole 6 approach
James Conrad at the Hall of Fame Classic
2019 Hall of Fame Classic James Conrad hole 1 approach
Garrett Gurthie at DGPT Championship
2019 DGPT Championship Garrett Gurthie drive
Calvin Heimburg at DGPT Championship
2019 DGPT Championship Calvin Heimburg hole 13 approach
Nate Perkins at DGPT Championship
2019 DGPT Championship Nate Perkins drive
Chris Dickerson at DGPT Championship
2019 DGPT Championship Chris Dickerson hole 18 drive