It's time to get down!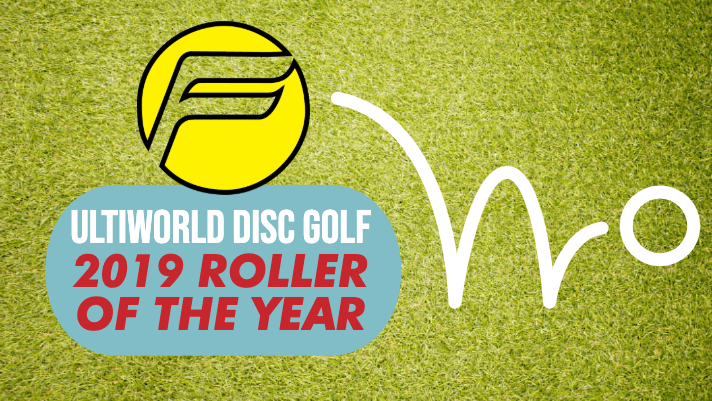 Ultiworld Disc Golf's 2019 Roller of the Year voting is presented by Friction Gloves; all opinions are those of the author. Check out our review of Friction's DG Gloves here.
The 2019 professional season was one for the books, filled with shots causing us to pick our jaws up off the floor. And there were so many, we figured we'd enlist Ultiworld Disc Golf readers to help us decide on the season's best.
With that in mind, we are proud to present the first of four bracket challenges to close out the year. We've culled highlights from the sport's best media providers and broken them down into four categories: Roller of the Year, Air Shot of the Year, Putt of the Year, and Ace of the Year. After each bracket is decided, the winners will battle in a four-way, College Football Playoff-style bracket that will determine the 2019 Shot of the Year.
Pick up to five shots for Roller of the Year to make it to the semifinals. And if you're having fun with this, feel free to share the love on social media.
A special thanks to Jomez Productions, Central Coast Disc Golf, Spin TV, Disc Golf Pro Tour, Par Save Productions, Anhyzer TV, Dynamic Discs, SM Disc Golf and others for capturing these clips. And we're off!
---
Chris Shotwell used the wide-open fairways at the Las Vegas Challenge to put down a big distance roller early in the year.
Chris Shotwell Roller Las Vegas
There were a couple of examples of Simon Lizotte's distance roller ability. First he went over 850-feet at the Glass Blown Open, scaring away spectators before settling out of bounds. He did it one better at the Tyyni on hole 18 by putting it inside the circle.
Glass Blown Open 2019 – Simon Lizotte 850 foot roller 
2019 Tyyni Hole 18 Simon Lizotte Roller Drive
Much like Simon had a couple of repeat performances throughout the season, Catrina Allen proved over and over again that she has the best roller game in FPO. Was her San Francisco Open or Beaver State Fling roller better?
San Francisco Open 2019 – Women – Round 2 of 3 | Back 9 – Catrina Allen hole 12 roller
2019 Beaver State Fling • R3F9 • Catrina Allen hole 5 roller drive
The Northwood Gold course at this year's Pro Worlds had plenty of roller opportunities. Crafty vet Nate Sexton made sure to take advantage.
2019 Pro Worlds Northwood Hole 7 Nate Sexton Roller Drive 
Matt Bell didn't win his first National Tour event at the Masters Cup but he did show off those local roller lines in style.
Masters Cup 2019 – Men – Round 1 of 3 | Front 12 – Matt Bell hole 8 roller drive
And we can't overlook the utility of the roller. The perfect escape tool.
Paul Ulibarri used a nice forehand flick roller to get out of trouble at the Jonesboro Open and get in position for a putt.
2019 Jonesboro Open Hole 18 Paul Ulibarri Roller Approach
And Ricky Wysocki went patent-pending roller from off the fairway to set up a big birdie putt at the European Open.
2019 European Open Round 4 Ricky Wysocki hole 4 roller approach 
Choose up to five