The gall to show up to the course with this much drip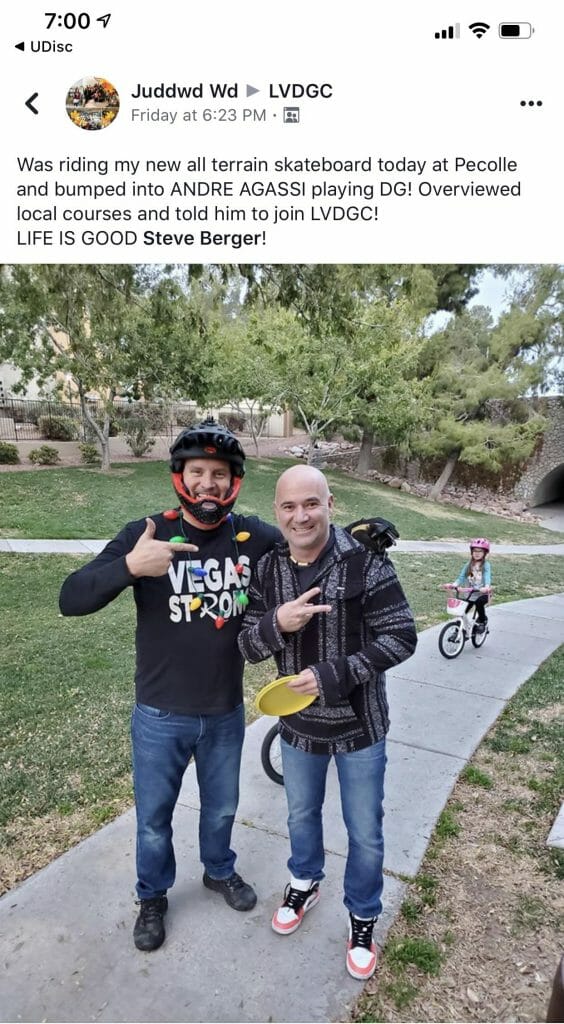 A Las Vegas disc golfer apparently ran into Andre Agassi out playing a round of disc golf at Peccole Ranch and told him a bit about the sport and local clubs after learning the tennis great was just getting into plastic chucking.
No intel on if Agassi's tennis motions had translated into disc success yet, but just having an athlete of Agassi's pedigree out on the course is always a joy to see. And kudos to Judd on growing the sport.
To be honest though we're completely distracted by the fact that Agassi is out here toe dragging in some certified sneaker heat.
While we're a bit too far away on the picture to be for sure, we're bascially 100% for certain that Agassi is rocking some Reverse Shattered Backboard Air Jordan 1s from 2016. In case you're wondering, these resell in the $900 range if you're even able to find a pair in your size. Agassi probably isn't stressing this too much. As a sponsored Nike athlete we're sure he got these comped.
Also, people should use Agassi as an example and wear their kicks more. Just like people should throw their plastic.
Pro tip to Agassi for future rounds: try out some of your own Air Tech Challenge 2s. We know you have a couple of pairs laying around.