Big paydays can be secured with strong finishes at the final NT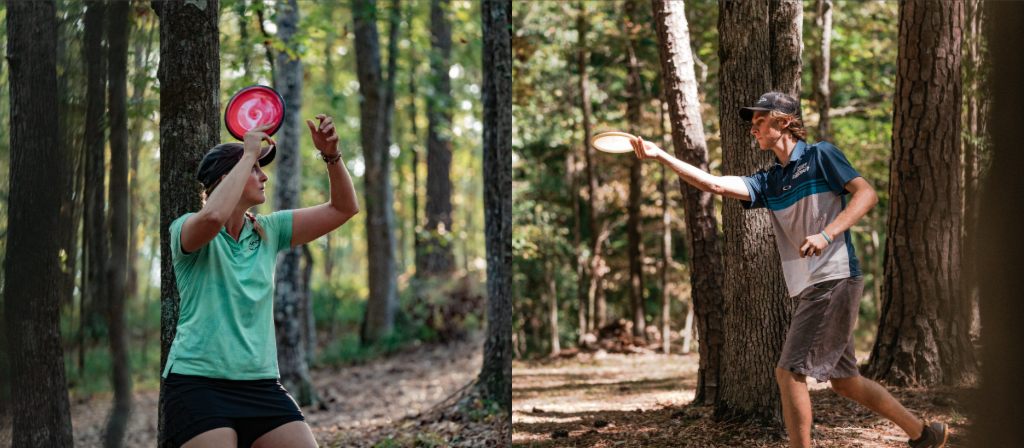 Moving day at the International Disc Golf Center turned out to be more like treading-water-on-the-lake day as the majority of competitors in each division failed to make significant moves on Saturday. In fact, the biggest mover before the Sunday round at the Hall of Fame Classic will likely be the weather, as looming showers seek to put a damper on this October weekend in Georgia.
In FPO the story of the day is undoubtedly Holly Finley, whose round went down like a much-needed glass of sweet tea on a humid autumn afternoon. Finley only played one hole over par: a mostly inconsequential three-putt on the 11th that netted her a double-bogey, though she would birdie two of the next four holes to quickly recoup the strokes. In fact, that one blemish was her only missed Circle 1X attempt, second best on the day behind Christine Jennings's perfect 7-for-7 putting performance.
"I've been playing this event for about six or seven years, and I've always tried to be really aggressive and get birdies," Finley said. "Yesterday I looked at Paige Pierce's score and I realized that all she did was par and get a few birdies at the end, and I thought, 'You know what, I could totally do that if I stopped being greedy, trying to birdie everything,' and that's exactly what I did today. I just played safe, safe, safe. I wasn't too aggressive on the C2 putts so I didn't have long comebacks, and I really only made like two mistakes in the round."
Finley's four digit-rated charge saw her climb 10 spots from the fourth card to yet again edge defending champion Catrina Allen off of the lead group by one throw, though she will start the final round 11 strokes back of newly-minted leader Sarah Hokom. Hokom and Finley were the only women to complete the course in under 70 throws.
Hokom, who has seemingly found her missing gear just in time for some late season heroics, tossed a 1007-rated Saturday is her first pair of consecutive 1000+ rounds on Tour this season,1 and prior to this has only recorded a single round rated above 1000 this season.
Hokom capitalized on Pierce's slow start, cutting into the three-stroke deficit early and earning the outright lead by hole 8. Pierce would wrestle back to a tie courtesy of birdies on holes 11 and 14 before a disastrous triple-bogey on the par 4 15th, which played as the fourth easiest hole on Saturday, despite Pierce registering the only 7 in the division.
"I think I was just in my head a little bit today," Pierce said. "I was just thinking about too many things instead of where my disc is going to land and where I want it to land. I just wasn't hitting my lines as accurately. Yesterday I had a perfectly clean round in my head, so I knew it was going to be hard to match that but I didn't think I was going to be this much off."
Hokom would surrender two of those strokes gained on hole 17, which features the narrowest gap for a tee shot on the course. Hokom, however, is now allowing herself to relax as she heads into the final round having earned a two-stroke advantage.
"I haven't traditionally played extremely well out here, last year I didn't have a single round under par," Hokom said. "I think things are coming together for me. [The] game is just ebb and flow and things feel good. Tee shots feel good, backhand feels good, approaches feel good, and both of my putting styles feel good. It's nice when things come together, and we're on a course where I can score decently on, and it plays to my strengths of being more of a shot shaper."
---
The MPO field on average fared only a half stroke better than day 1, right at even par, which earns a rating of 997 on the 10,485-foot W.R. Jackson long layout. Nobody was able to find a double-digit under par score as Adam Hammes did in round 1, but three players — Hammes, JohnE McCray, and Calvin Heimburg — set the high watermark with a score of 9-under par 59.
The warm weather seemed to inspire both the players and interspersed, but energetic, gallery alike on a day where finding yourself in the 50s would earn you a rating in the 1050s or better. For his part, Hammes once again fell one putt short of C1X perfection, and wasn't quite as proficient in finding the fairway, but the Wisconsin product relied on his trusty putter to carry the day going 3-of-5 from C2 and even adding a couple of big time putts from outside of 75 feet for good measure.
"I'm feeling great," Hammes said. "I've had a few hot rounds this season where I've come out in the second round and not shot what I'm capable of, and it finally feels good to come out here in the second round and stay on top. That was the main goal today and I achieved that."
Calvin Heimburg, hot on the heels of Hammes after round 1, missed the fairway with his drive three times in the first eight holes. The stoic Heimburg was only able to successfully scramble once therein, which allegedly fired him up – though if you can tell the difference I've got an expert level Where's Waldo? that I need some help with.
On his scoresheet though, it's much easier to see, as he would put together a 7-under run on the 6 holes following his second bogey of the round, including an eagle on the 837-foot par 5 hole 14.
"You can never be upset with 9-under at Jackson. Especially [because] I didn't start quite as good as I did yesterday, and I kind of put it together in the middle stretch," Heimburg said. "I still have to put together a solid round out here, there's a bunch of people within three or four, and really it's any of those people's game. One of those people could rattle off a 11-under and you could shoot a 7-under and suddenly you're tied with them. I'm not really thinking about the end result, I just know I need to come out here and hit some fairways again, and hopefully not let the course bite me again like sometimes it has in the past."
Side note – how bad must it feel to be Simon Lizotte right now? He shot exactly his rating (1040), bogey free, 8-for-8 scramble rate, was in C1 with a birdie look for nearly half the holes, and STILL fell off of the lead card. He is four strokes and two spots back of Heimburg, who he needs to finish well ahead of, in order to leapfrog him and grab that sweet National Tour Points Series Bonus payout. Barring a meltdown, Heimburg is poised to be the big money winner this weekend, potentially approaching a World Championship level payout if he can find a way to the top of the podium as well.
Hammes and Heimburg (Hamburg?) will be joined by JohnE McCray, who very nearly strung together birdies on the last 12 consecutive holes he played, but hey, 11-of-12 ain't bad either. McCray is four strokes back and is looking to have fun on the final round.
"I really came alive there in the back half of the course," McCray said. "I threw some lackluster shots to start the round and I just kept trying to get it, and I finally popped into gear and got nine of the last 10 holes. I feel really comfortable out here, the Jackson course really suits my game, and being so close to going home is another thing that makes me feel comfortable, makes me happy. It's always good to get back to Florida – and shots just started working."
The foursome is rounded out by United States champion James Conrad, who has thus far not suffered the proverbial post-major hangover. In fact his 100% scramble, 100% C1X putting round was capped off with an eagle on the final hole, a feat that Lizotte had a do-or-die opportunity to replicate in terms of deciding who he would be playing with for the final.
As Heimburg notes, however, the chase card is far from out of it. The W.R. Jackson course must be respected and players must resist pushing the pace too hard, a sentiment shared by the entire pro field.
Whether the weather in the area, or the weathered touring professionals, will rule the day remains to be seen. However, with the majority of the field calling this their final round of the 2019 season (only a limited number of players are invited to the Disc Golf Pro Tour Finale next weekend in Charlotte, NC) what is certain is that the last opportunity of the decade will not come easy. With a full month more of offseason before the National Tour begins in Tyler, TX next March, players will have plenty of time to reflect, and plot their revenge on W.R. Jackson.
---
Tour events are Majors, National Tour, and Disc Golf Pro Tour events, though it's worth mentioning that Hokom did shoot 1042, then 1019 at a well attended B-tier in June- La Nina Open ↩