Conrad survived both a chase card charge and a near-disaster on hole 17.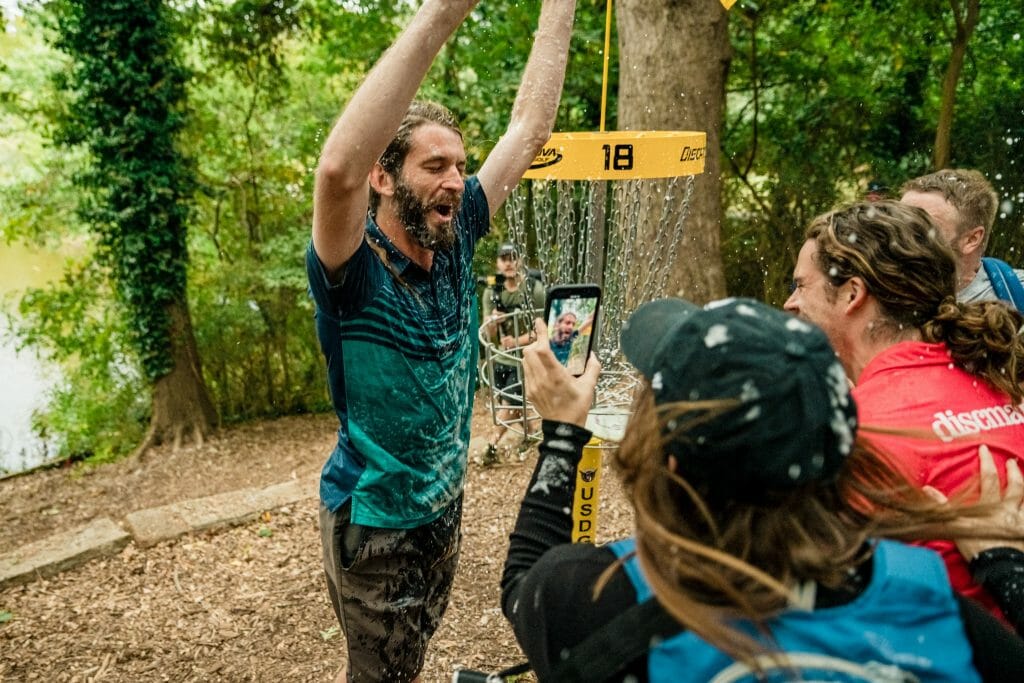 ROCK HILL, S.C. — After a second place finish in 2018, James Conrad persevered through a challenging final round to win the 2019 United States Disc Golf Championships. It is the first major victory of his career.
"It was wild," he said. "It's a feeling I'll never forget. It was amazing. So much love from so many people."
Conrad's final round 2-over par 69 brought his total to 19-under par 249, the highest winning score since Will Schusterick's 2014 victory.
In his fourth final round lead card appearance at a major in the last two years, Conrad had his first lead going into it: two strokes over Eagle McMahon. A report just an hour before their 2:00 PM tee time that McMahon had broken his hand when he punched the ground after missing a putt on hole 16 during the third round set an ominous tone for the afternoon.
With temperatures sharply down and the wind swirling, the course was at its most difficult. And nothing was coming easy for Conrad.
"[Hole] 5 I missed my first Circle 1 putt of the tournament, so that definitely stung a bit," he said. "I played the hole but juiced my upshot a bit and had some headwind coming at me and chained out weak side on that putt. And that might have shook me a little bit, looking back on it."
Conrad, like everyone on the lead card, struggled with consistency off the tee. Holes he'd played perfectly in the first three rounds suddenly required difficult scrambles. And there was pressure coming from his card from Albert Tamm as well as the chase card, where Chris Clemons and Nikko Locastro were making a push.
Despite making far more mistakes than he had in previous rounds, Conrad consistently threw crucial shots when he needed them most. He birdied two holes, 2 and 8, that he hadn't birdied all week, making up for some mistakes in the front nine. On hole 11, he went out of bounds to the right hand side of the landing zone, leaving him a very difficult approach. He placed his upshot inside circle 1 and saved par. Later, he bogeyed hole 13 after again going OB right just minutes after Clemons birdied, which cut his lead to one. He stepped up to hole 14, a downhill par 3 with OB all around the green that Clemons had just birdied to tie Conrad at 22-under, and parked it with a brilliant putter shot.
"I had been struggling into the headwind, and then stepping onto that one, I was shooting in the opposite direction, so I had a bit of a tailwind helping me," he said. "And a tailwind with a putter in the hand usually goes pretty well for me and I was able to put it right in the bullseye."
You could feel it looming: like so many times before, the tournament was going to come down to the island hole 17.
After hole 16, Clemons was one stroke back and Locastro, who had just put together a four birdie streak including a 60′ putt on the elevated basket of hole 14, was two strokes back.
Clemons had the box on 17. He threw a Harp on a hyzer, a shot that had worked for him all week on the hole. It didn't even come close to making the green. One stroke penalty, re-tee.
"I didn't really have much nerves," he said. "It was definitely the wind."
Next: a Justice. Again, it didn't flip up and fell short into the OB.
On his final try, he fired an XXX and flew it long. He missed the circle 2 putt and carded a quintuple bogey eight.
Nate Sexton made the green safely before Locastro stepped up to the tee. He, too, went out of bounds, but made his second shot safely. He ran the dangerous Circle 2 putt and started running it down, but it barely clipped the band and bounced out. He took a double bogey five. Just like that, Conrad's lead was four strokes.
All Conrad needed to do was make the green and the USDGC title would be his. He'd birdied the hole the previous two rounds. Again, he threw his green Aviar, but it was too high and clipped some leaves — from there, it never had a chance.
He tried again, but he still didn't adjust enough to the headwind. OB again. "I was like, 'OK, that was my last freebie,' if you will," he said.
He stabled up and made the green, but he was in circle 2 with OB right behind the basket. He was forced to lay up and take a quadruple bogey.
Ahead on 18, Locastro laid up short on the fairway but, disastrously, threw his second shot out of bounds right, nullifying his play for par. He took a bogey, which dropped him back to 18-under, one shot back of Conrad.
Standing on the 18th green, Jeremy Koling, the 2016 USDGC champion, was freaking out. He'd put together one of the better rounds of the day — a 6-under par 61 — and was sitting at 18-under for the tournament. Shockingly, he was in a position where he might be in a playoff for a chance at a win.
Conrad, needing a par for the win, put that notion to rest. With some obvious nerves, he threw a putter four straight times, though his second shot flirted with the OB and his third shot left him a tester putt from 15 feet. But he sank the putt as the crowd roared and descended on him, celebrating his first major title.
"Going second place last year and winning this year, he's proved that he's a deserving champion, and I'm so proud of him," said Koling. "It really couldn't have happened to a better fan favorite."
"I feel like I've proved myself pretty well, really since I've come on tour but especially last year and this year," said Conrad. "It's a really great capstone on this year specifically. I haven't been able to pick up any big wins yet this year. I've had a lot of good showings. I have my highest rating I've ever had: I'm close to 1040 right now. I know I've played well all season, but in those chances I've had when I've made the lead cards, when I've been in contention, I haven't come away with a big win yet this year, and that was gnawing at me a little bit…So to step it up and pick up my first major at the end of this season is a great feeling."
Conrad won $12,000 for his efforts, the biggest purse of his career.
Two Former Champions Tie For Second — In Very Different Ways
"My heart is still racing right now," said Jeremy Koling just minutes after Conrad clinched the title.
"I didn't think that a 61 would be anywhere close to pushing for the win," he said. "And I made a few mistakes right down the middle of the stretch of the round that I thought really cost me that top five finish, which is what I was aiming for if I wasn't on fire."
On hole 18, Koling, who was on the third card, was thinking mostly about trying to lock up that top five spot. He was uncomfortable with his footing on the fairway, so he opted to lay up for a par instead of pushing for a birdie.
"I was thinking to myself, 'If I get one birdie here, I could potentially get one spot higher, it just depends on how people are doing on 16, 17, 18,'" he said. "But I certainly didn't think anything like what was going to happen was going to play out."
Now, he'll have to ruminate on what could have been.
"When it was over, I was thinking about every. single. small. mistake," he said. "And all the little tiny errors, and it comes down to one stroke. And it just is like, this is going to be a hard time to get over that."
2009 USDGC champion Nikko Locastro, too, was second-guessing himself. He was emotional as he walked off the 18th green with a bogey, frustrated with himself for a "huge mistake" going out of bounds on the second shot and questioning his decision to lay up in the first place.
There were so many 'what ifs.'
Chris Clemons Comes So Close
The leader after rounds one and two, Chris Clemons bounced back from a poor round three to put himself in a position to win down the stretch of the final round. Hole 17 had other plans.
Despite falling to fourth place, he was upbeat after the round.
"To be honest, I feel really good," he said. "Even after throwing OB on 17 three straight times, I couldn't help but smile. Because I had the opportunity to win and I played well, and I was just happy with how I was playing."
Clemons has had an excellent back half of the 2019 season with multiple top 10 finishes. He was 12th at Worlds and tied the course record (-11) at Fox Run Meadows en route to a second place finish at the Green Mountain Championships. Now he has a top five finish at a major to his name.
"I really don't want to take an offseason," he said. "I just want to keep playing. I haven't been home since February. I've been on the road all year. But I feel like I'm getting going and playing really well."
He will be a player to watch in 2020.
Eagle McMahon Plays Through A Fractured Hand
After rumors of a potentially serious hand injury swirled on Friday evening, Eagle McMahon announced Saturday before the start of his final round that he had suffered a boxer's fracture in his right throwing hand. Against the advice of physicians, he decided to play through the pain.
"I am glad I played," he said. "As opposed to dropping out for a really bad reason, I feel like I proved to myself and proved something to the fans by coming out and showing that I'm still going to play regardless of when adversity hits."
He was forced to throw almost entirely forehands except for putts. "Any time I gripped a backhand I felt major pain," he said. "I threw one backhand shot on hole 18 just because it was a short putter shot and I can't imagine trying to shape a forehand down that green."
Understandably struggling with control, he shot over 10 strokes worse than any of his first three rounds, but he still finished inside the top 10 ("And I got some money to pay for some medical bills.")
His season is over, though — because of the injury, he won't compete at the Hall of Fame Classic or the Disc Golf Pro Tour Finale.
"It's really unfortunate because I had a really great chance at the National Tour points," he said.
Paul McBeth Fails To Cash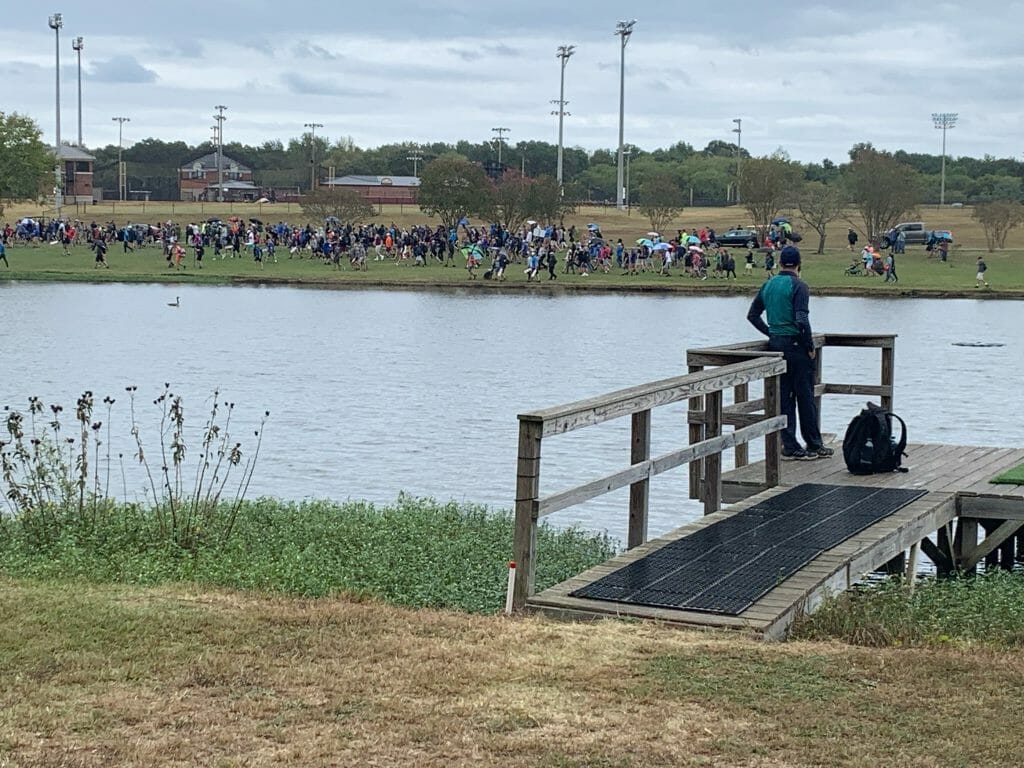 It was another rough day for world #1 Paul McBeth, who shot a 6-over par 73 and finished five strokes out of the cash line. It's his first time missing the cash at a tournament on tour that he completed since 20091.
He shot under par just once all week and had a whopping 29 out-of-bounds shots through the four rounds.
It marks his first time outside the top two at a tournament since May (he was 6th at Master's Cup) and his first finish outside the top 10 since August 2018.
Notes
It was an odd experience in the final round as no player on the lead card challenged Conrad after the front nine. The entire lead card shot over par on the day, surely one of the only times in the history of professional disc golf. Albert Tamm was threatening Conrad's lead early but fell off the pace after taking a quadruple bogey on hole 12. Nathan Queen struggled with control off the tee throughout the round. Eagle McMahon was limited by the hand injury. The chase card didn't fare much better. Nikko Locastro's 2-under was the best round on the card.
After his superb first round and an appearance on the lead card, Simon Lizotte dropped and dropped all the way below the cash line into 53rd place. In the final round, he took a 10 on hole 17 after taking four OB strokes.
---
he DNF'ed for a back injury at GMC in 2017 ↩