The tournament is still wide open.
Charlie Eisenhood and Jamie Thomas come to you live from the 18th fairway at Winthrop Gold at the 2019 US Disc Golf Championships after another exciting round. They talk about the poise of Chris Clemons, the lefty backhand / righty forehand course dynamic, Nikko's huge day, Eagle on the lead card, and Nathan Queen's exceptional play off the tee and in the fairway.
The Upshot: USDGC Round 2 Recap [LIVE]
Want to support the Upshot? Pick up a special edition Upshot pin from Disc Golf Pins!
Details:
Only 100 made!
Design by Upshot fan TJ Gansenberg
All royalties we receive go directly to funding our coverage of the Hall of Fame Classic and the DGPT Finale!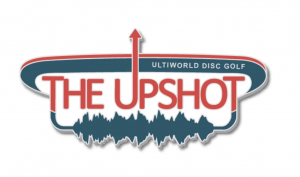 You can contact Charlie and Jamie at [email protected].
Note: You can follow Ultiworld and The Upshot on Spreaker. The podcast is also available on iTunes, Spotify, Stitcher, iHeartRadio, RSS, Google Play, and your other favorite podcasting apps!