The world's strongest man plays disc golf.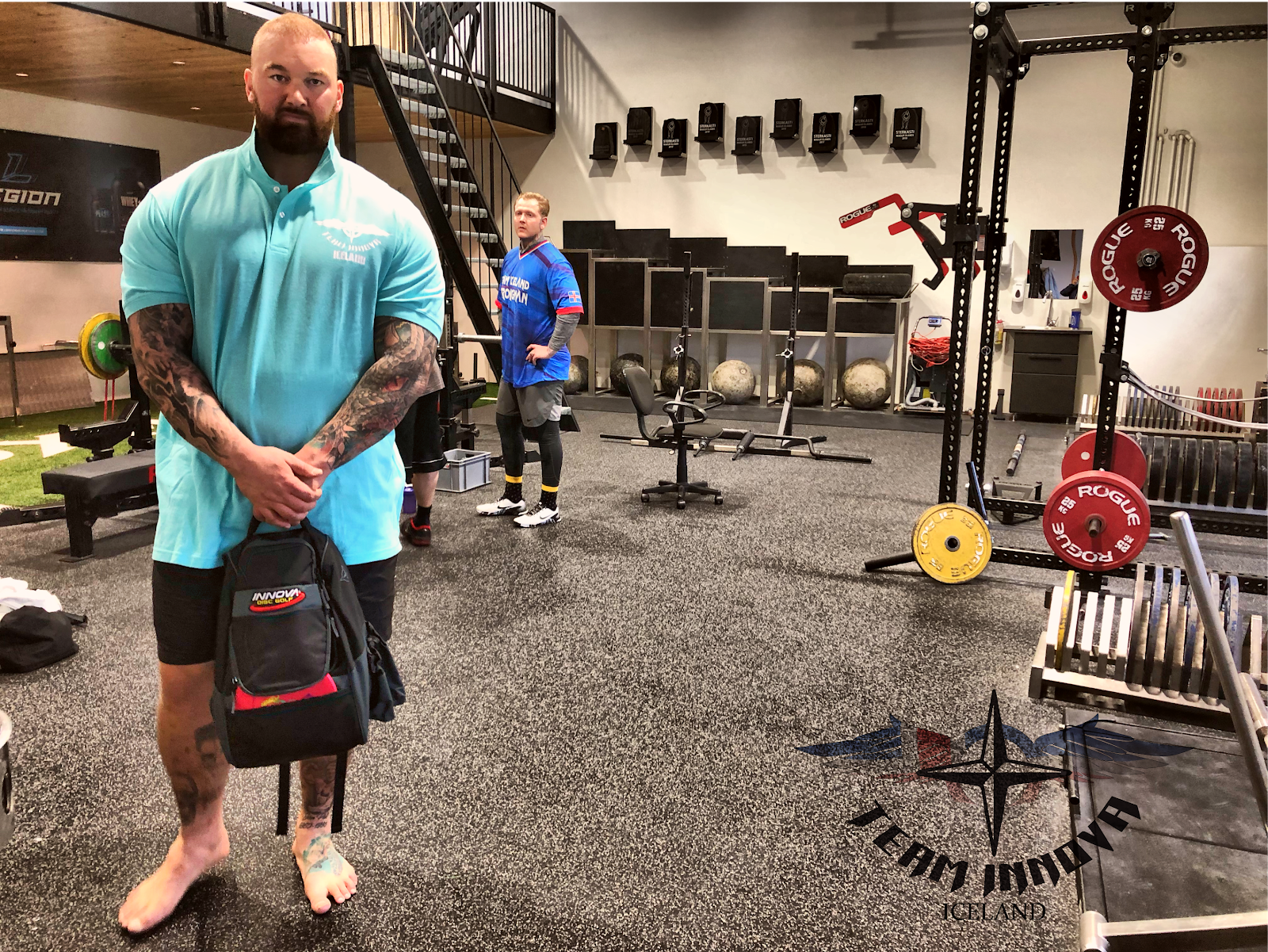 Hafþór Júlíus Björnsson is many things: the strongest man in the world, The Mountain on HBO's Game of Thrones, and, now, a member of Team Innova Iceland. Ultiworld's own Bogi Bjarnason, manager of Team Iceland, shared some insights about what it's like to have a man of Björnsson's…stature…on the team.
Ultiworld Disc Golf: With Hafþór joining the team, how does this change the equation for Team Innova Iceland?
Bogi Bjarnason: Our tactics have changed dramatically with the addition of Hafþór to the team. Before we would assert dominance over our opponents with Blær Örn's big putting, but now we instill morbid fear by Hafþór's mere presence.
UWDG: The Mountain that Rides is known for having something of a temper, what is his demeanor on the course like?
BB: He generally abides by the disc golfer's code, but when he shanks a drive, he sometimes gets called on a courtesy violation for causing damage to the course.
UWDG: Hafþór is the strongest man in the world, but can he putt to save his life?
BB: When faced with a Trial by Putting, Hafþór elects 12 year old Andri Fannar Torfason as his champion. Hafþór was still alive when last I checked.
UWDG: Most of us have seen Shaq swing a golf club, and it's ugly as sin. How would you describe Hafþór's form?
BB: His form is obviously very powerful. Too bad it's the wrong kind of power.
UWDG: If you play the game of throws, you birdie or die. Has Hafþór popped any skulls in a sort of… misunderstanding…of that phrase?
BB: His understanding of the game is limited, so we just call everything a birdie to prevent any such mishaps.
UWDG: The Mountain was a terrifying, and mostly silent character whose role was to instill fear in his enemies, and in season 1, he cut a horse in half. Are you ok, Bogi?
BB: I'm fine, thanks for asking, and we cooked that horse medium-rare and served it with baked potatoes and pepper sauce. It was delicious!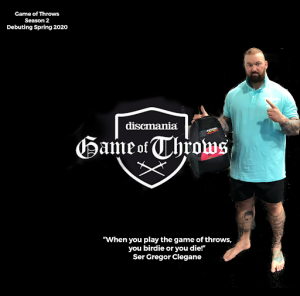 UWDG: Is he really just two normal sized mediocre disc golfers sitting on one another's shoulders in a trench coat?
BB: Come on now, calling him mediocre is a stretch!
UWDG: Would a 45 lb. plate hyzer? Can you find out?
BB: I already have. Apparently nothing will hyzer at his level of power.
UWDG: House Clegane were bannermen for the Lannisters. As his team captain, can you give us an explanation for their dishonorable actions at the Red Wedding?
BB: Hafþór is a new signing to House Dunipace. You'd have to pose that question to Tywin.
UWDG: Would you rather fight one Hafþór sized Eagle McMahon, or 100 Eagle McMahon sized Hafþórs?
BB: I'd choose one Hafþór sized Eagle and then select Blær Örn as my champion. He keeps telling me he works out, but I'm pretty sure he's lying.
UWDG: Any word on Hafþór's signature disc, and why is it going to be called The Manhole Cover?
BB: His signature disc will be called The Manhole Cover simply because it's literally a manhole cover, and the marketing department phoned it in on that one. The reason it's not out yet is that Dave is having troubles tweaking the design so that Hafþór won't flip it in a tailwind.
UWDG: Iceland is known for its beautiful scenery, hot springs, strange foods, the National Soccer team beating England, and producing very strong people like Hafþór. How is disc golf growing in Iceland, and what does having a person like Hafþór involved in the game do to help raise the profile of disc golf in Iceland?
BB: First off, our National Soccer Team did no such thing. You must be referring to Strákarnir okkar, our National Football Team. As for the disc golf, its growing by leaps and bounds and we're surpassing ball golf in number of courses nationally, as well as having more courses per capita than even Finland (although they beat us in number of holes per capita). Although Hafþór has certainly raised the profile of the game internationally very recently, he hasn't had much of an impact here, as players such as Blær Örn Ásgeirsson and Mikael Máni Freysson have already raised the profile through the roof by their international tournament success and frequent features and interviews in national press and radio.