Barela, Clemons, Conrad are six shots back.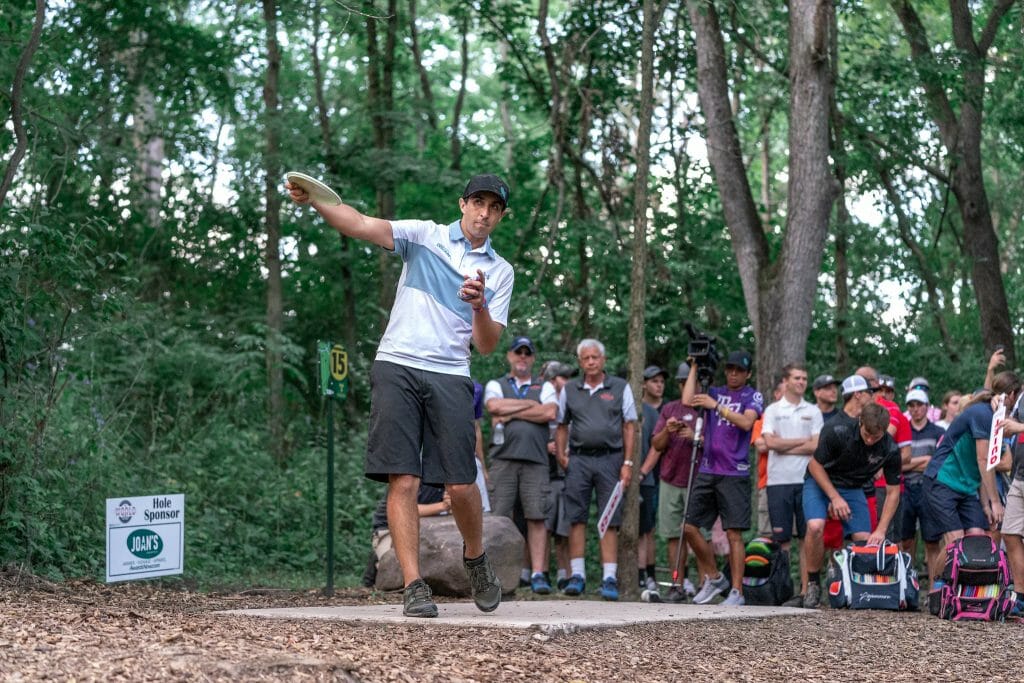 PEORIA, Ill. — Four-time world champion Paul McBeth entered Wednesday's second round at the 2019 PDGA Pro World Championships just two shots back of the leader, Emerson Keith. On the Northwood Gold course, he proceeded to shoot an 11-under par 53, the day's hot round, as some of his toughest competitors crumbled around him.
But he's not in the lead.
Keith matched McBeth nearly shot for shot and backed up his superb first round with another gem, a 10-under par 54, the only other double digit under par performance of the day. He sits one stroke ahead of McBeth on the leaderboard with a combined score of 22-under par.
It wasn't quite the same formula today for Keith, who battled some early nerves. "It took me one hole and one tee shot to stop feeling pressure," he said. "I was nervous through hole one and two. I leaked a putt left on two to miss a 20 footer that I would have liked to make. And after that, I was like, 'You're here. You can do all these shots. You can throw them all. You can hang with the best.' I just told myself that and I kept going forward and I went stroke for stroke with Paul."
On Tuesday, Keith couldn't miss a putt. On Wednesday, he missed four inside the circle. But he was so good off the tee and with his upshots, finding Circle 1 in regulation a whopping 78% of the time, that he still fired off one of the day's best rounds.
"I was getting off the tee really well," he said. "I didn't have to scramble very often. I was just in the fairway [and] at worst getting par on the holes."
It's not an exaggeration to say that he's playing his best-ever disc golf. After shooting the highest rated round of his career during round one (1093), he shot a 1080-rated round at Northwood. That's one of just five 1080+ rated rounds he's ever shot, all of which have come since April of this year. He's showing excellence in every facet of his game — backhands, forehands, power, control, putting, and, perhaps most crucially, mentality.
He credited some advice from friends back in Texas with helping him stay confident as he stepped onto his first lead card at a Major. And, yet, he could have done even better.
"I would have like to hit three more putts than I did," he said. "I missed two, and I had two maybe squeak out. If those go in, if I stay consistent and make those, then I'm four or five strokes in the lead, and that's a lot more comfortable than one."
McBeth Looking To Be "Untouchable"
Though he only cut the deficit by a stroke, McBeth continued to put relentless pressure on the field as he chases his fifth world title. He birdied nine of the last eleven holes at Northwood this afternoon, pulling away from everyone except Keith. He's six shots ahead of the tied-for-third trio of Anthony Barela, Chris Clemons, and James Conrad.
"The back nine is really where it's hard; that's where I love playing," said McBeth. "I'm scoring so much better than a lot of other people back there. That's where I feel like I make up a lot of my strokes."
Indeed, McBeth had the lowest score in the back nine (-6) in the MPO field. He swiped two strokes from Keith's lead on holes 15 and 16, the latter of which included a 49′ putt.
But in true McBeth fashion, he wants to do more than just have the hot round or eclipse double digits. "I just wanna get low, really low on this course to where it stands for a long time," he said. "I just feel this course fits my game so well. I want to shoot a round that's untouchable."
So far, he's looked untouchable by everyone not named Emerson Keith. McBeth said he was impressed with the 21 year old's ability to scramble out of trouble. But McBeth seems confident that keeping up the pressure will pay off.
"I think if I keep shooting the rounds I'm shooting, it'll be hard for anyone to keep up," he said. "I think Emerson's a great player. I think he's got all the skill in the world. It'll just be, like, can he keep up with that pace as well? I'm gonna keep shooting these rounds and we'll see."
Anthony Barela, Chris Clemons Climb To Lead Card
Two new faces will join the lead card for Thursday's third round at Lake Eureka: Anthony Barela and Chris Clemons.
Barela shot an 8-under par 56, driven by strong play on the green: he hit 10 putts from outside 20 feet.
Clemons had the only bogey-free round of the day, a 6-under par 57, after going 8/8 in scramble situations.
Given their better rounds than James Conrad's 5-under par 58, they bump him off the lead card. But he didn't go quietly. Knowing he would need to finish ahead of them to return to the lead card, he launched a soaring backhand on the par four 18th, hunting for an eagle. He got himself close enough to have a long circle two look but missed it and had to settle for an easy birdie to finish out his round.
"I was thinking five or six down was kind of a benchmark for what I'd be OK with," said Conrad. "I was hoping to get closer to double digits like Paul and Emerson shot today, but, yea, they smoked it. I'm OK with five."
Notes & Quotes
After a strong start to the round, Kevin Jones hit a fairway tree on hole 7 and carded his first bogey of the tournament, which seemed to put him into a funk. He only birdied three times the rest of the way and took both another bogey and a double bogey en route to a disappointing 3-under par 61 finish. After the mistake on the 7th, he couldn't seem to find the same consistency with his lines and missed some shots badly. There were still some strong moments like his par save on the par 5 16th. He got caught in the woods on his second shot and was forced to just punch out. With his fourth shot, he threw a huge backhand roller that cruised down the fairway before turning up the hill and nestling inside circle 1.
James Conrad's shot on 18 wasn't the only firework he sent into the air on Wednesday. He bombed his tee shot on the low ceiling par four 4th to get to within step putt range. He also played the course's hardest hole — the par five 12th, which averaged 1.62 strokes over par — perfectly, pinpointing his disc right where it needed to go on four consecutive shots before punching in the long circle 1 putt for the day's only birdie on the hole.
McBeth on chasing his fifth title: "I really want to win. I think it's funny with the disc change, switching over to Discraft, I think it's really made me a better player. It made me go out and practice more than I probably would have, which is good because I don't want to get lazy like that."
Is it too early to call Eagle McMahon entirely out of contention? Probably not. After shooting 3-over in round two, he is 20 shots off the lead.
A ridiculous putting performance from Chris Dickerson helped him card one of the day's best rounds (-7) and jump nine spots into the top 10. He made putts from 38′, 49′, 60′, and 72′ and was perfect from Circle 2.