Jones, McBeth, Conrad close on his heels.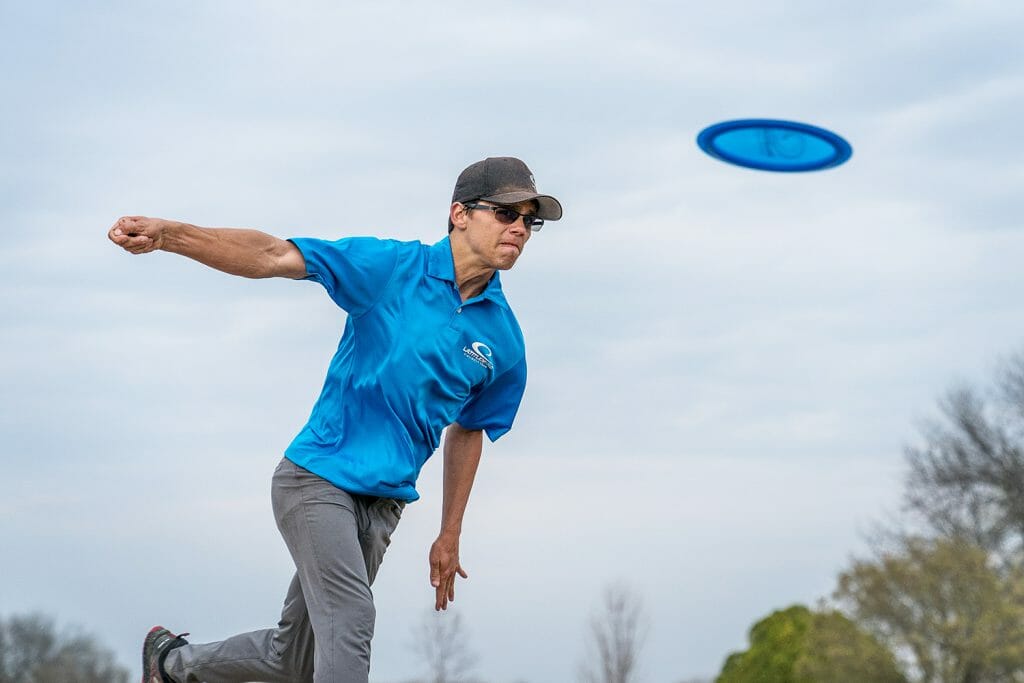 Just days away from the birth of his daughter, Charlee, Emerson Keith rode a superb putting performance to the top of the leaderboard after one round at the 2019 PDGA Pro World Championships.
Keith finished with a 1091-rated 12-under par 51 and was a perfect 17-for-17 putting from inside the circle at an average of 18 feet. Per the PDGA, it was the highest rated round of his career.
"I was feeling confident from circle's edge today, and that's probably what got me to 12-under," said Keith. "I came out here with a mission to finally do good at a big one, and I'm off to a good start."
Keith was sharp off the tee as well. He gave himself lots of looks at birdie, finishing second in both circle 1 and circle 2 in regulation. He had pure drives down the stretch: he cleanly birdied the island hole #17 and finished 7-under in the back nine after birdieing the last four holes. It was an exceptionally clean round with just one bogey and few mistakes. He punctuated the round with a great putt from outside the circle on 18, earning him high fives from all of his cardmates.
Beyond a chance at a prestigious title, there's a bit of extra motivation for Keith this week.
"The due date is on the 27th of this month so it's coming up," he said. "I'm very lucky to be able to be out here right now. That also helped push me to shoot well because if I shoot well this weekend, I boost my career, and that's my goal."
Kevin Jones Goes Bogey-Free
Since Kevin Jones has been on full time tour, he's never finished outside of the top 10 at a Major. Coming off of his ninth place finish at the European Open last month, he's right back in the hunt for his first major title after an opening round 11-under par 52.
"I think I just put a lot of game plan and practice into these Majors and big events," he said. "Maybe that's because of my dad and how he prepares for his weekly football games, but I think that has something to do with it."
Whatever the reason, Jones just keeps getting better. Despite switching sponsors from Prodiscus to Prodigy and swapping out his entire bag in the offseason, he has improved in almost all of the major statistical categories this year compared to 2018, increasing his fairway hit percentage by five points, hitting more greens in regulation, and decreasing both his OB and bogey rates.
He talked on The Upshot podcast today about becoming a better decision maker.
"I truly feel like I do lay up at the right times nowadays," he said. "Maybe not in the past, but nowadays I definitely feel I know my game much better. I understand what shots for me are 100%, what shots are questionable, and I'm just starting to know myself much better so I have that confidence to know when to lay up and when to go for it."
He looked the part on Tuesday afternoon. He consistently attacked holes but didn't get greedy from outside the circle. He played hole six for par. He never threw out of bounds. He didn't miss a putt inside the circle. He was the only player in MPO not to card a single bogey.
Oh, and he threw in a 384′ shot for eagle on hole 14 that sent the gallery into delirium.
"It was unbelievable, those are the only words that I can think to describe that throw in," he said. "I actually bought a rangefinder yesterday, and it was the first time that I've ever used the information from the rangefinder."
Money well spent. Now we'll see if he can find the range for the next four rounds as he chases his first major championship.
McBeth Makes Solid Start In Chase For Five
Despite a slow start, four-time world champion and pre-tournament favorite Paul McBeth caught fire midway through the round and birdied eight straight holes en route to a 10-under par 53. Before he put his tee shot into the water on hole 17, it looked like he might even shoot the day's hot round.
But, if you ask him, he was never comfortable.
"I just never felt like I was really in a groove, for the whole round," he said. "I don't know — it just didn't feel complete."
If this is McBeth out of rhythm, his competitors should be concerned if he finds it. He did squirrel some shots early — he went out of bounds on both holes 2 and 3 — and he left his drive short on hole 5. But that kickstarted a stretch where he found circle one in regulation on 11 straight holes. He cashed in the birdies on all of them except hole 8, when he left his putt low.
"I feel like I play really good at these courses, so to shoot a -10 and not feel like it was that good — that's promising," he said.
It's a testament to how high McBeth's ceiling is that a double digit under par round twenty points above his rating qualifies as merely promising. But, to be honest, watching him out there…he's got more in the tank.
Putter Carries James Conrad To Double Digits
James Conrad delivered another elite putting performance on Tuesday, dropping 100% of his circle one putts and shooting 40% in circle two to land in a tie with McBeth for third on the leaderboard at 10-under par.
Though his tee shots and upshots weren't always there — he went out of bounds four times and failed to scramble twice — he generally threw the disc well and consistently delivered on the green.
"Whenever the putter is dropping in it always makes it a little easier, you don't have to be quite as precise," he said. "You don't have to try to park everything."
That worked for him. He only parked three of the 18 holes, but still found the green in regulation 13 times and scored birdies on all but two of those.
:I was trying to come out attacking today," he said. "I was pretty much going for everything, I feel like this course requires commitment. It requires landing your shots in very specific spots, but the best way for me to do that is to commit to a line and make the shot happen and hopefully it works out for the best."
Conrad will join Keith, Jones, and McBeth on the round two lead card on Wednesday.
Many Players Still Well Within Striking Distance, Tournament Moves To Northwood
While the four aforementioned names had the standout performances of day one, there are 13 other players that are within six strokes of the lead, including former Major champions like Ricky Wysocki (-6) and Nate Sexton (-6).
The chase card will feature Chris Clemons (-9), Philo Brathwaite (-8), Austin Hannum (-8), and Anthony Barela (-7) as the MPO field moves to the Northwood Gold course, where players will need a very different toolkit. Some players are carrying an entirely separate bag for the Northwood course.
Some other notable names:
Eagle McMahon (-5)
Simon Lizotte (-5)
Gregg Barsby (-3)
Calvin Heimburg (-6)