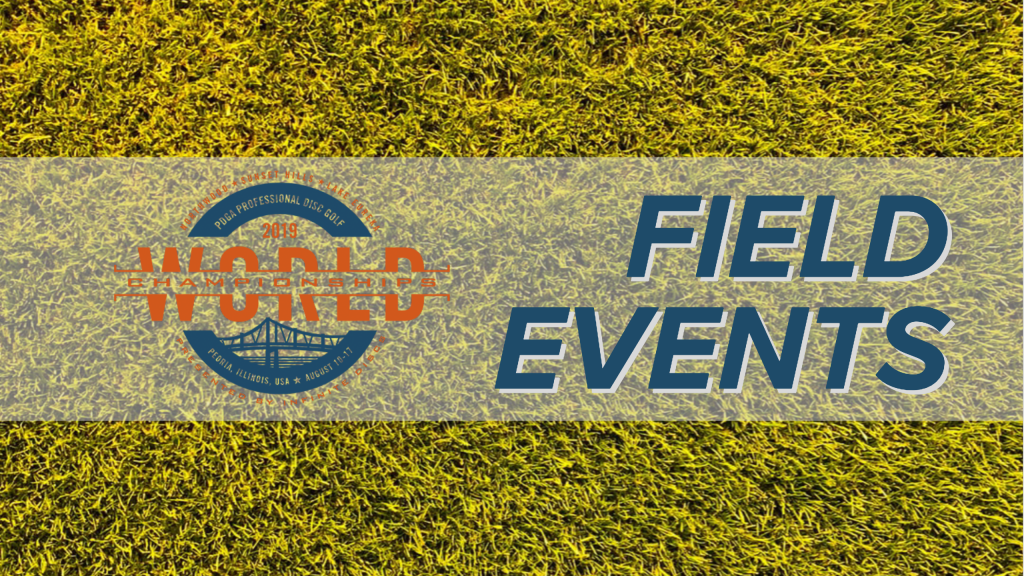 The Mixed Doubles competition isn't the only prelude to the main event at the PDGA Pro World Championship.
Three field events went down at nearby Washington High School on Sunday with six World Champions being crowned. There was no Mini Golf competition this year.
SkillShot was developed as an assessment tool for the EDGE curriculum, and tests a player's ability to throw backhand, forehand, roller, upside-down, kneeling, obstructed, and freestyle approaches and shots. Stations are set up with varying distances and difficulty in which specific throwing techniques are required, the closer the disc lands to the intended target the fewer points recorded. Lowest score wins.
Sarah Hokom was dominant on the Open Women's side of the competition, beating second place Katka Boďová by 53 points. It is Hokom's first SkillShot world title.
Kevin Jones edged out Nikko Locastro by four points to win the MPO title. It was Jones's first time competing in the SkillShot competition.
The World Putting Championship has competitors attempting three putts from nine stations, with putts being worth one to three points apiece depending on the distance. Putts may include elevation changes, low ceilings, or obstacles. If a putt is missed, players must clean-up the missed putt, and are docked a point if failing to hit the come-back putt.
Rick Steehler pulled off the upset in MPO, taking the win by three points. The 979-rated pro from New York is a regular on tour but probably not a household name.
In her first time competing in the event, Missy Gannon emerged the winner in Open Women, besting Holly Finley by three points as well. If you follow Gannon on social media it shouldn't come as a surprise she was able to win Putting Worlds. She is always posting tournament highlights of her big putts.
Make it seven Long Drive World titles in a row for Paige Pierce, and eight of the last nine. Her 447-foot throw was 60 feet better than second place Jennifer Allen.
Garrett Gurthie is a first-time Pro Worlds Long Drive champion1 Gurthie has several USDGC distance titles but finally broke through at Worlds with a 618-foot bomb with a Star Katana.
Congrats to Garrett Gurthie, your 2019 Long Drive World Champion ? throwing his Star Katana 618 feet. pic.twitter.com/whAewbDupP

— Innova Discs (@InnovaDiscs) August 12, 2019
---
Can that be right? We tried to doublecheck and could only find results dating back to 2010. ↩