Kevin Jones, Rebecca Cox get first 2019 A-tiers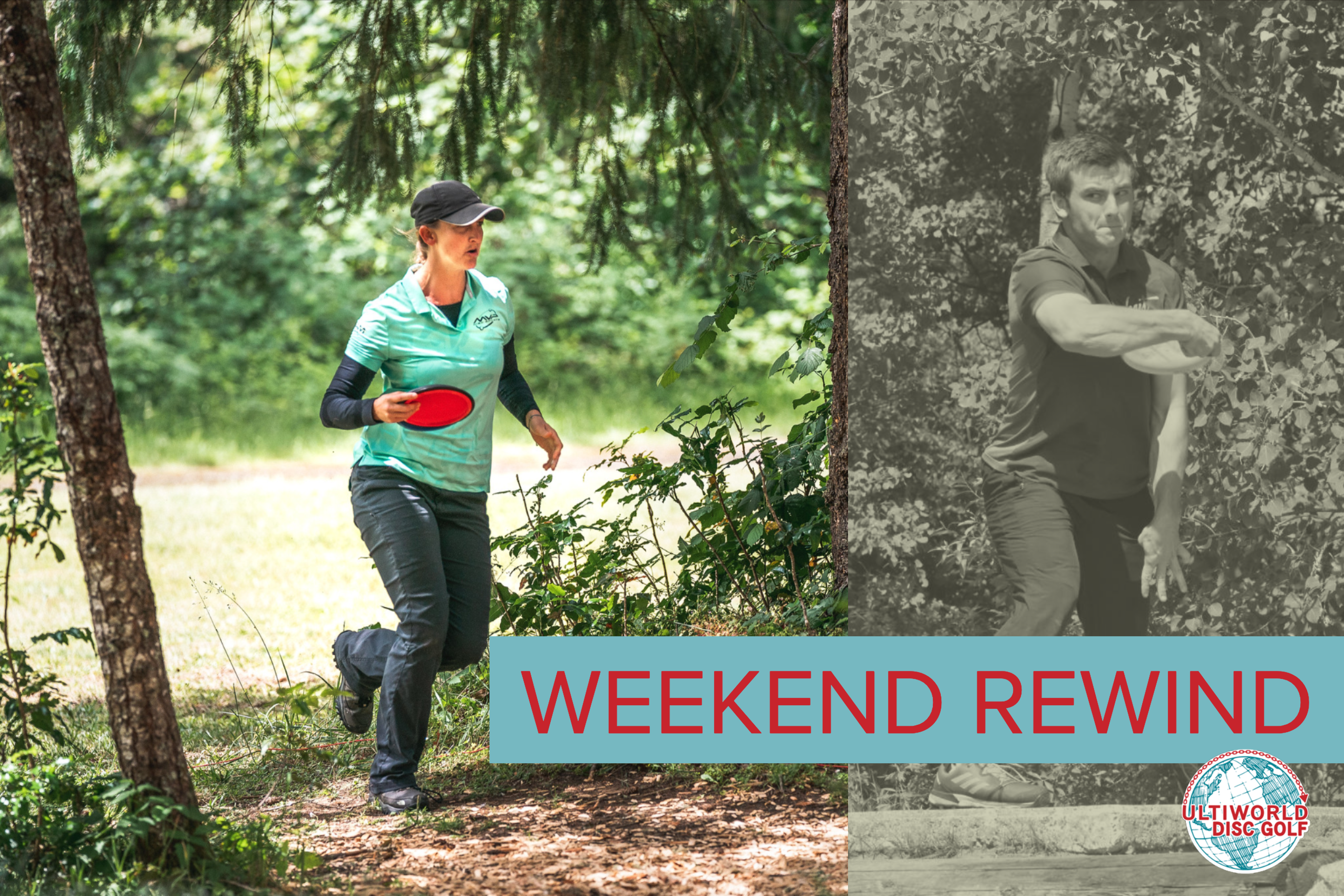 The West Coast Swing no longer is, it was.
It's on to the Midwest Trek, and a couple A-tiers kicked off the tour season in the American heartland.
In Missouri, 74 players took on the Open division at the Kansas City Wide Open. Spread out across two courses and three rounds, Paul McBeth returned to competition after sitting out the Beaver State Fling and looked none the worse for wear.
McBeth shot or tied for the hot round each day as he worked his way to a comfortable eight stroke win, finishing at 32-under par. He averaged seven points over his rating and opened the event with a 1082-rated 45 at Water Works Park.
McBeth likes playing in KCMO, his previous three visits resulted in three wins, two of which were PDGA National Tour events (2014, 2013).
Cameron Messerschmidt, second place, Chris Clemons, third, and Nathan Queen, fourth, scored better than their player ratings each round.
For those wondering where Nikko Locastro has been this season, he played his third event since March at KCWO. A good first round had him on lead card coverage for round two, but two sub-1000-rated days saw him finish in ninth. Locastro is registered for this weekend's Ledgestone Insurance Open and the European Open.
Kansas City Wide Open 2019 Round Two
Missy Gannon separated from Hannah McBeth in round two and held on Sunday during the final round to win by three strokes. It's Gannon's second A-tier win of 2019. McBeth has finished second in consecutive A-tiers over the past month. George Smith and Dixon Jowers went back and forth, with Smith coming out with a one stroke win in Pro Masters.
---
The Majestic at Blue Ribbon Pines in East Bethel, Minnesota may only be two rounds but it is not for the noodle-armed. A 27-hole layout measures in at more than 10,000 feet and one of the longest throwers on tour came out on top.
It wasn't local Alex Geisinger, who finished in a respectable 13th. It was Arkansas's Kevin Jones who took home his first A-tier win of the season.
Jones opened his Majestic account with a scorching 1072-rated round on Saturday. The 16-under par was five strokes better than the next closest player, Matt Bell, and a 12-under par Sunday had Jones coasting to the six stroke win over Bell and Cale Leiviska. For the tournament, Jones led the field in parked shots, Circle 1 in regulation, and C2 in regulation, and was third in fairway hits.
Rebecca Cox was a comfortable 11 stroke winner in the three player FPO division.
---
At the Zoo Town Open, Open Women was the hotly contested title, with seven 900+ rated players and a battle at the top.
Madison Walker built out a lead heading into the third and final round by recording the hot scores for both rounds one and two. Sarah Hokom and Erika Stinchcomb weren't far behind with 18 holes left to play.
Walker slowed her pace, with Hokom catching her to tie for the lead at the end of regulation, and they were joined in a three-way deadlock by a surprise competitor.
Paige Bjerkaas roared to life by shooting a 1026-rated 6-under par 53 finale, seven strokes better than Hokom and 12 better than Walker.
Unfortunately for Bjerkaas, the flame had gone out on her heater once the playoff started, and Hokom won her fourth ZTO on the first playoff hole. Bjerkaas had an inside C1X putt to push but chained out.
"It was a weird day," Hokom told the Missoulian. "We had a ton of lead changes. Everybody had a hard time at some point throughout the weekend. It was just kind of a roller coaster really. I feel really good about it. I think it's my first A-tier win this year, so that's exciting for me."
Calvin Heimburg led wire-to-wire in Open to take the win coming off a top 10 finish at Beaver State Fling. He got stronger every round, finishing with a 1079-rated third round to win by seven strokes over James Conrad.
For his part, Conrad hit an ace during the third round, captured on camera by Central Coast Disc Golf.
Brian Earhart, Jordan Castro, and Colten Montgomery rounded out the top five.
---
Joel Freeman took care of business as the highest-rated player at the Twin Falls Classic in Idaho. He shot all four rounds over his rating to win by four strokes over Brock Shepherd. The two were tied heading into the final round. It was Freeman's first win of the season.
Sai Ananda took the Open Women's lead in the second round and didn't let go, beating Karina Nowels by 14 strokes. Shasta Criss won Pro Masters.
---
Overcoming a slow start at the Treebash Open in Arizona was Jennifer Allen, who led wire-to-wire despite a sub-900-rated opener. She finished in the lead by 20 strokes.
In the Open division, Jeremy Novak won the first A-tier tournament of his career. He averaged 23 points above his rating to beat Jeremy Herr by one stroke.
---
The EuroTour moved back over to the UK and we got a couple first-time winners in return at the Quarry Park Open, ET #5.
Tony Ferro won his third career ET and first of the season in Open. Blær Örn Ásgeirsson had gotten out to an early lead but fell off in round two. He still finished in second.  
Hanna Hugosson is the first FPO player not named Kristin Tattar to win on the ET in 2019, taking home first by 16 strokes.
Loosies