Can anyone knock-off a surging McBeth?


The Disc Golf Pro Tour returns this weekend at the San Francisco Open. The SFO starts the West Coast swing of the touring circuit, and the middle third of the professional season.
At this point in the season any lingering rust from the offseason should be well shaken off, and most players are finding their grooves. No player is feeling their game more than defending SFO MPO champion, Paul McBeth. McBeth is coming off an exciting win at the Glass Blown Open, which, like the San Francisco Open, is also contested on a long ball golf course.
So far this season, there has not been a single Pro or National Tour event that did not end with McBeth or Eagle McMahon on the podium. If GBO or last year's SFO can act as predictors, this weekend won't be any different. McMahon is putting at 89% from inside Circle 1X, good for first on tour. However, last year at SFO, McMahon looked uncomfortable on the green and it cost him. McMahon putted at 66% from inside C1X, and lost to McBeth by two strokes.
It is worth noting that McMahon has been waffling on whether or not he would be playing this event. He told several sources that he would be withdrawing from the event. The news was also was reported on The Upshot. On May 7th, McMahon ultimately announced on an Instagram Live session that he would, in fact, be playing. Will this indecision and plan to only play one practice round impact his showing? We'll see.
Paige Pierce had been undefeated going into the SFO last season and there was serious water cooler talk about her running the table for the whole year. Last year's SFO was Pierce's first misstep of 2018, as Sarah Hokom knocked Pierce off track and took her first W of the season.  Going into this year's SFO, though, neither Pierce nor Hokom has been playing up to the very high standards they have set for themselves. Hokom is still looking for her first Pro Tour win of 2019, and Pierce has been shaky on the green.
Catrina Allen, however, has been en fuego. She has only missed the podium once this season,  and is at or near the top in all major UDisc Live statistical categories. The SFO course and layout favors Allen's game, and she'll be a favorite to win again if she continues playing the way she has all season.  
Dark Horse Riding
The real one to look out for on the course this weekend will be UWDG's own Jamie Thomas. Thomas is 955-rated, and placed 62nd last year, only five strokes off the cash line. Thomas hit a respectable 60% from C1X last year, and will be aiming to improve on his 2% parked figure.
Gleneagles Disc Golf San Francisco Open Hole 5
The Course
Gleneagles Disc Golf Course: MPO – par 64, 10,159 feet;  FPO – par 66, 9,044 feet
Similar to the GBO and other golf course style courses we see over the season, Gleneagles is long, with mostly open fairways and lots of OB. Where Gleneagles separates itself from the other golf courses is in elevation. San Francisco is known for its hilly terrain, and Gleneagles is no exception. Of the 18 holes, 13 feature an elevation change of 20 feet or more from tee to basket on either the FPO or MPO layout. Hole 17's 85-foot elevation gain is the highest in play, and hole 5's 90-foot elevation drop is the lowest. The MPO field will be in for a hike, playing over 1,000 more feet of disc golf than their FPO counterpoints. However, the FPO division plays a longer pin position on hole 4.
Extended Forecast
Conditions were relatively calm last year for the San Francisco Open. Expect the winds to blow a little bit stronger this year, but we shouldn't see anything quite like what we saw at the Glass Blown Open a couple of weeks ago.
Friday: Morning temperatures in the mid 50s. Warm to the mid 60s by the afternoon. Light winds should increase in speed and shift out of the northeast. Wind gusts in excess of 20 mph may be possible.

Saturday: Temperatures should once again warm into the mid 60s after a start in the mid 50s. Westerly on-shore flow will lead to increasing wind speeds in the afternoon. A few gusts in excess of 20 mph may be possible once again.

Sunday: Westerly on-shore flow will once again be in place on Sunday as temperatures climb into the mid 60s. Wind speeds will likely increase through the afternoon hours, with gusts up to 20 mph possible.
It looks like the wind will be subdued, but a bit more consistent than it was at GBO. Will Catrina Allen and Paul McBeth tame the wind again? Or will a new winner ride the wind to victory?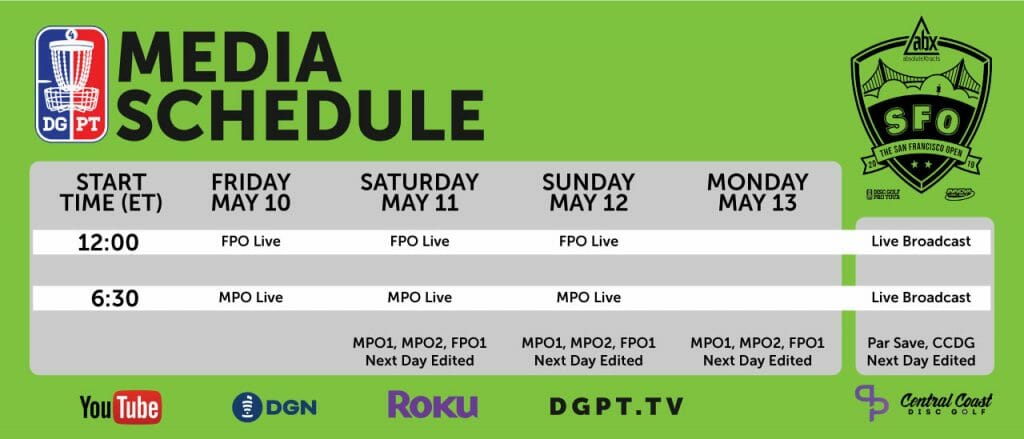 How to Watch
There won't be as many viewing options as at GBO, but there will still be plenty of ways to catch the action. Below is the media schedule. UDisc Live will be providing live hole-by-hole scoring. Livestreaming will be available to watch via the DGPT YouTube channel as well as dgpt.tv. Central Coast Disc Golf and Par Save Productions will be on site filming for next day edited coverage.