Heimburg shoots hot round to move into top five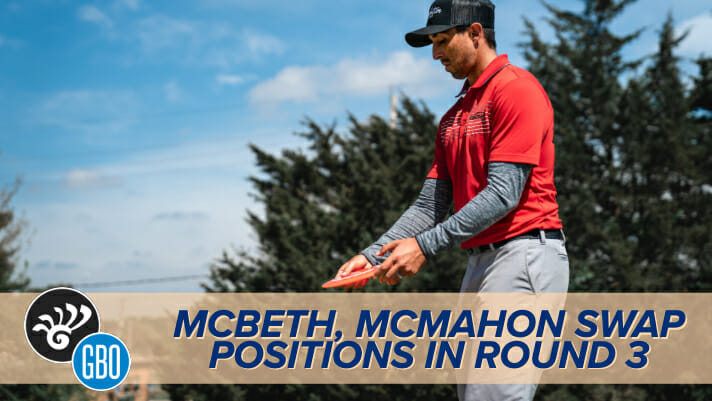 "I came in firing — I birdied the first three holes in a row. So, obviously I was feeling really good," said Eagle McMahon when recounting his third round at the Glass Blown Open.
"I increased my lead to five and that's kind of when the roller coaster started. I got a bogey and then it kind of snowballed from there."
Over the final 14 holes Friday, McMahon shot 3-over par golf to finish at even par 65 for the day, and remain at 15-under par 180 total. The three stroke lead he held developed into a three stroke deficit, and McMahon is going into the final round in second place.
"Today I can mainly say that I did not stick to my game plan a lot of the time," McMahon said.  "And I feel like mentally that was a block for me just thinking that I did something wrong and I disobeyed myself."
The other players on lead card smelled blood on hole 8. McMahon had to re-tee after never crossing inbounds off his drive. Paul McBeth, who had weathered the early breakout by McMahon, was still within three strokes of the lead and played the Emporia Country Club's second most difficult hole deftly, working his way up to the green for a birdie. McMahon would go out of bounds again before settling for a double bogey. A visibly upset McMahon was now tied after the big swing.
Swings between the leaders were common during the round. McBeth would build his lead off two-stroke swings on the back nine, but McMahon kept McBeth in check doing the same.
Even with the lead heading into the final round, McBeth still has room to clean things up. He raised his Circle 1X putting with a 90% showing in round three but is ranked 92nd overall at the event through 54 holes.
"I don't think I've really been playing too well," McBeth said. "I don't know. I just haven't felt like everything was clicking. It could just be this stupid poison oak on my arm. That's kind of slowing things down and getting my timing off."
He is at 18-under par 177 total after a 6-under par 59 round.
James Conrad was also playing on lead card and not quite putting everything together. Still in the thick of it at 14-under par 181 total, Conrad could have easily picked up a couple more strokes but short armed putts inside the circle at least three times during the round.
One behind Conrad in fourth is Ricky Wysocki at 13-under par 182 total. He's treating his less than sharp third round as a lesson and motivation going into Saturday.
"I still feel like I have a chance to win. I was six back and cut it to five," Wysocki said. "So I think that's a confidence booster for me knowing that there are strokes to be gained with the wind and the conditions that are going to be had for day four."
He'll be feeding off the crowd if he's going to make a run. Wysocki grabbed a birdie on hole 18 and felt good ending the day.
"I mean the players all feel it, you know," Wysocki said. "You can feel the momentum through the crowd. I mean, even on the last hole I could feel the claps and all the momentum shift."
Calvin Heimburg shot the hot round with a 9-under par 56 to move into a tie for fifth place at 12-under par 183 total with Chris Dickerson. He landed 90% of the fairways on the course, the second time he's led the division in the category this week.
Anthony Barela had worked his way up to lead card momentarily during the round but was unable to hold it. The teen is scoring well and then letting his aggressive nature get him into trouble.
"I'm not having any problems getting birdies out here — I think I had 11 that round — but I need to clean up my bogeys and double bogeys. Otherwise, I'd be right in the running this tournament," Barela said. "Yeah, just some dumb decisions out there."
Only the top 40% of the field made the cut to play in the final round Saturday. Notable players missing the cut line included Gregg Barsby, Jordan Castro, and Coda Hatfield.