Pierce moves into third, Weese stays in second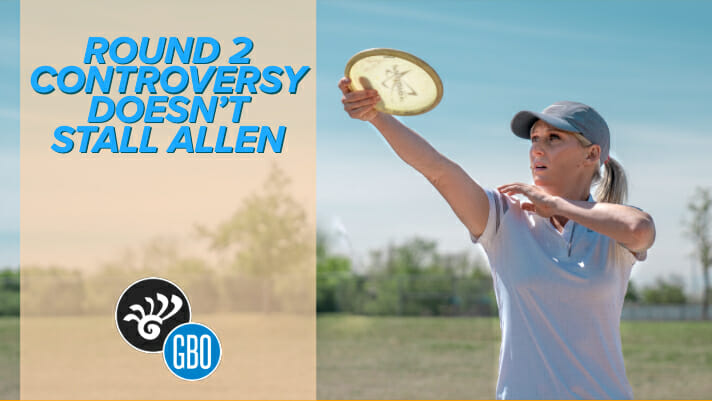 By the end of round two, Catrina Allen had more than doubled her early hold on first place at the Glass Blown Open. The path to get there was anything but smooth.
It started with her putt. Allen dropped from 91% C1X putting Wednesday to 40%, two-putting on six occasions, including back-to-back on holes 8 and 9 for bogeys on both.
"I never thought I was going to miss, it just didn't feel good," Allen said of putting. "Just one of those days where it's like you're trying and everything feels right, but it's just not going in."
Putting wasn't the only thing that was a bit testy during the round. A contentious OB decision on an Allen drive created a palpable tension on the lead card.
Allen kept her drive on hole 11 tight down the left side, hugging or carrying the out of bounds area the entire flight. The disc came to rest inside the circle but in the hazard area left of the cart path near the pin. Allen said she reentered the fairway before finishing OB, thus should take her lie on the green. Jessica Weese said she did not believe or see the disc cross inbounds, meaning Allen should take her lie about halfway down the fairway. Jennifer Allen and Rebecca Cox did not make a ruling, saying they did not see the shot. Benefit went to Catrina Allen, Weese was not happy with the call.
"In the past that would make me upset," Allen said of the exchange. "We're just trying to make a call, and why does it have to be so personal? It's just about the call. I took a couple extra deep breaths and kinda let it go."
Allen would hit the par-saving putt, and backed it up with maybe her best tee shot of the day on hole 12 to set up a birdie.
Because of her consistent driving, Allen was able to again finish the 18 holes under par, recording a 1-under par 63 to move her to 5-under par 123 total. She led the division in parked percentage, fairway hits, C1 in regulation, and C2 in regulation.
Weese holds onto her second place position as a 3-over par 67 brings her total to 2-over par 130. She is tied for the division lead in C1X putting at 79%. Paige Pierce used an 88% inside the circle putting day to match Weese at 79% for the tournament, and moved up three spots on the leaderboard in the process. Pierce is in third at 4-over par 132 total.