Eleven players within four strokes of first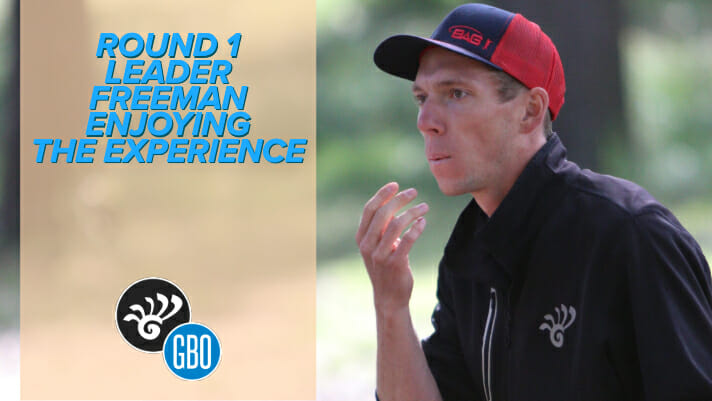 Joel Freeman was finished early and in the clubhouse with the lead during round one at the Glass Blown Open. His 1077-rated 11-under par 54 had just tied last year's hot round1 at the Emporia Country Club and did it on a more difficult layout. It appeared, however, that the lead may not stand, as players like Chris Dickerson and Ricky Wysocki were already trending lower.
Those scores were of no interest to Freeman. He was more concerned about other things.
"This weekend my priority and focus is on enjoying myself and making a positive impact on those around me. That is the scale by which I will measure my success this weekend," Freeman told Ultiworld Disc Golf. "Of course it felt good, but I am not expecting to win. If I do, I will be very grateful and excited! I know I have what it takes, so that would be incredible. However, this week for me is not about me. It's about the people around me."
As altruistic as Freeman's outlook of the event is, he may need to get used to the prospect of winning. Other players fell off the pace, and Freeman is two strokes ahead of second place JohnE McCray. Dropping his performance expectations and leaning on his experience, Freeman converted 100% of his Circle 1X putts, and finished first in the division in Circle 1 in regulation at 67% and third in C2 in regulation at 78%.
McCray used three outside the circle putts and a birdie on hole 18 to take second place at 9-under par 56. C2 putting was one of five UDisc Live stats he ranked in the top 10 of, which also included parked percentage and C1 in regulation.
"Today was like open grazing, it was beautiful," said McCray about the calm conditions. "It was a great day. I hope I can do that again tomorrow, maybe a little bit better. I think I can do better. That's the goal."
Playing with McCray on feature card was Paul McBeth, who is just one stroke behind McCray and tied with Simon Lizotte, Cale Leiviska, Ricky Wysocki, and Drew Gibson in third place at 8-under par 57.
"I was leaving myself a lot of long putts, and I converted the really long ones, but I couldn't make the circle's edge ones," McBeth recounted. He was four for five on Circle 2 putts, including a 50 and 60-footer, but ranked 137th of 144 players in C1X putting at 43% having two-putted four times.
Battling a rough poison ivy outbreak he picked up at the Rumble, McBeth said his drive wasn't feeling consistent, despite still ranking in the top 10 in fairway hits, parked shots, C1 in regulation, and C2 in regulation.
"If I could just put that together. Eleven under — I think is what Joel shot — is very doable. If an inconsistent round is 8-under then I can't wait to see what the rest of the week has in store," McBeth said.
Nate Sexton, Eagle McMahon, Chris Dickerson, Austin Hannum, and Jamie Espinoza are tied in eighth at 7-under par 58.
Takeaways
While not apples to apples, the scoring average relative to par stayed very consistent between the 2019 and 2018 opening rounds (3.1 over par to 3.15 over par).

A couple aces on the day. We'll let Colten Montgomery tell you about his 394-foot hole-in-one:
I stepped up to hole 13 after taking a bogey on the previous hole and knew I wanted to put this drive close to the pin. In practice I have been landing left and long of the basket so I told myself to swing it a little bit more wide and higher. Out of the hand it nicked a couple of the small branches on the tree to the right of the tee and the further it got down the fairway the better it was looking. It was the perfect distance but I knew it needed to sit, so I said, "Get down," and right when I said that it smashed chains into the basket. I turned around to my card mates/caddies and gave them all a high five while I was still speechless!
Hannum was the only player in the field to go bogey-free.
---
Wysocki shot an 11-under 52 in 2018 on a different layout ↩