Weese only other player under par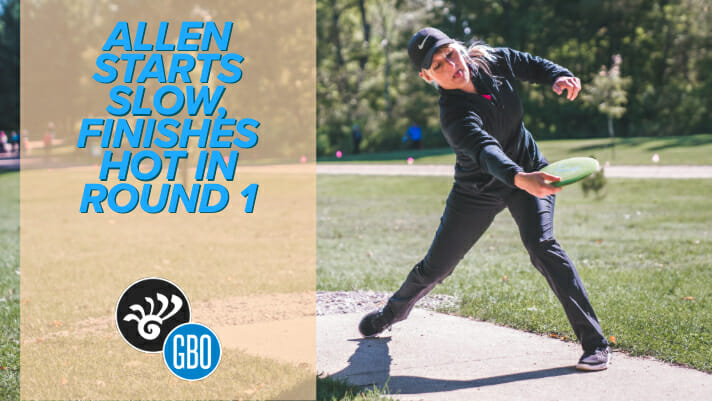 It wasn't the dream start to the Glass Blown Open that Catrina Allen would have wanted. Sure, the birdie on hole 1 was nice, but Allen was seeing orange on the UDisc Live scorecard early and often. Backups almost as soon as they hit the course Wednesday morning had her feeling out of rhythm.
"It felt like two different rounds. I think it took us just as long to play [holes] 8 through 18 as it did to play 1 to 6," Allen explained. "I felt good, birdied the first hole, and then we sat and played hacky sack for like 15 minutes. Then I'm like, 'Oh yeah, I've got to play disc golf.' I threw it straight out of bounds."
Allen was 3-over par before carding back-to-back birdies on holes 6 and 7. It was a fun and supportive group and an adjustment to the weather that helped her get back toward even par. But it wasn't the typical Kansas conditions that were affecting Allen.
"When I practiced it was really, incredibly windy," said Allen. "There wasn't a lot of wind [today]. I think that in the beginning was what kind of felt weird. Like, whoa, I was never this far and I threw less disc today."
The adjustments made a third of the way through the course paid off, as Allen was bogey-free over the final 13 holes to finish the round in first place at 4-under par 60. Allen was able to be more aggressive toward the end of the day, landing in Circle 1 in regulation on each of the final five holes, including the island hole 16.
Unfortunately, Allen missed the putt on hole 16, her only miss inside C1X. She was first in fairway hits at 70%, C1 in regulation at 44%, and C2 in regulation at 61% during the 1003-rated round.
Jessica Weese was the only other player to come into the clubhouse under par, carding a 980-rated 1-under par 63. She was first in parked percentage, as well as C1X putting, going perfect from inside 10 meters. Weese was so good on approaches and driving she only had four C1X attempts.
Jennifer Allen, Rebecca Cox, and Paige Bjerkaas are tied in third at 2-over par 66.
Takeaways
Hard to compare round scores for the Open Women at Emporia Country Club as they haven't played a round there since 2016 PDGA Pro Worlds, but the 38 person field was 9.42-over par Wednesday. We'll be looking to see if that number drops as players figure out the course.

Vanessa Van Dyken is tied in sixth at 3-over par 67, and did it without carding a birdie. She did, however, record the fewest strokes over par with just three bogeys.

Cox and Ashleh Baumann were in the unique position of not having any attempts from Circle 2. Don't remember ever seeing that before.