The Bearhart on mental fortitude, overcoming injuries, and flicking Comets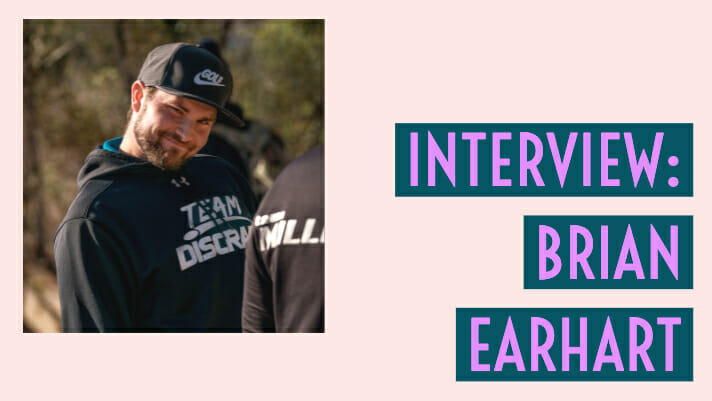 However "early" you were on Brian Earhart, I guarantee you I was fan earlier.1
Brian and I both attended the same high school in the northern suburbs of Illinois. I started playing disc golf in 2013, the same year that Brian became the furthest-throwing lefty in the world. I saw the Pro World distance results, and was stoked to see a familiar name on the list.


This year, the "Bearhart" is off to a hot start.  He kicked off his season with a 1050-rated 47 in Vegas, and followed it up with the best finish of his career at The Memorial, taking 8th. Earhart will look to continue the hot start to his season at the Waco Annual Charity Open, where he will be featured on the 4:15 pm Eastern live card alongside Jeremy Koling, Eric Oakley, and local Nate Perkins.
I called Brian to get his insights on his season so far, fighting his way back from injury, and his battles with depression.
This interview has been edited for clarity and length.
---
Mahmoud Bahrani: You're off to a hot start this season, after cashing at Vegas and finishing 8th at The Memorial. What did you do this offseason to have you playing well right off the bat?  
Brian Earhart: I spent a lot of my offseason in Florida, and stayed in Jacksonville for about a month and a half.  That gave me all the time in the world and all the good weather in the world to focus on getting healthy and staying healthy, which is probably the number one reason I'm feeling a little bit more comfortable on the course this year.  For me, it's crazy when you can step onto a golf course and not have to be paranoid anymore of something happening to your shoulder. I feel like I'm able to focus on executing my gameplan, whereas last season, a lot of the time, I'd want to throw a specific shot, but I'd be afraid of throwing it [and] risking injury.  So now I feel a lot more like, "Okay, here's the optimal shot for a situation, point-and-shoot," and my body is not even a question. So, that's the first step.
I did a lot of rehab, stretching, workouts, things like that. And then I was able to go to a course called Fore Palms.  I was able to practice there every day, and had a great variety of 350-450-foot par 3s, some shot shaping, some distance. It was a great place to kind of refine those high level shots that I need to have on tour.  I would just play practice rounds every single day, and developed a full, intimate relationship with my equipment. When I'm on the course this year, I don't necessarily have to think, "Well I don't really know what a disc in my bag is going to do in this situation."  I feel like I'm more knowledgeable about what I'm throwing, which is great, and that obviously helps with consistency. My time in Florida was definitely the reason I feel more comfortable this year.
MB: You talked a little bit about that injury you had last year.  I heard some crazy stories of the things you had to do to play with that injury.
BE: (laughs) Yeah. So, I still haven't been diagnosed. I think at the end of this year if it continues to be bad I'll probably get an MRI, just to see if it's something serious. I was told it was shoulder impingement — that's what Will Schusterick had, I know Drew Gibson struggles with it, it seems to be a similar problem for a lot of disc golfers.  It's just structurally a problem, so it really never truly goes away in your shoulder. It's a lot of different little things that cause your shoulder to move the way it's not supposed to move. I've been obsessed with learning about it, and I've been working with Seth [Munsey] at Disc Golf Strong to rehab it, and he's been warming me up before every practice round, and I can't thank him enough for taking the time to help me. He just listened to the pain that I've been experiencing.
Last season I had some time where the pain was so bad with the impingement that I was taking my right arm, lifting up my left shoulder, which was completely limp, getting it into position, and then at the last second I was able to pull my arm and throw the disc.
I had to do that at a couple different events.  And then, toward the end of the year, I just caved in and bought a shoulder brace, which I strapped really tight around my upper bicep and my shoulder, and it at least allowed me to throw without fear, but it restricted my movement quite a bit.  But the liberation I got from being afraid of hurting myself again was enough for me to play better than I was before. So yeah, I tried anything man. I was taking all sorts of natural supplements, I was changing my diet, I was constantly watching YouTube videos on self-massage techniques, stretches, and exercises.  It was actually kind of a blessing in disguise, really, because it forced me to learn about my body and how my body best performs, and how I need to prepare myself now as a quote-unquote pro athlete, someone who plays a sport for a living. It's forced me to adopt that pro athlete mindset with regards to preparation. This season I feel a lot more prepared, just in the way I take my routines more seriously, my warmups more seriously.  I'm not hopping outta the car and chucking drives as hard as I can. I'm always cooling down with self-massage and ice, and that's something I'd never really had to do before this year.
MB: Were you scared at all when you learned it might be shoulder impingement?  That's the same injury that took Schusterick from best in the world to off the tour in just a few years.  Walk me through that emotional roller coaster.
BE: The first tournament that I experienced this I was freaking out.  I had a panic attack and I was…my whole life kinda flashed before my eyes because this was really the first thing I've ever committed to in my life.  I saved up all my money and I had this huge dream and I was telling everyone about it and everyone was so excited for me then all of a sudden two months into the tour, click, you're done.  Yeah, I was terrified. I felt really aimless. I was trying to figure out how much money it cost to hike the Appalachian Trail. I was having all these crazy ideas pop up in my head, like, what can I do now with the freedom that I have since disc golf is gone forever?
But really, when it comes down to it, I don't like to complain, and if I want to do something, I'm going to do what it takes to fix it or get what I want.  When I made this decision to go on tour, my father took me out to dinner and told me, "If you do this, there's no failure. You have no room for that, there's no option to bail. So if something comes your way, you just fix it." So I didn't worry that much.  The first night, when I was serious pain, I was freaking out, but really after that it was like, well, these are the cards I've been dealt, and it's going to make me a better person and a smarter person, and hopefully a person that can share this with other people and help them before they get to that point.
MB: Speaking of sharing it with other people, you have a blog, The Bearhart Blog. It's a really emotional, intimate look into your life. In January, you wrote a very detailed post about your personal battles with depression.  Why was that important for you to share with everyone?
BE: Couple different reasons. As much as it may seem like I was trying to preach something to the world, it was really more of a selfish thing, almost like a Band-Aid that I felt like I had to rip off.  Early on in my life, my late teens, early 20s, I was full of dishonesty.  Dishonesty with myself, dishonesty with my friends and my family. It felt kind of like a never-ending cycle of lies all around.  And I firmly believe it had something to do with my golf game, and the inconsistencies in my golf game. I felt like I was constantly trying to prove myself to other people, and I felt like, even in disc golf — that was my pride and joy — and I felt like I was trying to impress people in insincere ways.  It was hindering my performance as a player, so I realized, through all the reading I've done, my obsession with trying to figure out why I was the way I was, and how to get better, I learned that I needed to begin a new chapter of honesty and transparency with myself, my competitors, my family, my friends.  I had a theory that it was going to make me a better golfer, because the golf course doesn't care if you lie to yourself.
The golf course forces you to be brutally honest with yourself. So the moment I wrote that blog, it was a liberating feeling for me.  It felt really good to share some of those dark things with the world.  It felt like I had a big weight lifted off my chest, putting everything out there like that.
On the other side, there was a social impact.  I had some amazing conversations with some people that messaged me after reading it.  That type of human connection [was important], especially in the disc golf community where you tend to find quite a few misfits.  I had some really powerful conversations with people that made me a little emotional to say the least. So being able to share that with the disc golf community was important to me as well, because I know that a lot of people have fled to disc golf as a way to escape those dark emotions, or dark friend groups that they had.  I know a lot of disc golfers that came to the sport trying to run away from drug addiction and alcoholism. That's what I've taken away from writing that.
MB:  Shifting gears a little bit, it's still early in terms of the voting, but you are way out ahead on the fan vote for WACO to be on one of the feature cards.2 That's a fan vote that includes guys like Simon Lizotte, Eagle McMahon, and Paul McBeth.  What does it mean to you to be connecting with the fans in such a way that they are voting for you ahead of three of the most popular disc golfers in the world?
BE: I think it's inevitable that somebody was going to have that happen to them, because I think we have these popular faces in our sport week in and week out, and I think people tend to take them for granted.  Like, "Oh, I don't need to share this Paul McBeth picture because he's going to get voted in anyways." I'm not saying anything has gotten stale, but I think people enjoy seeing fresh faces. And I think, going alongside the whole transparency thing, and the fact that I have been able to reach the disc golf community in a unique way, I think I'm not seen as one of these big faces, big larger-than-life personalities in the sport yet, which is great.  I love that I can have such intimate conversations with people, even as it's getting harder to do with this extra popularity.  I think that's why people are excited to see it. It's kind of the whole, I-know-that-guy effect, where I have documented my journeys, I have documented my failures, tour life, and I think people can relate to that.  And I think that's why, for someone like that, it's easy to say, "Oh, I'll share that picture, because I want that person to succeed."  Whereas someone like Simon or Eagle or Paul, they assume that person is going to succeed.

MB: At Vegas you got on a feature card with Gatekeeper Media, and at Memorial you were on a feature card with Dynamic Discs.  A lot of people are seeing you for the first time, and it seems like they're really connecting with you. What is it about your play style that has made you a fan favorite?  
BE: The part that I'm excited about is I'm already seeing comments where people think…well number one, I'm lefty, and I think people always like a lefty.  I'm seeing comments that people think that I have an unorthodox style, and what I'm laughing at is, the way I had to play golf at Vegas and Memorial, felt so boring and textbook to me.  If I get on this feature card at Waco, you'll see a much more unorthodox style. My frisbee background with Ultimate and whatnot, that's going to shine through more because we're actually going to have shot shapes. That might have something to do with it.
MB: Yeah, I'm actually really excited to see some lefty understable flicks, it's going to be really fun to watch.  
BE: Oh yeah, I can't wait to flick some Comets.  That's my most exciting part of this tournament.
MB: Speaking of Comets, you were mentioning your equipment earlier.  Walk me through some of the discs you're throwing and what's working for you.
BE: The ones I've always had a good relationship with are my Zones.  That's a no brainer for me. I rarely even practice throwing a Zone in the field.  And a Force. A Force is always going to be a Force. Machete is always going to be a Machete.
But I think the disc that I feel like I've really built a more intimate relationship with over the past few months is the Vulture.  I feel like I'm really good at throwing those laser beam, late flip flexes that land soft. I'm really falling in love with the Vulture.  The Punisher is actually a disc I've been working with a bit. It's like a tiny bit slower Kong. Tiny, slow flip, high-speed. I feel like I'm building a good relationship with those medium stability discs.  And I feel like it's paying off in my rounds, because they're creating much higher percentages of soft landings. The Buzzzes, the Comets, the Vultures, I've been throwing an XL a lot this year, those are the ones I think that are going to get me to the next level when we start moving forward to the Midwest and the east coast where you do have to shape some shots.
MB: I think a lot of people get a kick out of watching you play your ukulele on your Instagram. What other skills do you have behind-the-scenes, stuff that you're doing when you're hanging out with your friends?  
BE: I'm touring with Paul Ulibarri now, but I used to spend a lot of time alone. So music was a very meditative thing for me.  Music helps to shut my brain off and allows me to channel that flow state, which I think is important for golf as well. Some things that I don't do any more that I still enjoy — I used to play tournaments for Dance Dance Revolution. I was very good at that game in my high school years, and I'm still pretty good at it.  I played last year at Utah Open, and I was pretty impressed with myself, although my cardio wasn't as good as it used to be.
I bowled a 300 when I was 13-years-old, so bowling was a big part of my life when I was younger. I got really burnt out [on bowling], just as a kid having a short attention span.  I also played volleyball for quite some time. So I kind of loved everything. Food, beer, music, sports.  You name it, and I've probably been obsessed with it at some point.  I think when I was in junior high I wanted to be a pro ping pong player. So I've loved all sorts of things.  I guess I would call myself an overall enthusiast for pretty much everything. And the people who share those feelings.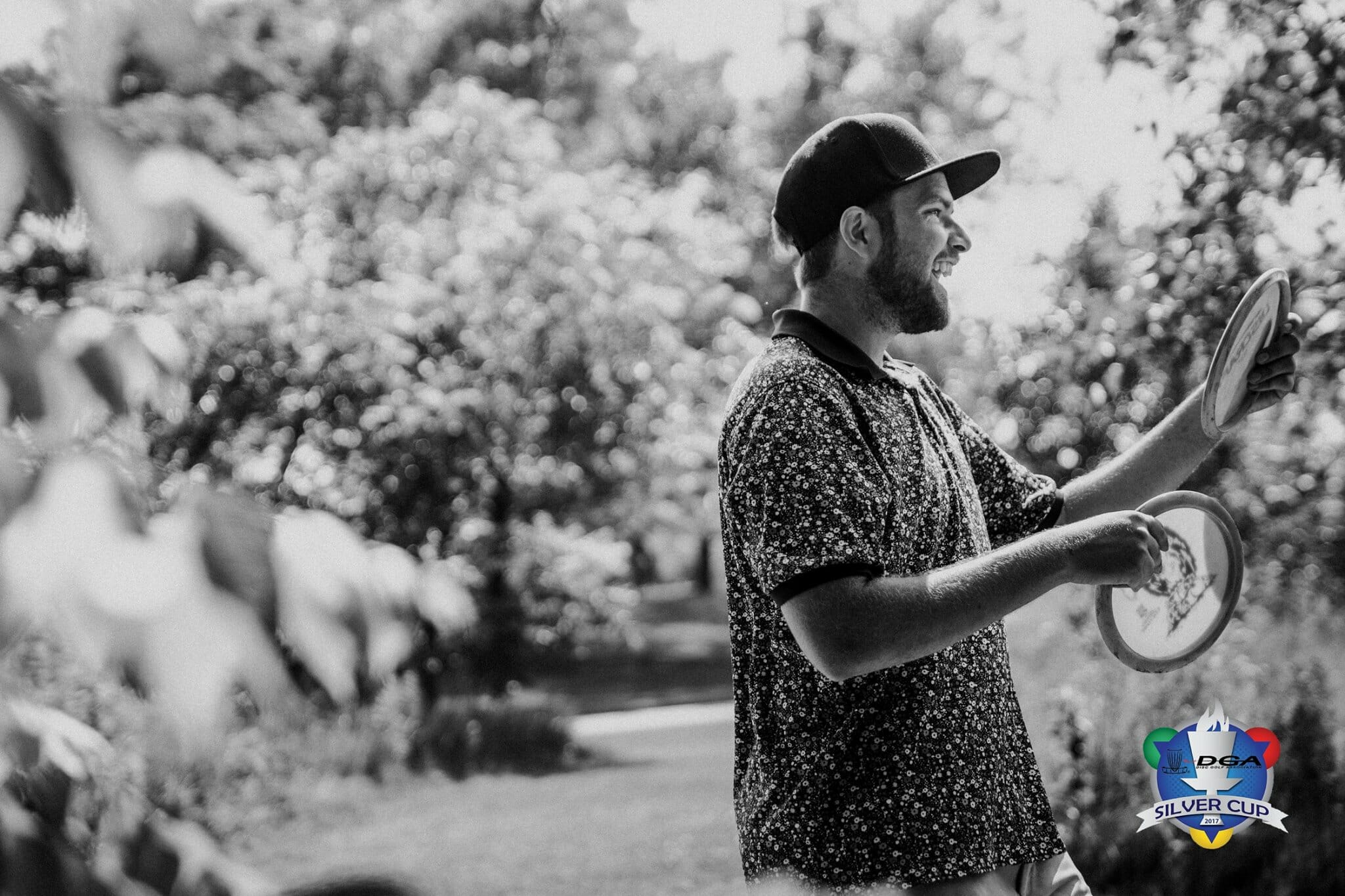 MB: You mentioned the "flow state" when you were talking about music and how that relates to the mental game in disc golf.  I've heard you talk a lot about mental game and how that's important to you. I believe your podcast with Uli3 will be focusing on that side of it, correct?
BE: Yep!
MB: So what exactly are you planning on for The Buzzz, in terms of your discussions with Uli about the mental game?
BE: So right now, the first topic we're going to talk about is form changes, which is a huge topic all across the board, on the am side, as well as the pro side. We're not necessarily going to talk about what to change your form to, but more talking about the mental battle of changing your form, and the whole process of, why do you even need to change your form?  Why should you not change your form? Uli was one of the biggest form changers in the pro side of the game. He went from a stutter step backhand to an x-step backhand, and somehow maintained a top 10 player status. We're going to kind of go in and out of the mental side of changing your form, and the appropriate way of going about doing that, and the right and wrong reasons of changing your form.
MB: Where can people go to find the podcast?
BE: Right now, we're just going to be on Youtube. You can subscribe to our YouTube channel, we have a promo video on there already.  I think, obviously, this is a new endeavor for all of us, so I think eventually we'll move to the other podcasting platforms as well, but it's just one of those things we're going to learn as we go.
MB: You mentioned the Memorial and how it was a big breakthrough performance for you.  What about that performance really stood out to you?
BE: Scores-wise, I shot the most consistent, shredder golf.  I averaged close to 1050 the whole week. Last season I was the king of shooting two consistent rounds and losing my mental focus in another one. So I felt like it was a huge breakthrough in the sense that I finally closed out a tournament, and my brain felt like it was in that flow state the whole time.  I was never too high or too low. I felt like all the sports psychology that I've read about and obsessed over has finally begun to manifest itself in the way I performed.
MB: Do you have anything you want to say to your fans as we're heading into Waco?
BE: The amount of love I've experienced the past two weeks has been insane.  I don't even really know what to say. The amount of positive messages of encouragement that I've gotten from people the past two weeks has been beyond anything I could even imagine.  Thanks to everyone who keeps an open mind in this sport and lets people like me impact their lives. I guess I don't even know what to say when it comes to that. I guess I could thank Discraft for all the ridiculous support they've given me.  Dellwood Disc Golf in Illinois, Sean Callahan who owns the pro shop there, he flew out to the Memorial and caddied for me, and that was the best experience of my life. When it comes to the fans, I feel a little uncomfortable having "fans" at this point – I don't feel like I deserve them yet.  It's been kind of a whirlwind the past few months.
You can watch Brian Earhart live on the DGPT YouTube Channel at 4:15 Eastern during round one of the Waco Annual Charity Open.
---
Bragging. ↩