1100-rated rounds the norm in Arizona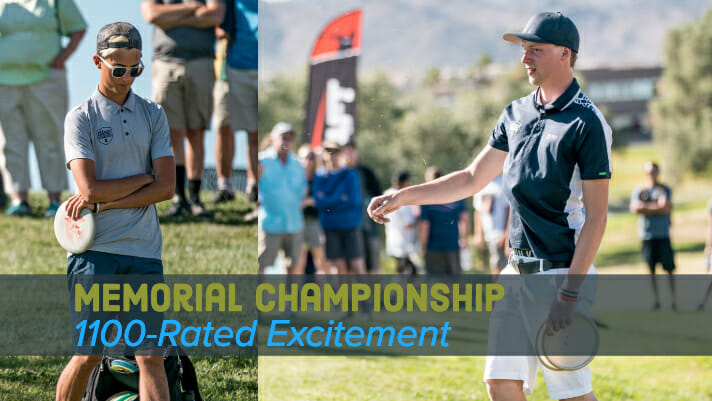 It feels like anything is possible when Simon Lizotte plays disc golf. Regardless of his position on the course, Lizotte has the innate ability to seemingly threaten the chains with every throw.
There's no place he feels more comfortable displaying these talents than in Scottsdale, Arizona. During the first day at the 2019 Memorial Championship, Lizotte hit every fairway and was in Circle 2 in regulation on every hole. He shot the highest-rated round of his career, 1110, and was 16 shots under par. Going into round two he holds a one-stroke lead over fellow Discmaniac and round one card mate Eagle McMahon whose 15-under par was 1101-rated in its own right. Several players notched 1071-rated 12-under par round ones.
This event has the propensity to showcase highly-rated rounds. Since 2009, there have been 13 1100-rated rounds at the Memorial, including the Crush Boyz' rounds yesterday. In 2012 and 2013, both events had four 1100+ rated rounds. In 2012, rounds one and four had two players hit the 1100-rated mark like Lizotte and McMahon did Thursday. There were also two 1100+ rated rounds in 2014's round two. However, there have not been any 1100+ rated rounds at Memorial over the past three years. Paul McBeth has the highest rating recorded at the event, an 1132-rated, course record, 17-under par 39 during 2013's final round at Fountain Hills. Will Schusterick has the most 1100+ rated rounds at the Memorial with three all-time.
While he definitely is considered a contender, Lizotte was not necessarily a favorite to repeat as Memorial champion, although he's played the event with great results over the past five years. His career average finish is third place, and he has reached the podium each of the last four years, including the win in 2018.
The worst and most over-used line in disc golf media is, "When he/she is putting well they are hard to beat." Well, when Lizotte is playing at all in Scottsdale he is hard to beat. It may be too late to adjust your picks, but the young Sky God should be projected on everyone's podium for as long as he decides to play Fountain and Vista del Camino.