McMahon makes major push with 15-under round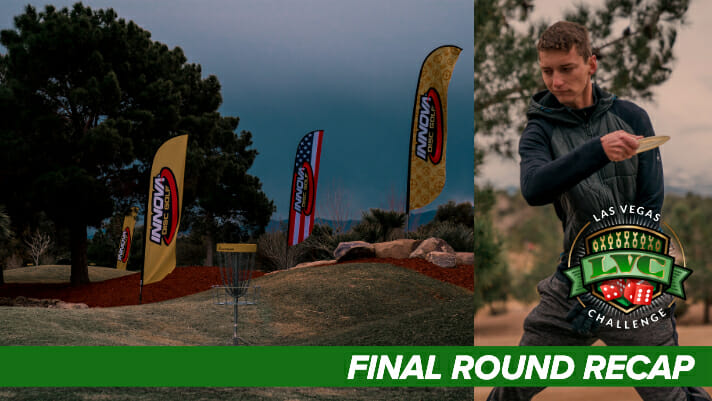 Ultiworld Disc Golf's coverage of the 2019 Las Vegas Challenge is presented by Innova Discs; all opinions are those of the authors. 
What a finish. What a tournament. What a start to the 2019 PDGA National Tour. If the Las Vegas Challenge at Wildhorse Golf Club was any indication, we're in for a treat this season.
Going into the final round, Calvin Heimburg was holding onto a six-stroke lead he first commandeered on the Innova Course during round two — the same course the Open division would finish the tournament on. He shouldn't even have to match his 11-under par 50 from Friday to secure his first NT victory, just play a steady round and limit mistakes.
Sharing lead card were veterans Paul McBeth and Josh Anthon, and Dustin Keegan who was coming off a hot 15-under par round three. From the jump, the usually level-headed Heimburg looked rattled. Through four holes, Heimburg lost five strokes to Keegan, and by hole 8 the two were tied with Heimburg still at even par on the day.
"That round was a rollercoaster of emotions," Heimburg said afterward. "I just wasn't throwing any good shots. I struggled a lot."
Making the turn to the back nine, Heimburg enlisted the caddy help of FPO's Madison Walker to help right the ship.
"Madison kept it lighthearted and changed my mood a little bit," Heimburg said. "Definitely kickstarted my back nine."
Keegan and Heimburg would continue to match each other shot for shot and share the lead until Heimburg got a stroke on hole 12, and another on hole 13.  Keegan was still in position to challenge for the win going down the stretch until a double-bogey six on hole 14 torpedoed his chances. Keegan would finish the round at 8-under par 53, and the tournament in sixth at 38-under par 204 total on the weekend, his best NT finish.
"I felt really calm — no pressure, no nerves. It felt comfortable being there contending," Keegan said. "Anytime you're feeling comfortable you're throwing good. I was in a good headspace all week."
A couple holes ahead of Heimburg laid his toughest rival, as Eagle McMahon was scoring outrageously well from the third card and had the margin down to one stroke just as Keegan fell off the pace. McMahon hadn't missed a C1X putt all day, and also pitched in three from Circle 2. The only holes he didn't birdie included a bogey on hole 6 and a par on hole 10.
McMahon would continue to keep Heimburg honest through the finish. With birdies on the final eight holes, McMahon was within one or two of Heimburg until he cleaned-up his final shot on hole 18. With the pressure on Heimburg to keep it inbounds, he left it short on an approach on hole 16 and missed a C2 chance for birdie, settling for par.
Heimburg avoided disaster on the relatively easy hole 17, and just needed a par on the winding 675-foot par 4 hole 18 to clinch a W. The tee shot from Heimburg flirted with the OB cart path eventually settling safe, and would allow him to lay-up for par and victory.
Instead of the sage route, he used his power and finesses to stick a hyzer into the well around the basket for the easiest tap-in birdie you could have.
"I saw Eagle's scores and I knew I had to attack every hole," Heimburg said. "Not attacking and messing up not attacking would be a huge regret later on."
Heimburg shot an 8-under par 53 final round to finish 44-under par 198 total to win by two strokes over McMahon, who wrapped-up second at 42-under par 200 total after his 1088-rated, 15-under par 46 Sunday. Cale Leiviska's bogey-free 13-under par 48 moved him into a tie for third with Anthon at 40-under par 202 total.
Over the weekend, Heimburg averaged 1057-rated golf thanks to hitting 88-percent of his fairways and getting within Circle 2 in regulation at an 88-percent rate. His C2 in Reg and birdie rate — 67-percent — were tops of in the tournament.
"I'm happy I got my first big win out here, and hopefully I can get another one in the year," Heimburg casually offered.
2019 Las Vegas Challenge Calvin Heimburg Dustin Keegan Paul McBeth