Allen recommits to workouts after roller coaster 2018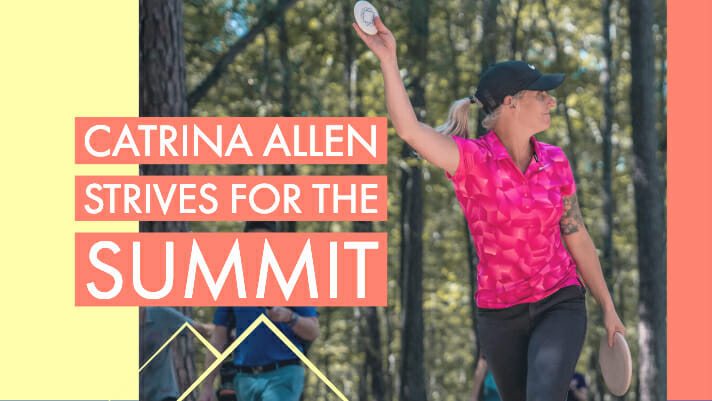 Catrina Allen entered the final hole of the 2018 Hall of Fame Classic with a commanding six stroke lead over Paige Pierce. She could treat the formidable 18th hole at W.R. Jackson like the Champs-Élysées stage of the Tour de France — a victory lap — basking in the glow of the assured win and sipping the metaphorical champagne.
Save your toasts. Cat prefers to keep the pedal to the metal.
Teeing off last, Allen piped a hyzer flip up the gut, significantly outdriving the other women on the card and sticking the uphill-sloping fairway. Following two deft fairway shots, the six-time major champion found herself taking measure of a circle's edge look for birdie. Putting has been Allen's bugaboo of late, but her newly revamped stroke looked clean all weekend and she confidently nailed the walk-off bird. Her margin of victory increased to eight following a Pierce bogey. Not quite the shellacking she administered the field in 2017 when she entered the final round with a nine stroke lead and won by 13, but at the end of an uncharacteristically inconsistent season, it was no small feat.
Asked to describe 2018 in a nutshell, Allen replies with a laugh, "A roller coaster?"
The highs? Notching 14 victories — up six from 2017 — including two National Tours and nine A-tiers; winning every tournament she entered in June and finishing on the podium 64-percent of the time (21/33). The lows? Missing the top 10 in the Women's Open Division for the first time ever at the Glass Blown Open — that's nine years of competitive golf, folks — and placing in the bottom half of the top 10 four times (a career worst).1
"I was excited to start the [2018] season," Allen continues. "But I don't think that I started training soon enough. Normally I train for two to two and a half months, but last winter, for the first time ever, I took three months off. I didn't even touch a disc. [The time off] helped me mentally, but I felt very inconsistent."
---
Allen historically lived and trained in sunny Arizona during the winter months. Prior to the 2018 tour she spent the solstice season in her hometown of Pipestone, Minnesota, a small city in the southwest corner of the state near the South Dakota border. Situated on a glacial ridgeline, the prairie wind whistles winterlong through its historic city center, drifting snow and driving residents indoors. Averaging fewer than 10 hours of daylight from November through early February, sub-freezing temperatures, and approximately three feet of snow per winter, it is unsuitable for training but pulls Allen's heartstrings: "I'm a Minnesota girl. There's nothing like it. I love it."
As a budding professional, the winter break was less impactful than now. "When I first started playing disc golf I moved from a studio into a quite large apartment," Allen reminisces fondly. "I was like, 'Should I get a dining room table?' But instead I got a basket. When I lived by myself I would get off of work, I bartended, and eat in my living room watching TV. I didn't sit at a table! I put towels in the chains and towels on the wall [to dampen the noise and protect her security deposit]. It's actually good practice because you're always inside the circle."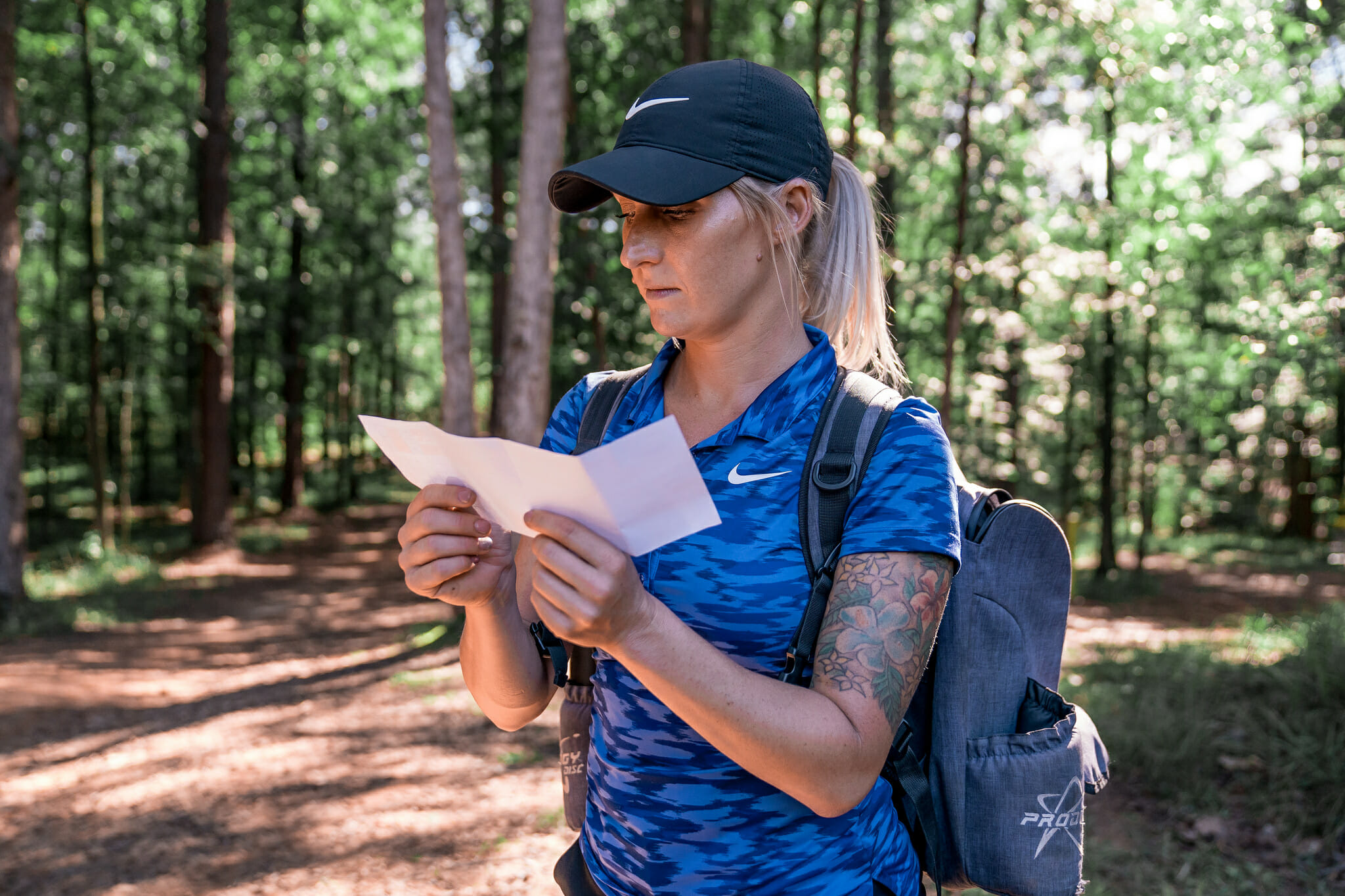 These days Allen relies on the off-season to hone her game. The former world number 1, current number 4, credits her wildly successful 2014 and 2016 seasons to the rigor of her winter training regimen.2
It took nearly three months on tour — a timespan roughly equivalent to the length of her offseason hiatus — for Allen to find her form after a bumpy start to 2018. Following a 15th place finish at the GBO and a somewhat lackluster performance at the Nick Hyde Memorial a week later, she won five of her next nine events and didn't finish outside of the top 3 until returning from Europe for the Idlewild Open in late July. But in a surprise twist, the peaks and valleys of her roller coaster season became more dramatic upon her return stateside, beginning with an eighth place finish in Kentucky. She notched A-tier victories at the Des Moines Challenge and Vacationland Open, but missed the podium at every Major, NT, and DGPT event from July through September.
Frustrated with her midseason swoon, Allen took advantage of the time off between the United States Women's Disc Golf Championship and the Hall of Fame Classic to reboot.
"It was really nice to have two weeks off after the USWDGC to hit the gym hard, do some field work, work on my putt. It was like a mini offseason training. I didn't have to focus on practicing any courses. It was nice to focus on things I wanted to focus on for months. Finally found time to do that."
---
A multisport athlete in her youth and a collegiate volleyball player, Allen approaches disc golf like she would any other sport. She's in it to win it. Her quiet focus and competitive intensity on the course are often misinterpreted as negativity. The "Why don't you smile more, sweetheart?" brand of sexism runs rampant in the off-color commentary on social media regarding her conduct. Ricky Wysocki, one of Allen's close friends on tour, has ice in his veins; his steely demeanor and occasional emotional outbursts mark his champion's pedigree. When Allen exhibits the same traits, she's chastised for being standoffish, unhappy, or unprofessional. Base aspersions on her character abound.
Allen expresses her frustration at the double standard. "I was never a crazy goofball in a volleyball game," she says. "I was the 5'4" Libero3 who was like, 'I dare you to hit the ball at me. Please hit the ball at me. I want you to serve it to me.'
"That's just my mindset. So why on the disc golf course would I be like 'Oh, I just missed a putt, haha, I'm just having a great time out here!' That's not who I am. I'm an intense player. This is my business."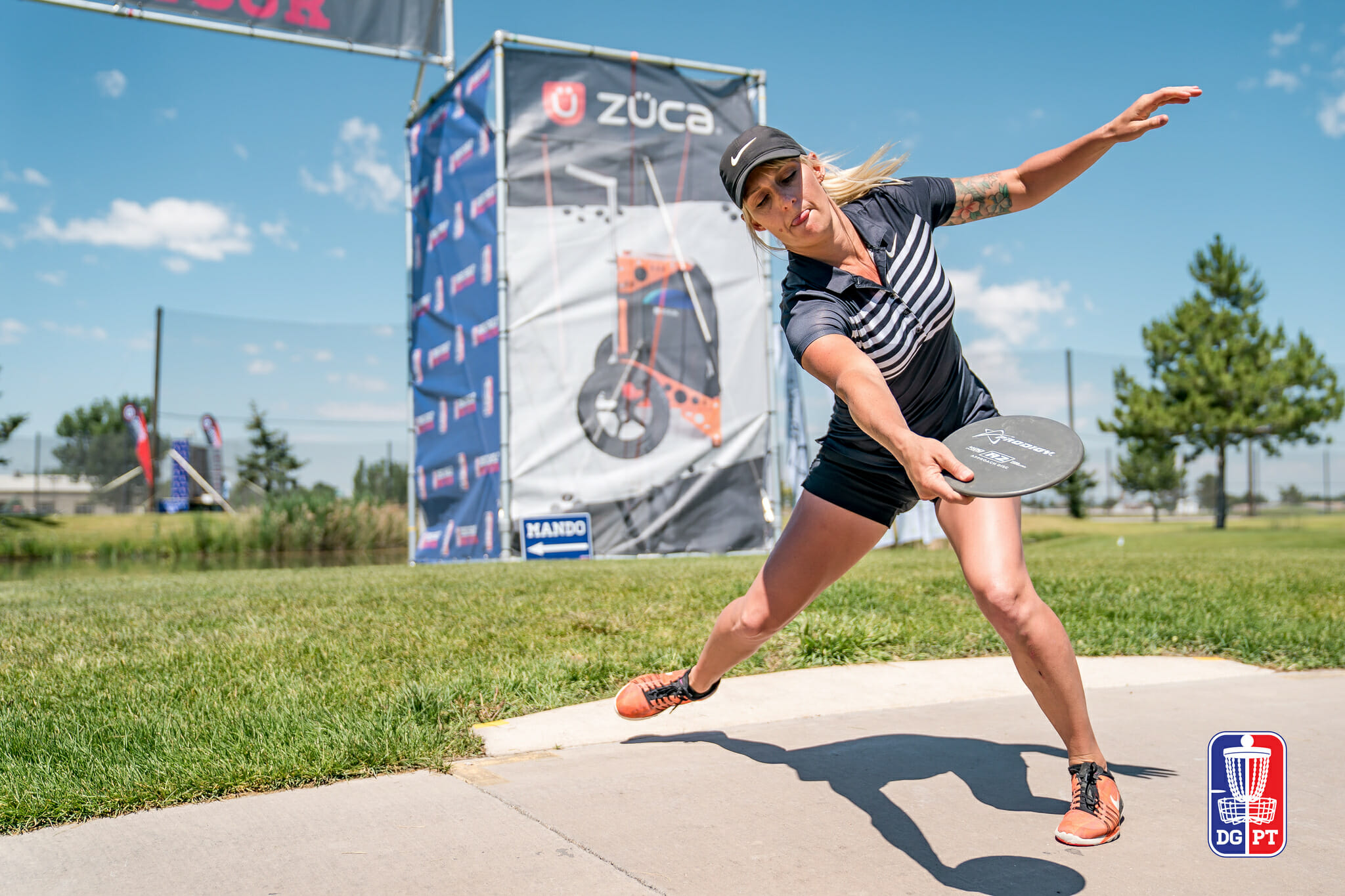 Her performance is paramount to her livelihood, which raises the stakes to consistently finish atop the podium. In the FPO division — where four-figure payouts are hardly guaranteed — there is simply less room for error at the top. Against these odds, Allen hasn't needed to supplement her disc golf income with any part-time or seasonal work since signing with Prodigy Disc in 2013. Her commitment to excellence and sustained success on the course affords her that small luxury in a profession that guarantees relatively few. And it is well-earned: Catrina Allen boasts the highest career winning percentage of any golfer currently on tour, male or female. To date, she has won 144 of 270 PDGA-sanctioned, professional fixtures, a 53-percent win rate.
Like many touring professionals, Allen regularly gives clinics while on tour. She particularly relishes teaching other women. Using herself as an example, she encourages them to be themselves on the course. Her common refrain runs, "It's you versus the course and you need to do what you need to do to play your game. It is okay to be intense as a woman."
Based on Allen's success, that approach pays dividends.
---
Catrina Allen finished the 2018 season on a tear, winning the Hall of Fame Classic and two A-tiers in Oklahoma. She finished in second place behind Sarah Hokom at the DGPT Tour Championship, but looked like the player to beat. If not for a few missed putts and an unfortunate bogey late, Allen might have completed the post-UWDGC, year-end sweep.
Ten days ago, she won the 2019 Maricopa Open by 11 strokes, posting a 1025-rated second round and averaging 986-rated golf for the weekend. Coincidentally, her rating over the course of the past 14 competitive rounds following her "mini offseason": 986. During that span she carded two rounds rated 951, four points below her current rating, but the rest were 972 or higher. She has four rounds rated over 1000 since the DGPT Championship.
Only the Hall of Fame Classic and the Tour Championship tracked statistics with UDisc Live. Notably, Allen averaged 87-percent Circle 1 putting, up five points compared to her season average, and topped the field in C1 and C2 in regulation in those events.
The 41st Annual Wintertime Open in La Cañada Flintridge (aka Pasadena) will be Allen's final tune-up before the Las Vegas Challenge and the start of the touring season proper. Entering her tenth year as a professional disc golfer, a victory at the storied California A-tier would be a poetic start to her silver anniversary season. Allen last played the tournament in 2011 when she was a rookie on tour, finishing fifth in a field of five.
Based on her recent run of play and recommitment to winter training, Allen should be the odds-on favorite to win in SoCal next weekend. We saw what two weeks of practice between events did for her game toward the end of the 2018 season. With a full offseason?
"I work really hard and want to be the best I can be," Allen quips. "My goal is to win every weekend. I'd like to have 1's across the board."
---
In her rookie season on tour, Allen finished in the bottom half of the top 10 four times as well but never missed the top 10. ↩

World #4 courtesy of the PDGA World Rankings. Coincidentally, Allen also ranked #4 in the PDGA EOY Directors Poll. By way of comparison, she ranked second in the Ultiworld Disc Golf End Of Year Power Rankings and third in the Disc Golf Pro Tour Power Rankings. ↩

the back line, defensive specialist ↩