John and Dee Houck on good design and changing disc golf ideas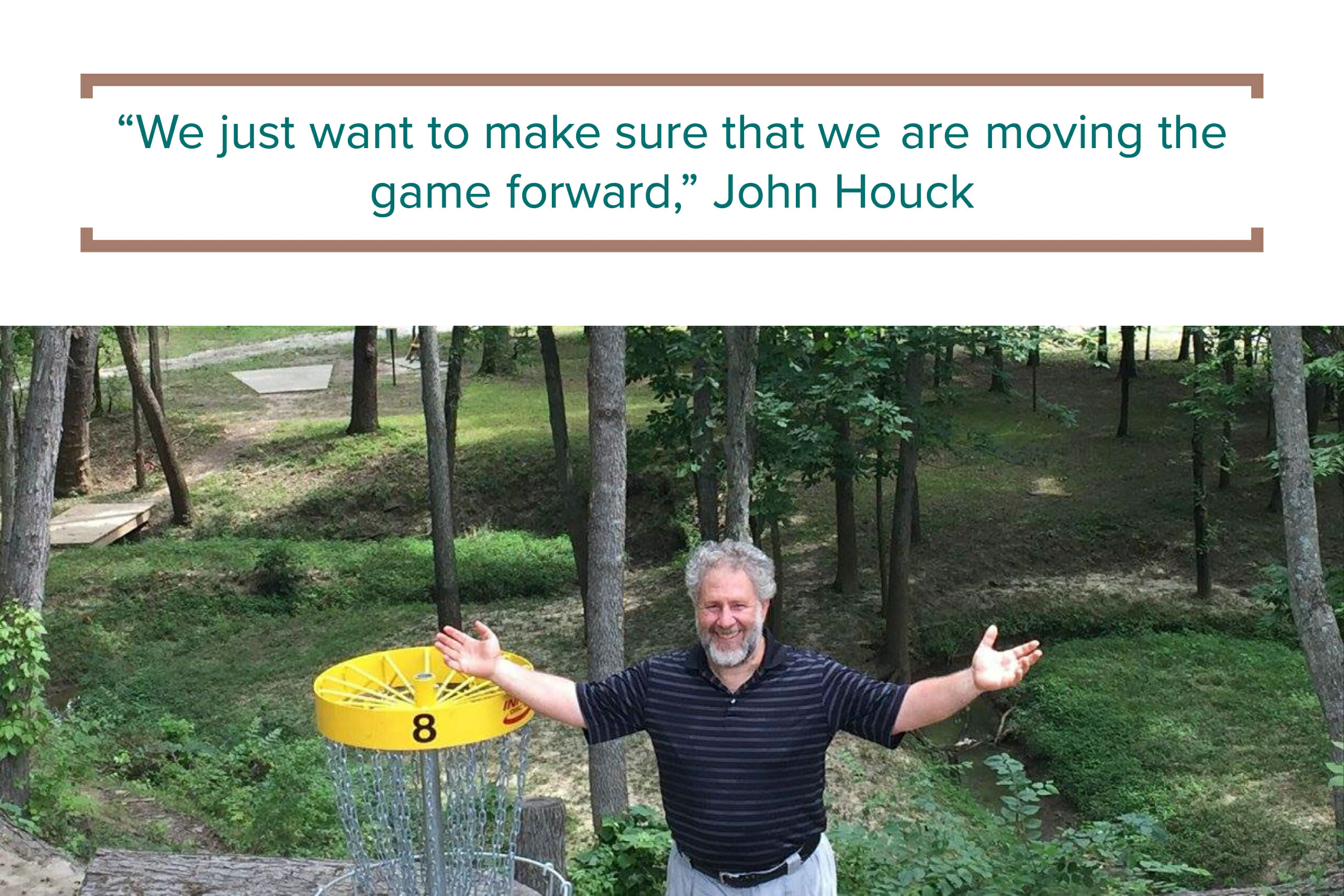 For years, HouckDesign disc golf courses have become synonymous with quality and innovative design. Lead designer John Houck and his wife Dee Leekha-Houck have built a company focused on sustainability and highlighting the existing environmental features of the land.
The dedication to the craft has resulted in HouckDesign courses maintaining the no. 1 spot on Disc Golf Course Review's rankings since 2012. Harmony Bends in Columbia, Missouri, the current highest-rated track on DGCR, was installed by Houck in 2016 and was recently awarded the 2020 Tim Selinske United States Masters Championship, and will also host the Mid-American Open in 2019, a Disc Golf Pro Tour Test Event.
Even with an impressive resume of championship-caliber courses around the country, the Houcks continue to take on projects and don't appear to be slowing down. Christopher Wiklund caught up with the team to discuss what it takes to design world-class facilities and where they see growth in the sport.
---
Ultiworld Disc Golf: What drew you to course design?  Did you have a previous life in land management and design?
John Houck: I played in my first tournament in 1978, so as a player, I naturally developed ideas about what was fair and what was fun, and what was challenging.  When I started running tournaments in the late '80s, many of the cities we worked with didn't even have courses, so I had to design a temporary course before we could even have an event there. I found that I really enjoyed design and felt like there were a lot of ways to make courses better for players.
Dee Leekha-Houck: I was drawn to it after living it daily and learning how much really goes into design. Watching John take a rough piece of property and carve out these impressive designs, I learned that it is not as easy as it looks. There is a lot to learn. I have a great teacher in-house, I thought I should take the opportunity. Well, it's impossible to avoid since we like disc golf 24/7.
UWDG: Which course was the most challenging to design and why?
DLH: Smaller recreational courses which exist in parks with other amenities are not easy to design.  Considering where to locate fairways is a big puzzle as we want to stay clear of other activities, roads, sidewalks, benches, and still offer a variety of shots and make the course balanced and challenging. There is a lot of calculation and math, believe it or not, in the smaller designs.
JH: I've done four smaller 9-hole recreational courses in the last couple of years, and they were all just brutal.  The clients all wanted the best course they could get in small areas surrounded by sidewalks, streets, playgrounds, and backyards.  Making good holes in the 200-foot range was the best I could do, and just that was really tough. In the "old" days, having fairways that might conflict with other park users wasn't as big of a concern, but now we consider it the most critical factor in design.
As far as bigger courses go, it's a great question.  Some projects are harder because of the constraints on land or on clearing, and some are actually harder because there are no constraints and anything is possible — having limits can sometimes spur creativity.  I think probably the hardest courses come in two varieties: the ones that are so thick that you can't see 50-feet in front of you, and the ones that are so open you just don't have obstacles to create challenges. These types of courses can be the inspiration for innovation in design. We just want to make sure that we are moving the game forward, and not making the game less interesting or scoring less accurate. Not easy to achieve once you begin to consider the many variables.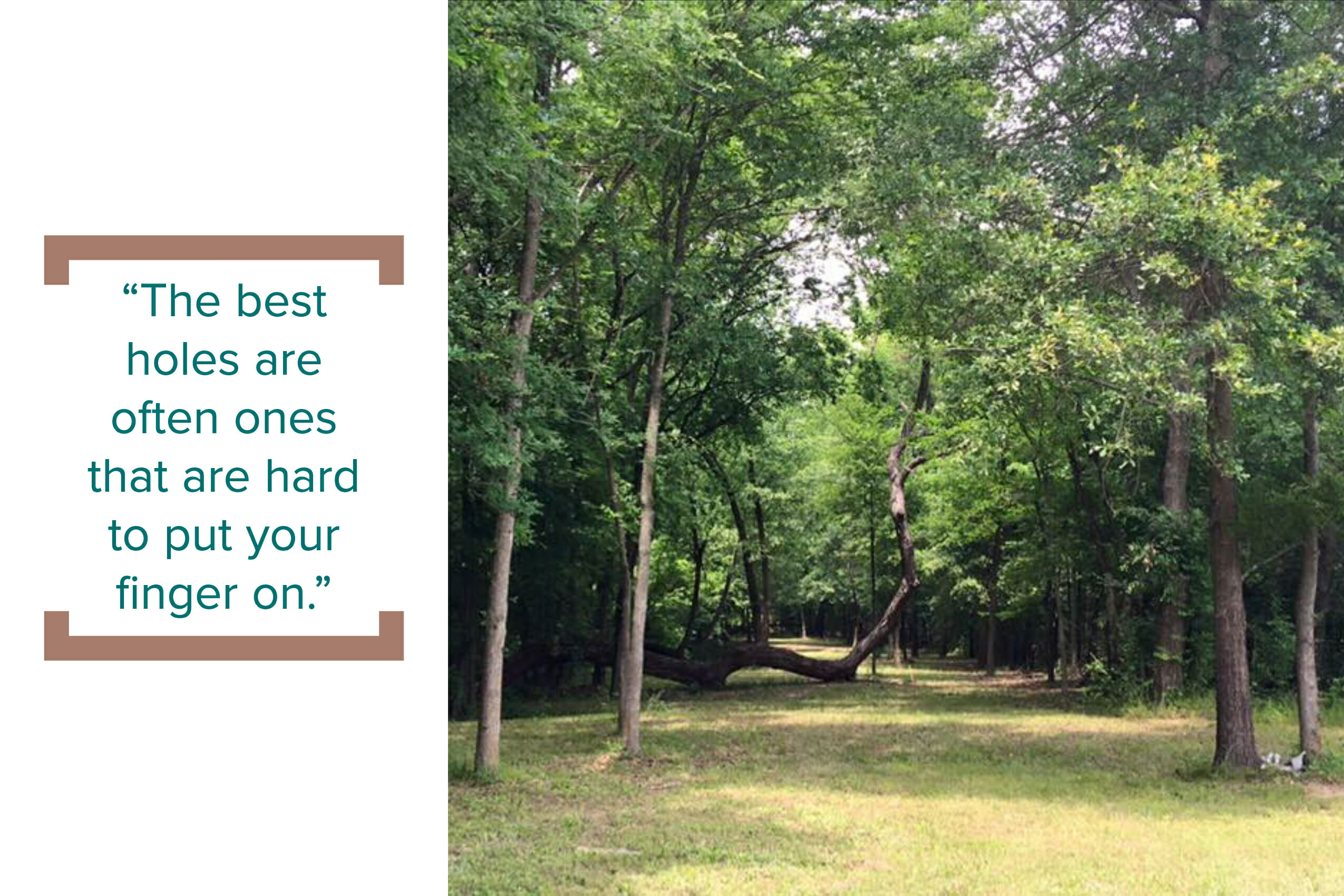 UWDG: What separates great hole design from good hole design?
DLH: Complexity in the variables considered. The best holes consider the most things. Things that are subtle, but when mixed in with all the other obvious considerations the best holes offer an experience with that "je ne sais quoi." After we play it, we know that we will never forget this hole. Not because it was too hard, or it was very challenging, but because it was memorable for reasons we cannot easily identify. We may all have our own thoughts and feelings about why we enjoyed that hole. John considers hundreds of things when he designs. I've been watching him and I know what he is teaching in our workshops. In the second workshop, we can start to see about a hundred things he looks at.
JH: As Dee said, the best holes are often ones that are hard to put your finger on. I realized that if I do a good job, players will enjoy the holes without ever really knowing why. Especially if they look natural enough that they don't even appear to be "designed." If I'm deeply involved, but it looks like I was never there, that's a good sign.
I think great design enriches the experience for players. That includes giving them opportunities to think and employ strategy, for the hole to play differently when they play it multiple times, and for risk/reward to be more than just pass/fail. I think I see risk and reward differently from the way many designers see them or understand them. And one of the most important — and most underrated — features of a great hole is that it will give you the chance to recover if you make a small or moderate mistake.  That's one of the most attractive features about golf, and we need a whole lot more of it in disc golf. If you make a small mistake and wind up in jail, or on the wrong side of an arbitrary OB line, you're out of luck, and the punishment does not fit the crime. The game is so much better when you can make a great shot and recover from your mistakes.
UWDG: As the sport grows, making events more film and spectator-friendly has become more of a consideration. How do you see course design evolving alongside those pressures?  Will we see more golf course-style courses, and how can course designers on traditional golf courses find ways to make the holes interesting and challenging beyond big distance?
DLH: Temporary disc golf courses for tournaments on golf courses may not be testing players' skills fairly. There are ways to design a disc golf course on golf courses that can create more complex fairways.  We have to explore all options with the venue on what's possible for design and where. We may simply have to say no to golf courses that are not ideal for disc golf tournaments, and stop using those and find venues that offer opportunities for a more complex course design.
If a golf course is converted to a disc golf course permanently, planting trees can be essential to create a better design. Additionally, using the rough and incorporating that area into the fairways will help create a better design on temporary and permanent courses.
The evolution of disc golf course design by John is something we look forward to publishing in a book. For the past decade or more, we have been creating courses with more complex fairways on dedicated land that are maintained1 to create an experience for disc golfers where they can enjoy the game. Making the course desirable for spectating by creating viewing areas and still having elements of nature to enhance the experience is something that should be expected in designs where tournaments will be hosted. Courses in the woods can offer all this and more complex fairways.
JH: Well, I do think we'll see more courses at ball golf venues, just because more ball golf courses are looking to us for additional revenue. But when it comes to spectators and video coverage, I think the conventional wisdom may be mistaken. If you look at the Pro Worlds coverage from W.R. Jackson (a HouckDesign course at the International Disc Golf Center), I think it's clear that a modern-style wooded course can look great on video if the camera crew and editors know what they're doing.  And viewers can see a lot more skills than just throwing far and avoiding OB. Plus, the Jackson course also had good-sized galleries following the leaders. So I think we need to reconsider whether ball golf courses are really where we need to be.
I think the ideal will be a venue — whether it's ball golf-based or disc golf-based — that has a mix of wooded and semi-wooded holes, where players can demonstrate the full range of their skills, and where you have the full setup of amenities, buildings, and parking.  And where the game is based on rewarding great shots and providing recovery opportunities after mistakes. That will make for much more compelling viewing too, whether it's in-person or on video. The trend toward more wide-open bomber courses with miles of OB rope is the wrong direction for disc golf.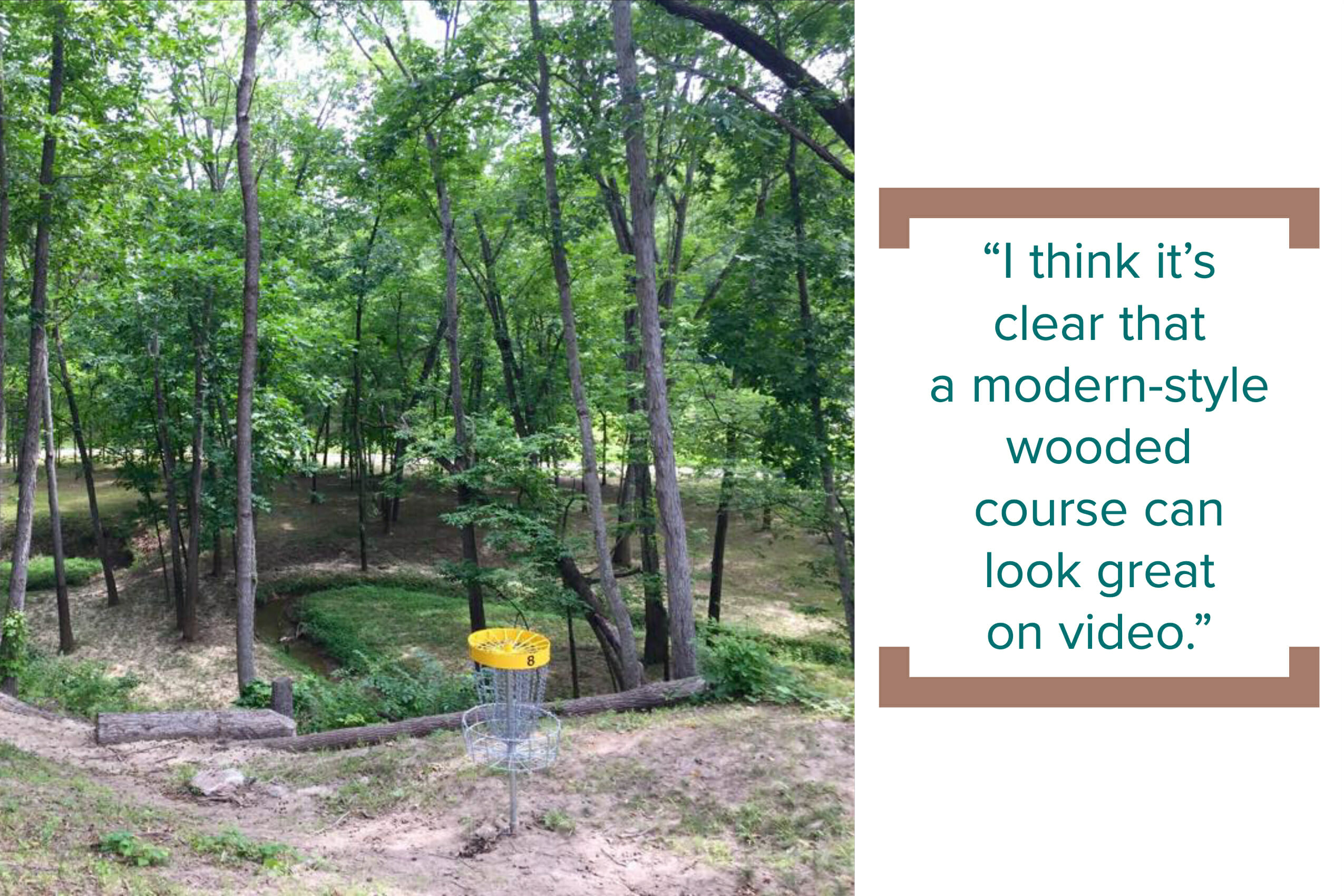 UWDG: What is the biggest challenge or threat you think local clubs need to confront and be aware of when attempting to design or install their own courses?
DLH: We all agree that the sport would never have grown how it has without clubs designing and developing. However, clubs don't recognize the risk they take when agreeing to design or build a course. It's important for them to have an experienced designer on the team, and insurance or a waiver from the client. But many new players are designing and even forming a club just so that they can design without any education or knowledge of design, or the many other topics they should know about. This situation is a difficult one as these players are doing it out of the goodness in their heart, but there is also risk for all parties involved.
Today, designing without enough knowledge, education, or experience may affect the sustainability of that course. The game is different. The designs are very different than they were 15-20 years ago. The discs are very different. All these create a very different equation when it comes to sustainability for courses. When we have many experienced designers who are available to design, our clients (parks and recs and private) should employ those designers to create courses in their communities to ensure the greatest results for sustainability and up-to-date designs.
Clubs also need to make sure they make written agreements with their clients (parks departments, churches, etc.). We have seen courses shut down as people in appointed positions change, retire, or not get reelected around the country. If land values go up, cities can always decide to change the zoning and sell the land for money. Without agreements, many things can come up that can cause course closures in the future.
Clubs' roles first and foremost should be creating a community within their communities for disc golf. This can be achieved by hosting events, and promoting the sport through lessons for the public, teaching children, and hosting tournaments, and inviting the residents of their communities to come and watch and learn the game through league play or pro clinics. This outreach will create healthier lives, gives great exposure to disc golf, and will grow the sport much faster.
Design is something that should be done by designers, and installation should be done by someone in construction, or someone who is an expert in installation. The reason is that a designer will have designer insurance and experience, and a construction contractor will have insurance for that work. Clubs can offer to contribute towards some of it and offer some limited maintenance, but should get waivers from their clients to protect the individuals in the club.
3DISCgolf was started to facilitate a process, in part, to determine what initiatives the sport could take to help clubs more. One of the things that came out of the process after six months of meetings and discussions was the need for an association. I'm happy to say that a group of participants from 3DISCgolf are working on launching the International Association of Disc Golf Clubs. This association will offer support, information, recognition, and the latest community news for private disc golf venues, as well as clubs that use public parks.
JH: I think Dee pretty much said it all. Let the clubs do what they do best, and let the designers and construction crews do what they do best. I think our relationship with the Columbia Disc Golf Club is a great example, and that's one reason people love Harmony Bends. Clubs do a lot for the sport and their communities, and the IADGC will start to expose how much they do and recognize their efforts.
Members will also be able to get information on topics like creating a non-profit, samples of waivers, insurance information, and so forth. This association will also create a cohesiveness so that clubs can quickly support each other in cases where support is needed to save a course or install a course. Currently, there are no such opportunities in our sport for clubs. This association can also help create a greater presence for disc golf in the world. The hope is that parks departments will come to the website and read information that will help them understand more about the clubs' roles and disc golf. As more private venues open up, this association will provide support to private disc golf clubs too on topics such as how to market their courses better, or the latest offerings on private courses.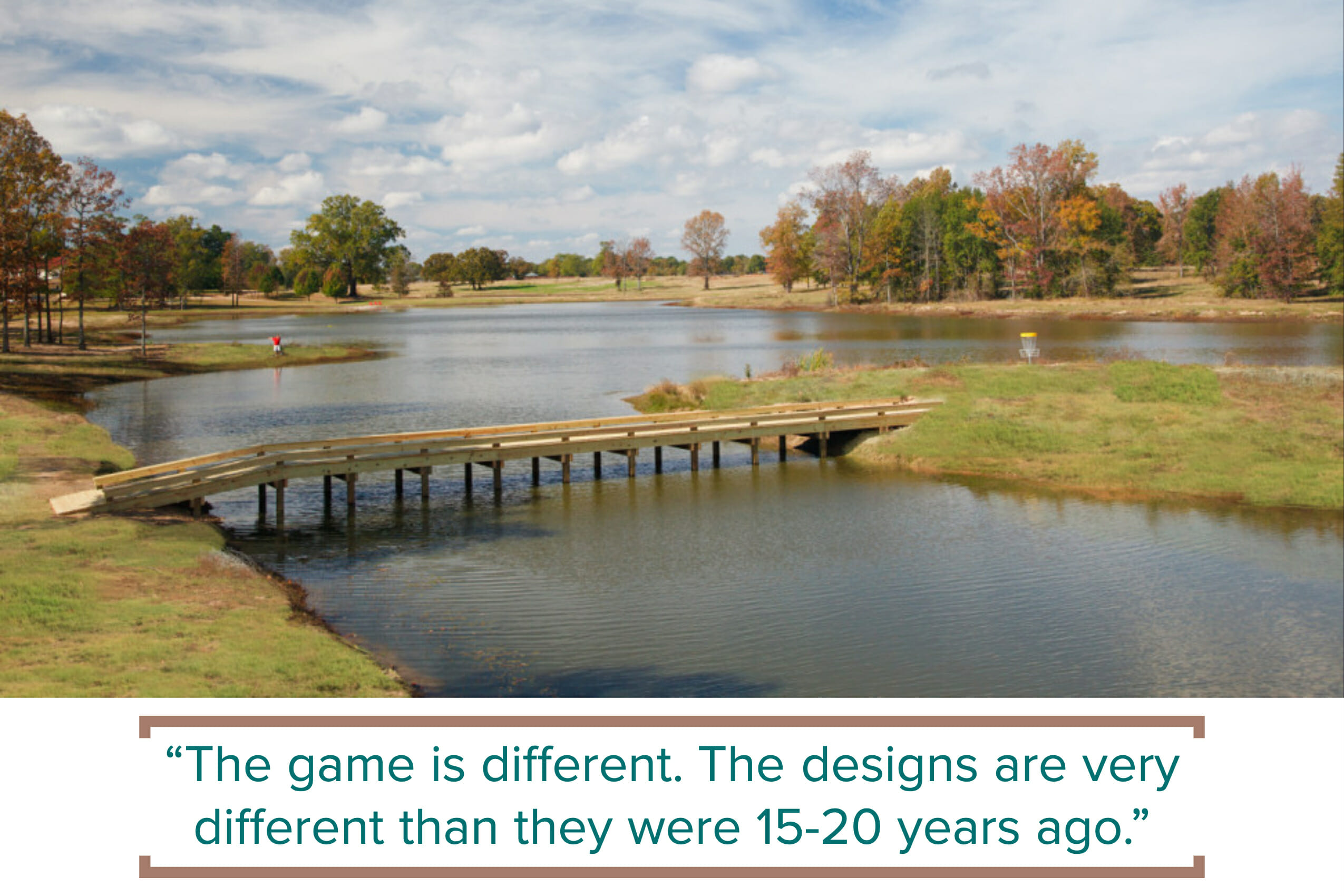 UWDG: What is your favorite non-Houck designed course? 
JH: I'm going to have to say Flyboy Aviation. Dee and I got to be friends with Kelly and his father Wayne, and it's just a very special place. I spent probably about six weeks total on-site while I was working on the Hobbs Farm course in Carrollton, Georgia, and I spent almost every night of it at Fly Boy. Kelly was generous enough to offer me a room there whenever I was working in Carrollton, and Dee was able to join me for some of it. The whole place is amazing: the house is great, and the property is a dream come true. Kelly did a great job despite numerous limitations, and the course has some of the most memorable holes in disc golf. Just gorgeous.
DLH: I like a lot of courses and my outlook is influenced largely by John. I'd have to agree with John on my favorite non-Houck course being Flyboy. Kelly put a lot of thought into it, I got a personal tour and it's beautiful.  I love the whole concept of it being located inside the private residential community.
UWDG: Your resume is impressive and extensive, are there any other initiatives or programs you are working on?
JH: We always look for new opportunities where we can contribute to disc golf. We did create some workshops and will continue to develop those, and are looking into creating a certification process for designers who want an education. We recently started an inexpensive course review service for those who want to have their designs reviewed. More than anything, I'm always looking for ways to innovate in design and to find ways to create courses that will give players better and better experiences. There are some interesting things I am working on but it's too soon to say.
Dee's got a lot of energy and no one will ever know or understand how much she has done for disc golf and our business. Mirco Disc Golf Courses is Dee's latest venture, where she has created a design concept for smaller courses on smaller properties. These courses create access so more people can be introduced to disc golf and enjoy disc golf in their communities. Micro courses are based on design principles by HouckDesign and only designed by designers who have studied and learned them will be designing them.
DLH: I'm so excited about Micro Disc Golf Courses as it's heartwarming to receive emails from parents that their small children are really enjoying them, and from seasoned disc golfers that they were a lot of fun. The trick is to make them enjoyable to beginners and advanced players, and with every project that's our challenge. It's a whole lot more than just a putting course. It's a course that will still challenge you and you will want to come back and play it over and over.
3Discgolf was an idea that sprung from my desire to create a platform for discussions and get the thoughts from designers, developers, players, cities, landscape architects, clubs, private club owners, parks and rec staff, and city planners. Through a series of interviews, meetings, discussions, and a process, the members created initiatives that they felt would be beneficial to implement. The desire is to create greater cohesiveness, more clear vocabulary when it comes to design and development, and offer useful and helpful information to all that are involved in the design, development, and installation of courses.
---
mowing if grass is taller than 4-inches, some native grass seeding, etc ↩