Surprise knockouts include Barsby, Koling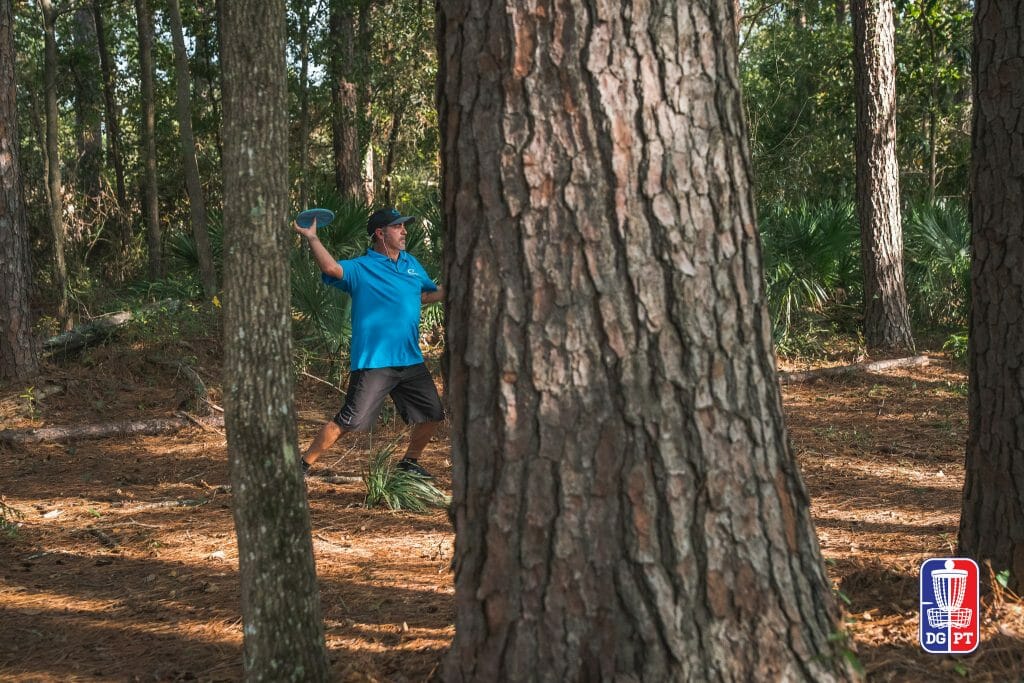 Maybe you've heard, Chris Dickerson is an excellent disc golfer. If you haven't, now you have no excuse. Dickerson duplicated his first round score on day two of the Disc Golf Pro Tour Championship, shooting another 10-under par 56 to advance to the semifinals. JohnE McCray matched the 56 on his first crack at the Elite track at New World Disc Golf in Jacksonville, Florida.
Dickerson had two bogeys on the back nine but was otherwise exceptional. He went six down on the front nine and 4-under on the back half. So far at the Championship, Dickerson has been accurate off the tee, hitting 82-percent of his fairways, and is putting at 94-percent from inside Circle 1 through two rounds.
McCray earned a bye through the qualifying round and came out swinging. The veteran, Florida native birdied the first four holes he saw and notched another birdie on hole 6 to go five down on the front nine. McCray went symmetrical after the turn. Birdies on 10, 11, 17, and 18 sandwiched a birdie on 14. McCray hit 56-percent of his greens in regulation, good for second overall.
Paul Ulibarri, Nikko Locastro, Seppo Paju, Simon Lizotte, Joel Freeman, and Calvin Heimburg will join McCray and Dickerson in the semifinals.
Hole 16: you couldn't dial it up any better. You can catch the live coverage of the @discgolfprotour Championship presented by @prodigydisc each day this weekend from noon-6pm ET. Tell your friends and watch! http://www.dgpt.com/watch

Posted by Disc Golf Pro Tour on Friday, October 19, 2018
Eric Oakley struggled mightily in his first look at New World. Oakley shot a 6-over par 72. He carded birdies on holes 10 and 15, but that was never going to be enough after a triple bogey on hole 9. A second triple on 18 was the nasty icing on top of a round Oakley likely wishes he could forget.
Jeremy Koling's DGPT season came to an end by the barest of margins. Koling shot a solid 5-under par 61, but it wasn't enough to advance thanks to Lizotte, Heimburg, and Freeman's 6-under par 60 rounds. Koling's putter has been a bit of an Achilles' Heel this season, and his round was no exception; Koling putted at 88-percent from inside Circle 1. He was three of six from Circle 2, but it wasn't enough to keep the large half of the Big Sexy commentary team's season alive.
Gregg Barsby's DGPT season is also over. The leader and hero of the Barsbarians shot an even par 66, took two double bogeys on the front nine, and two regular old fashioned single bogeys on the back half and that was, as they say, that.
Nate Perkins, Colton Montgomery, Reid Frescura, Drew Gibson, and Anthony Barela were also eliminated from the tournament.
The eight players that advanced now meet the top eight point-earners from the DGPT regular season in the semifinals as the format changes. Winners of each card move on to the finals, with one wild card spot reserved for the next highest score.
---
The semifinal round tees off at 12 pm, and will be livestreamed on the Disc Golf Pro Tour YouTube channel, with the four cards starting one hour apart from each other. Follow scores on UDisc Live and check back here on Ultiworld Disc Golf tomorrow for updates.