Weese and Bjerkaas also advance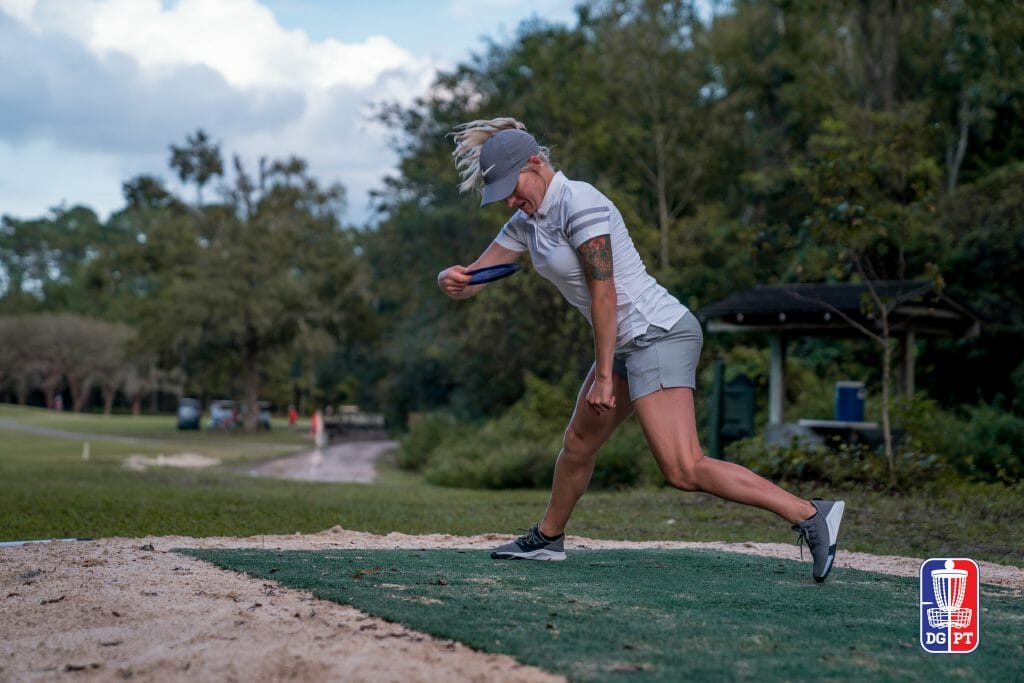 The match play, bracket style of the Disc Golf Pro Tour Championship made for a day full of drama and excitement. When the dust had settled, Catrina Allen, Sarah Hokom, Paige Bjerkaas and Jessica Weese advanced to Sunday's final round.
Different Rounds, Same Result
Allen and Hokom tied for the hot round, carding 5-under par 61. Allen started the round smoking, collecting three birdies right away. She completed the round with eight birdies, the most in the field, and three bogeys. Allen had three two-putts on the front nine, but cleaned up the putting on the back to end the day at 86-percent from Circle 1. She led all competitors in Circle 1 in regulation at 56-percent.
Hokom had a much slower start, playing clean golf but not carding her first birdie until hole 7. She caught fire on the back 10, with five birdies and one bogey. Much of Hokom's success came from being the only player in the field to not card an out of bounds stroke. She led all competitors in fairway hits and scramble percentage.
Hole 15: Sarah Hokom makes the island and has a look at birdie. Things are heating up here in the FPO division. Make sure you are watching the final few holes of the semifinals of the @discgolfprotour Championship presented by @prodigydisc live! http://www.dgpt.com

Posted by Disc Golf Pro Tour on Friday, October 19, 2018
Bjerkaas and Weese tied for the next best score of the day, carding a 4-under par 62.
Weese played on the first card of the day, and also came out strong with birdies on the first three holes. She executed an impressive 42-percent putting from Circle 2 to go with 88-percent from Circle 1. Bjerkaas carded seven birdies and three bogeys.
The Drama
Bjerkaas had the shot of the tournament thus far when she cashed in a 70-footer for birdie on hole 16. Had she missed that putt, she may have forced a playoff for the last spot in the finals with Paige Pierce. Playing on the first card of the day, Pierce carded a 3-under par 63 and had to wait on the later card to learn her fate.
---
As part of the ever-evolving DGPT Championship coverage, both women's cards were shown live on the DGPT YouTube channel. The FPO field will have Saturday off from competition, but play and live coverage of the field will resume when the final four play for the title on Sunday live.