Where the DGPT plans to expand, and how to adapt along the way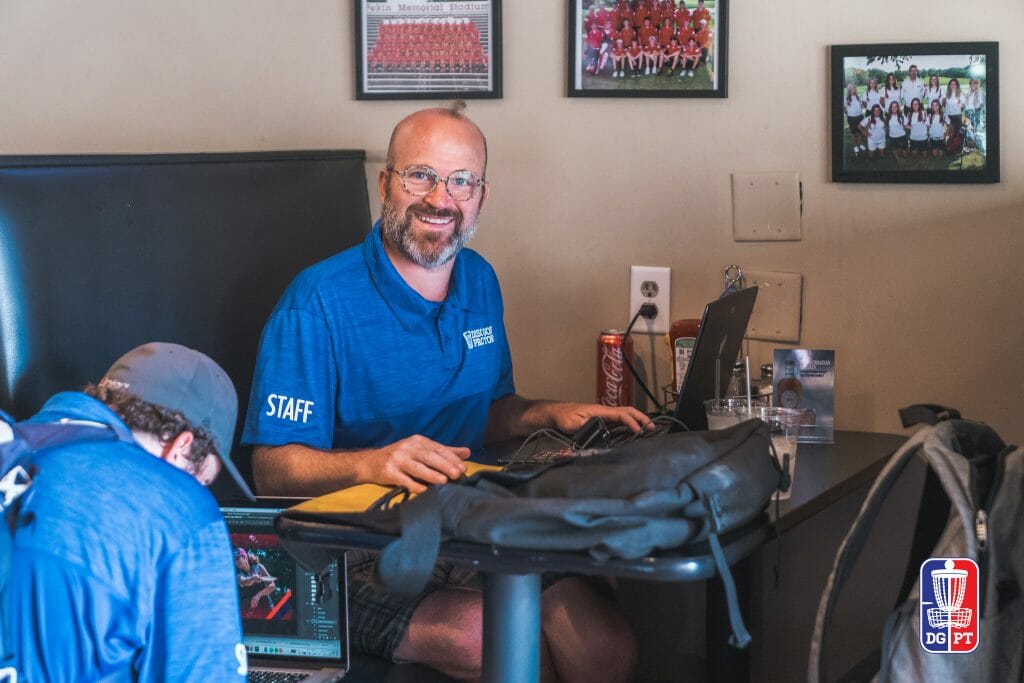 I was fortunate enough to be able to attend and report on the MVP Open at Maple Hill back in August. The weather was perfect, the golf was top notch, and the event overall was, to my eyes, a smashing success. Weather aside, those have been the reviews pouring in from attendees at Disc Golf Pro Tour events all season long across the country.
The DGPT has become one of the most important organizing bodies in the sport. Since it's inaugural season in 2016, the Pro Tour has grown from six events to 10 events in 2018, with plans to expand to 11 next year.
In addition to expanding the number of tournaments, the Pro Tour has been active in developing and improving the media coverage at their events. This season, every Pro Tour event was livestreamed by Smashboxx TV, and covered with post-produced footage by Jomez Pro and Central Coast Disc Golf more often than not. The Pro Tour has increased payouts at almost every event since 2017, and has brought us some truly amazing rounds this season.
The Pro Tour has established itself as the 800-pound gorilla in the room of the pro scene. They have stepped into the vacuum created by the Disc Golf World Tour's hiatus, and they have arguably supplanted the PDGA National Tour as the dominant touring organization at the professional level. The courses the Pro Tour decides to stop at and the policies they enact have significant impacts on the way the game is played and the players that are drawn to it.  Remember when people started talking about shrinking the basket? It was the Pro Tour which legitimized the idea, and it is not outside the realm of possibility that we will see smaller baskets at a Pro Tour event in 2019.
The man at the head of this dynamo is Steve Dodge, Tour Director for the DGPT. If you were at the MVP Open you definitely saw him running around the course checking in with players, laughing it up with sponsors and volunteers, making decisions and setting the tone for the entire tournament: fun and professional. Dodge looks like he is having the time of his life and that energy was infectious.
"Were you a camp counselor?" I ask him.
"No, I went to athletic camps growing up, but I never worked at one. I resemble [a counselor] though," he tells me laughing.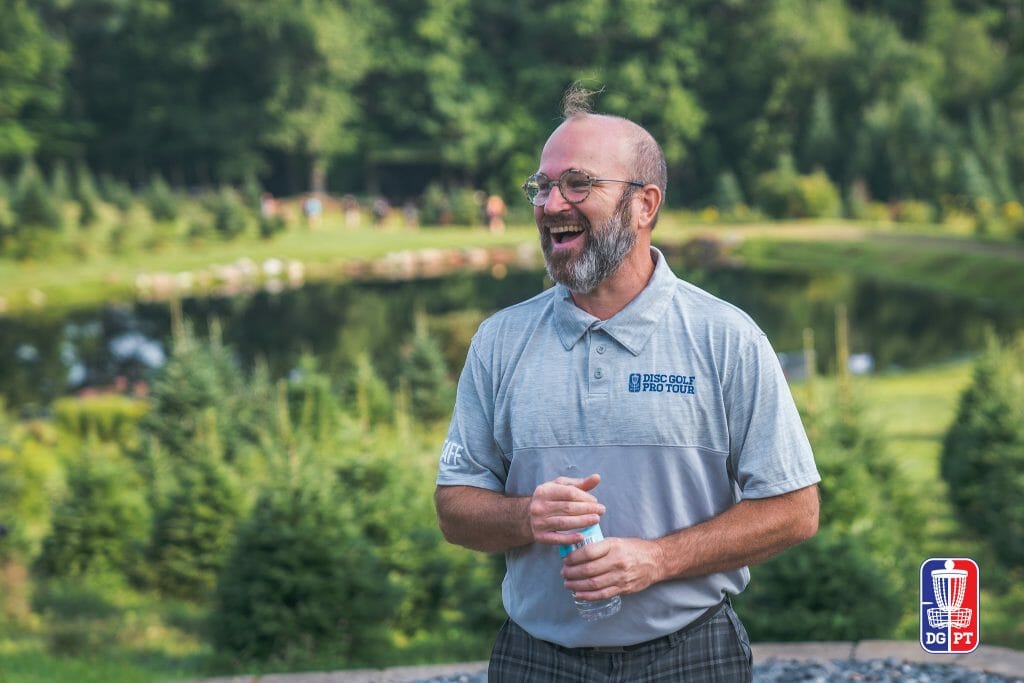 The Man Beneath The Tuft
Ultiworld Disc Golf: How did you get into the sport?
Steve Dodge: My introduction to the sport was in 1987 when a cool kid at college asked me if I wanted to go play. My first round would have been in Fredericksburg, Virginia. I was pretty good at it right away. On my second or third throw, I was able to throw straight and that was very fun. Just trying to pipe it was one of the more fun things I could ever imagine.
I was a math major in college went straight to work with the government as a mathematician for six years. I saved up some money and started my own business in 1995-ish which was a CD brokerage. We were a vanity press for CDs and some musicians. The original intent was to start a record label but I was making CDs for other people as opposed to making them for the people I liked. Seven years later I sold the business to my employees, and they are still going, check out tripledisc.com! After I sold that I got married moved up to Maple Hill and designed the first iteration of the Maple Hill course. I started the Marshall Street Disc Golf shop with Jason Southwick and we wanted the synergy of a course, a shop, and a tournament, and that took off obviously. Marshall Street grew to a point where I wanted to make it bigger. Jason was comfortable with where it was at and we parted ways. From there I kept pushing the idea through the Vibram Open, until this year the MVP Open. Somewhere along the way the idea was to build a model of how people could develop a sustained big event, and then the idea was to have a Pro Tour develop among those big events and it felt like the time was right so we made the jump to make the tour happen.
UWDG: How, if at all, involved are you with the New England disc golf scene?
Dodge: I used to be very involved with NEFA (New England Flying Disc Association) on the Board of Directors, and obviously ran a lot of events up there. I helped define the NEFA point series and set up team challenge as much as I could. I used to be very involved, but am no longer. One of the very great things that has happened to me is that the people up there still support me as much as I could possibly imagine. I'm up there three or four months of the year, and I am treated like a lost son when I come back. I see those people one or two weeks a year and it's so magical that people come out to support the way they do. I think Maple Hill is a magical place for a lot of people.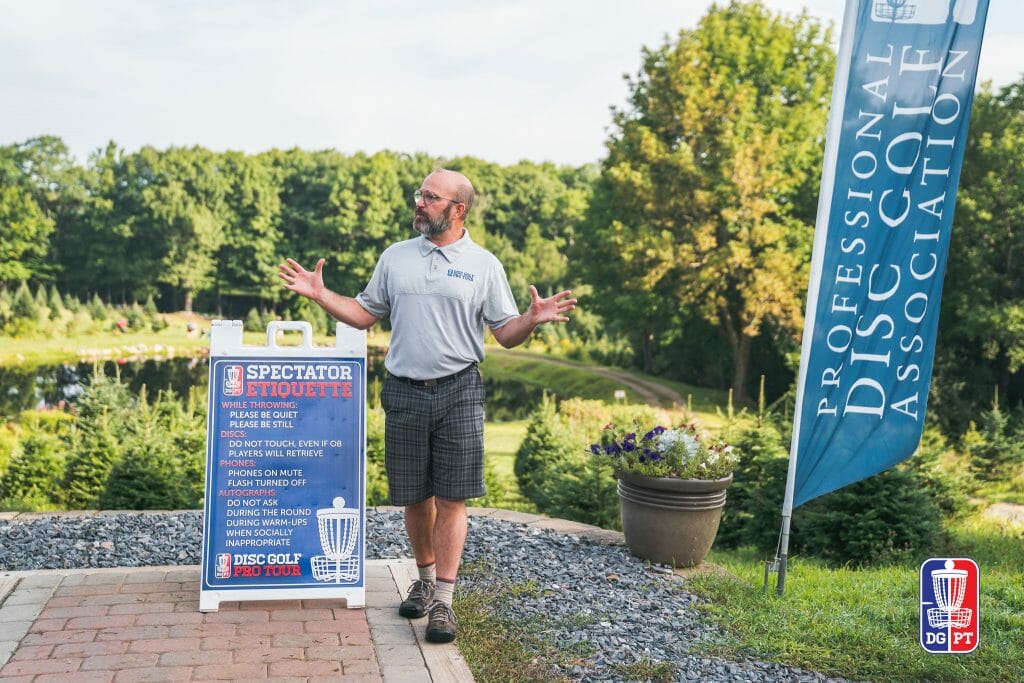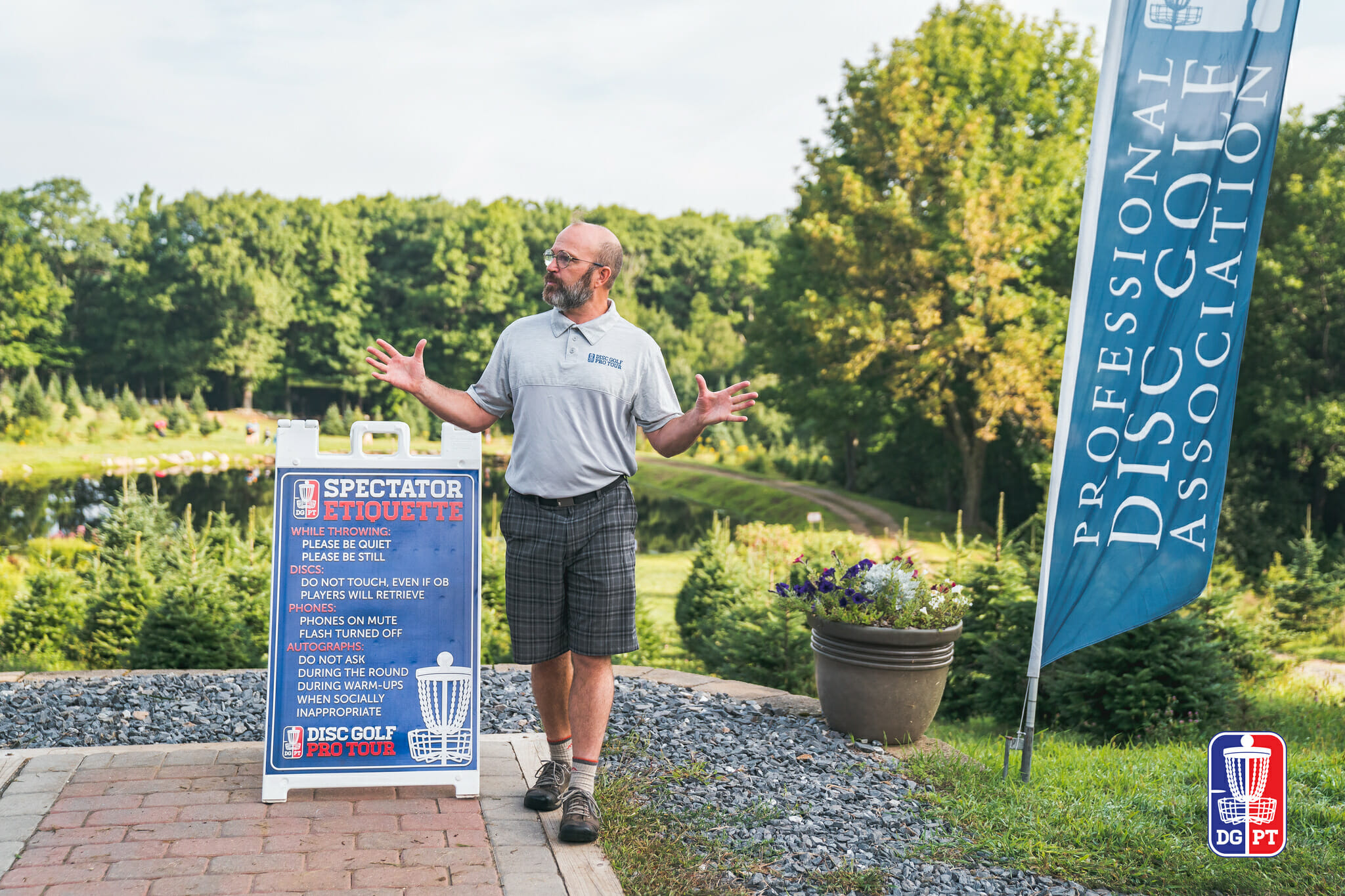 MVP Open
UWDG: What will you be aiming to improve on for next year? What went better than expected?
Dodge: The two big things we are focusing on for next year are player and spectator experience. Player experience I think was good but we didn't have enough room for all the campers that sprung up. We had plenty of room for tents, but when someone brings a camper van, that takes up a lot more space, and that was bigger than I anticipated. Next year, part of the lot will be reserved for vans and campers and RVs, and recognizing that the players are on-site all weekend which we want to encourage.
We've continued to improve spectator experience each and every year, this year when you park there's a program handed to you so there's an understanding of what's going on. The thing is — happily — we got overwhelmed with the number of spectators. Food could have even better, more options and more food. A food truck showed up at 11:30 a.m. and left at 2:30 because they sold out so quickly. It really felt like it was a shift where it's been building and will continue to build, but it felt like disc golf became a real sport.
From what I heard, there were over 100 people watching women between two cards, and it felt like rather than watching women play disc golf, it felt like people were watching athletes compete. For me, it's pretty significant and that's what we're all about. We want to be building events into things where people come to watch athletes competes. Our PR guy said that started to feel that way at Idlewild — they were there because they wanted to watch athletes compete.
This was the first year we offered VIP, Spectator Passes, Parking Passes, and Woodsman Passes. A tip of the tuft to Sean Jack who realized people would pay to attend, "as if it was a real sporting event," and that's because it was a real sporting event. These went off better than I hoped, and the interesting thing for me was the Woodsman Pass. Holes three through six at Maple Hill are in the woods and tight and we need to restrict people in there so we charged $5 to spectate in that area. It's a low barrier but enough to keep people out and overall it felt like it made the woods a little special and went much easier because you didn't have to corral more people. Next year there will be a limited number of those available. These are all learning things, we do it and adjust
MVP was fantastic. Steve Holloway is very hands-on, they did one or two visits before to measure for banners on the Sap House, the castle, and the opening on hole 1. They custom did a bunch of banners for Maple Hill, she was dressed up like a show horse! Working with them was fantastic.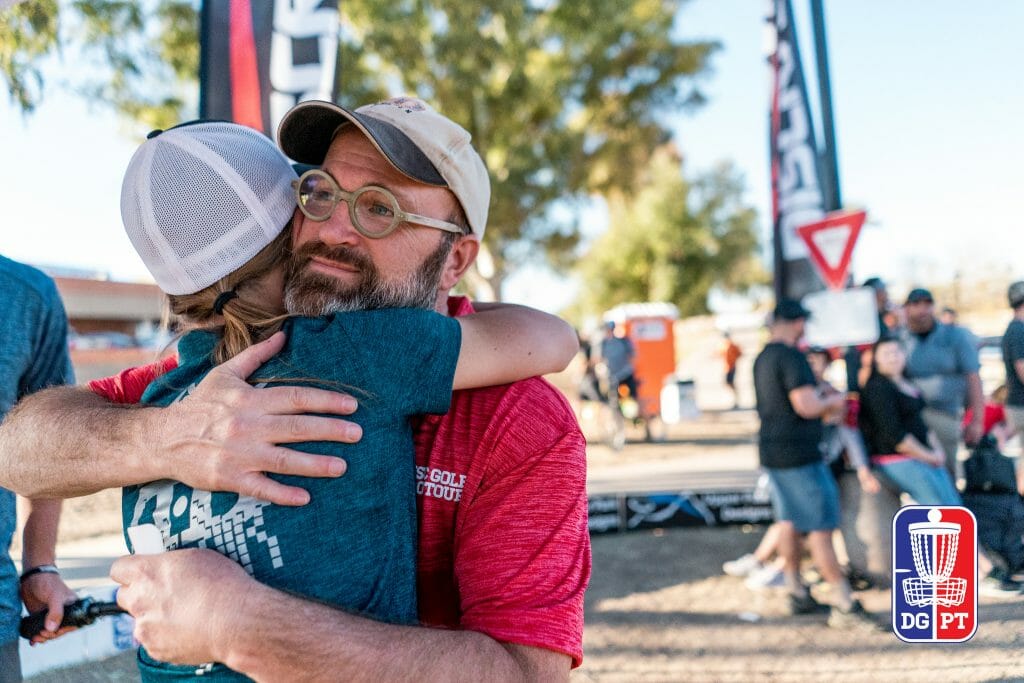 Courses and Controversy
UWDG: What are your thoughts on the conversations around course design and making the game more challenging for the top players?
Dodge: One of the interesting things about life is that in most conversations, what we say ties in around our core central beliefs and right now my sole focus is on having the Pro Tour be successful, and I think a lot about what success looks like.
About a month ago, I had a talk about course variety and tennis, and how they play on hard court and grass and clay. If you want to be a true tennis champion you have to be able to compete on all those types of courts, and in disc golf I think we have a wonderful opportunity. To have courses like Idlewild and Maple Hill that challenge players in woods, and to have courses like Vista and Fountain and Utah which challenge your distance and accuracy, and Jonesboro and San Francisco which challenge distance, elevation, and woods, and so course design is key. In my opinion, I would love to have 10 events and two or three be wooded; long open; elevated and hilly; and whatever the other variants are — ropes-type courses. There are a lot of different opportunities.
What I would like to see happen, which doesn't mean that it should, I'd like to see green open up to 30 meters. Inside 30 meters no jumping, stepping, falling forward. This defines greens as 100 feet, then it makes par easier and makes putting more real. The expectation is one putt now. Expand the green and you make it 1.6 or something, which would help us understand par better. The natural fallout would be a course design that says, I want them on the green. But if it's a good long 3 they're on the edge of the green, short they're on the green, and middling so on. Expanding greens to 30 meters just opens up course design.
Hole 9 at Maple Hill gets a lot of discussion of par and to me, a good shot gets you in position to get to the green in 3. I think we need more obstacles on the green and that tells players that they want to be on the right side, or the left side, and make the players think about where they are trying to get as opposed to just automatic in 30 feet. I think we need significant variety among courses.
UWDG: So you want players to be more thoughtful in how they approach the green, what about off the tee in more open courses like Utah?
Dodge: Hole 1 Utah, there's a bunker and the basket is right on a hill. The placement of holes is very treacherous indeed. Hole 2 has OB and bunker, and on and on it goes. Holes 5, 6, 8 having significant OB and bunkers near the pin, and usually there's a good amount of wind on the tee. Watching at home you may not necessarily see that. I think next year a wind graphic and some flag company could sponsor a flag graphic and having it on screen would remind commentators to talk about that so they can give insight about how the wind impacts the game, and I think that would be a great addition. I do think variety of types of courses is critical. (Ed. Note: The Utah Open will not be featured on the 2019 DGPT, but will be a DGPT affiliate, as the Utah Open organizers prepare for a 2020 PDG Pro Worlds Bid.)
UWDG: With variety in course design being so important, will we see any changes in courses hosting a Pro Tour event next season?
Dodge: We're in a really nice place right now and I think it will improve because we have lots of events and places that want to be on the tour. I get lots of calls, there are lots of projects from $50-300K going in all over the country, and they all want a name and they all want to be the Augusta or Masters. Having that every year is certainly in their wheelhouse. As many choices as we are likely to have, the deciding factors will be course variety, infrastructure, support from the town, support of golfers in the area.
UWDG: What is the Pro Tour looking to improve next year?
Dodge: There are seven groups we need to work very closely with, the PDGA being the first among them. They are the governing body of our sport, and they help define everything that happens in the sport, and no matter what we do the DGPT and PDGA walk hand-in-hand.
Working with Smashboxx and making sure that the livestream improves — 44:48 minutes was the average watch time at Idlewild, MVP had 46:47. These numbers may seem like only a couple minutes, but that's only a couple minutes times thousands of people. Viewer minutes over the past three seasons, went up 20-30-percent on average per event from 2016 to 2017, and 2017 to 2018 we are almost doubling average viewer minutes. The number of concurrent viewers is up 2,500 on average to just under 4,000. For the livestream, I want to try to get over an hour watch time [on average] which seems outrageous but it's not considering we've gone up so much this year. That makes it seem realistic. Working with edited crews and working with everyone is paramount because that's where the vast majority of eyeballs were. We had thousands on site for MVP but tens of thousands watching the broadcasts.
UWDG: Is there any plan to work more closely with the European Tour to more effectively coordinate schedules?
Dodge: It was a real interesting season with the Europe swing, and DGLO and Idlewild in the middle of it, and I love the fact that Paul [McBeth] stayed and won the tour points because he thought it was worth it, and other top players went to Europe and created a vacuum up top and we saw a lot of new names. We'll see that other players will go to Europe and have success and build a brand, and the newer names will stay and develop their brand over here. (Ed. Note: The DGPT rescheduled this year's Idlewild Open to accommodate pros that wanted to attend the European Open adn Idlewild Open.)
We haven't reached out to the European Pro Tour or arm of the PDGA regarding a Pro Tour event in Europe. When we start running events that are super comfortable with no little fires along the way I'll feel we have something replicable, but not yet.