Melton, Anthon, Conrad also crack double digits.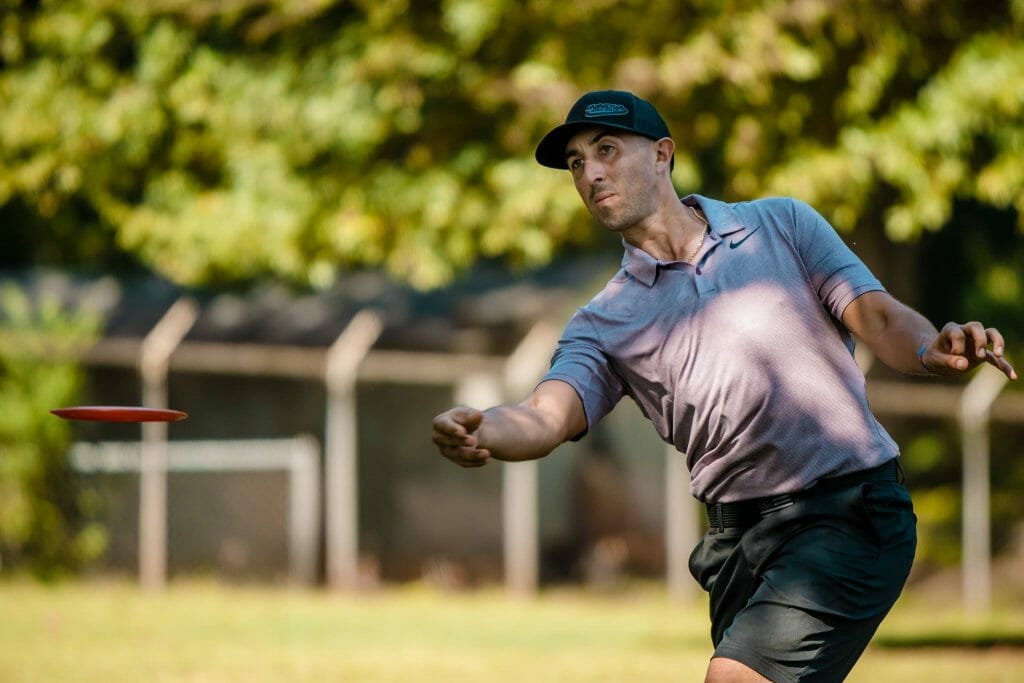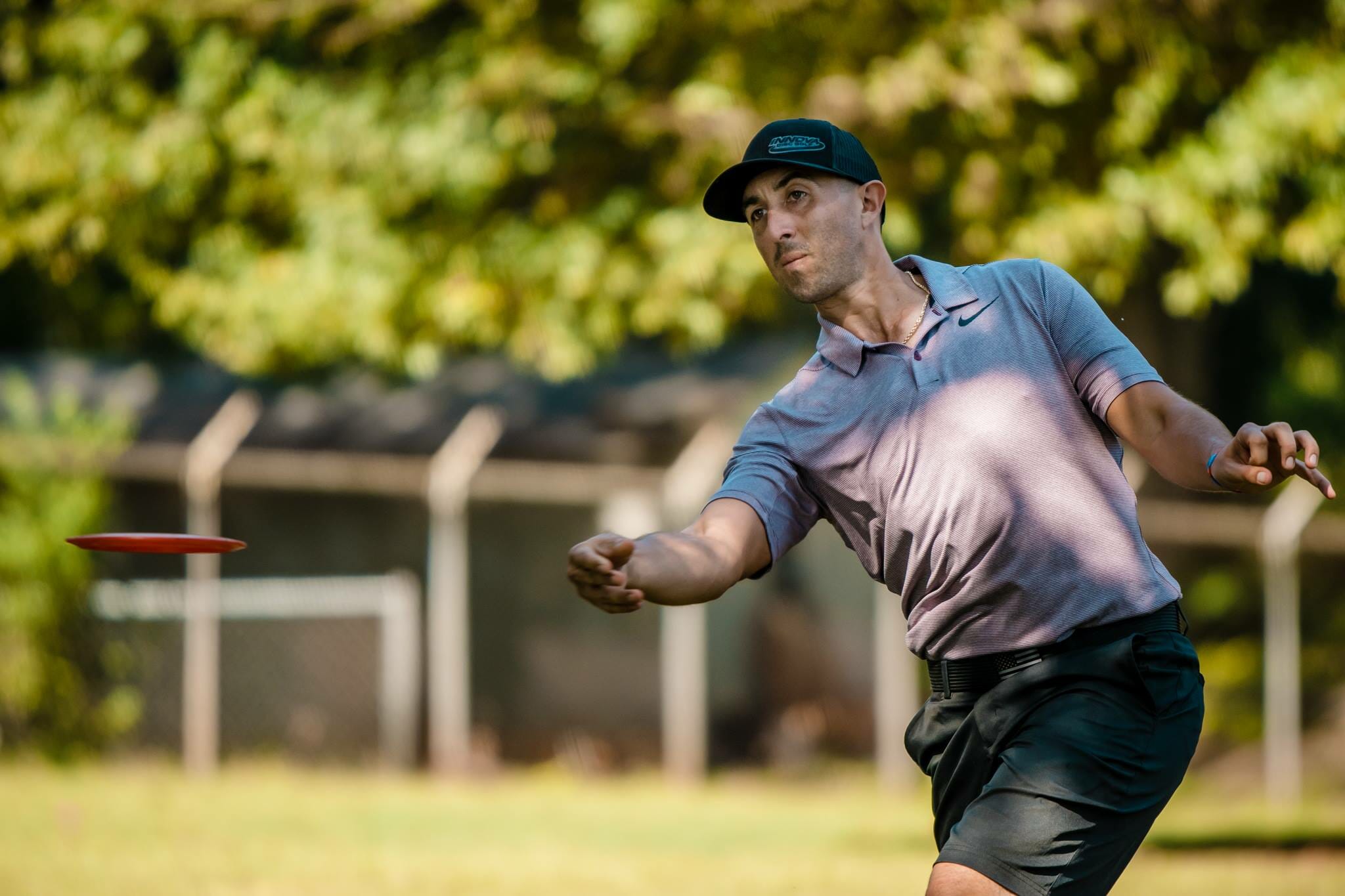 ROCK HILL, S.C. — Paul McBeth just threw one of the greatest rounds ever on Winthrop Gold without breaking a sweat.
In the opening round of the 2018 United States Disc Golf Championships, McBeth casually shot a 1088-rated 13-under par 54 and the only bogey-free round of the day, slicing up the course with pinpoint control and accurate distance. He didn't need to make hero shots or wild putts from distance because his drives and upshots were textbook.
"I was just putting the disc really close to the basket," he said.
The stats tell the story: he made the green in regulation on 16 out of 18 holes. He led the field in both Circle 1 and Circle 2 in regulation. His average putt distance on his birdies was just 15.2 feet. And he even left strokes on the course — he only went 1/4 on his putts outside the circle, and he missed a birdie putt inside the circle on hole 3.
McBeth has ostensibly shot better rounds here before. He has the two best rounds ever at USDGC — a 1095-rated 53 in 2014 and a 1094-rated 52 in 2013. But this round was different.
"It was nowhere near as exciting as those ones," said McBeth. "No eagles, missed putt in the circle, only one outside the circle. If you just wanted to see good golf, that's what I did today. I threw the disc great."
He will now join himself on the list of best rounds on a course with a scratch scoring average of 66+:


McBeth wasn't quite perfect. Aside from the missed putts, he went out of bounds once, trying a roller on hole 11 and leaving it short. He says that he will switch to an air shot for round two, as he feels the stickiness of the grass is going to make that roller too difficult to execute consistently. He also left his upshot short on hole 18 after a great drive and missed out on birdie.
But you can't really nitpick: he dominated the course and jumped out to an early two-stroke lead over Josh Anthon and Zach Melton. He's already in the head of his competition.
"[McBeth] shot 13 down," said Seppo Paju, who was McBeth's cardmate on Thursday. "It feels awful. Maybe if I played with somebody else, I would be OK with [being 2-under]. But it doesn't feel good right now. And that's why I went for the putt on 18, too; I would have laid it up otherwise. I knew that if I wanted to have any chance, I have to be making this, because he's 13-down, he's beating me by 11. But I don't think he's going to be playing that good all the time: it's impossible."
Zach Melton, Josh Anthon, James Conrad Crack Double Digits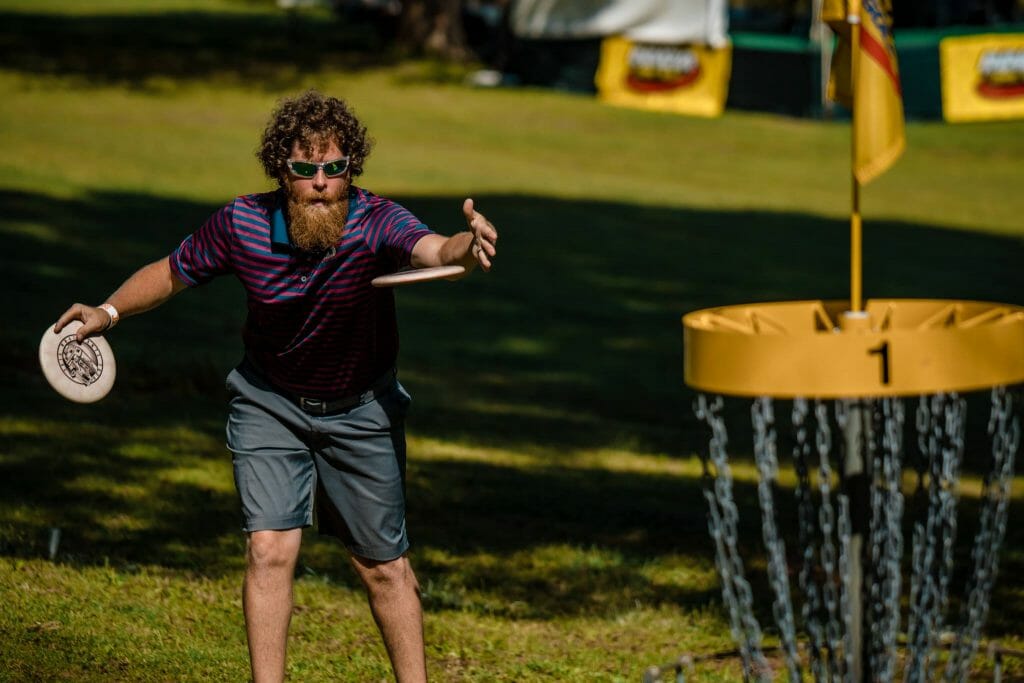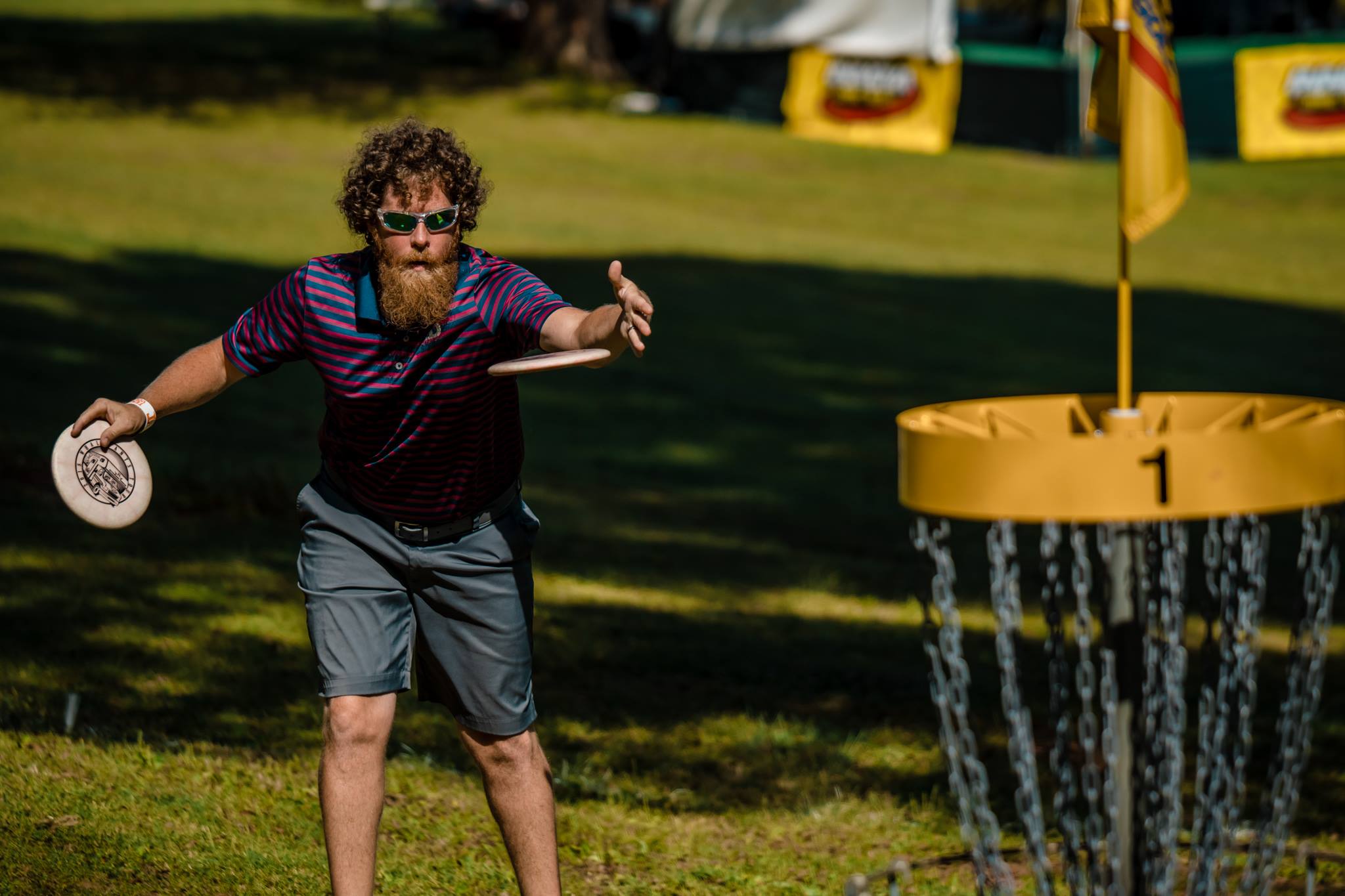 Joining McBeth on the lead card tomorrow are Zach Melton (-11), Josh Anthon (-11), and James Conrad (-10), the only other players to get to double digits under par.
Perhaps what's most interesting about the three is how different they are.
Melton, a lefty, took advantage of the course's natural inclination towards rewarding the ability to throw right to left. ("It's not bad to be left-handed out here, I'll say that," he said.) He also punched in some big putts from the edge of the circle and canned one of his two looks from Circle 2.
He also stayed focused on his game. He didn't even know his score as he walked off the course on 18. "I just tried to hit my shots," he said. "I didn't get super aggressive. When I did execute, I made all my circle one putts, and when I didn't, I took my pars. It's nothing fancy. Just don't go OB."
Anthon used a scintillating putting performance to card his 11-under par 56. He was perfect: he went 4/4 on putts from outside the circle and 14/14 from inside the circle. He also notched one of just six eagles on hole 10. Anthon has long played well at Winthrop Gold: he's finished in the top five three times.
Conrad, like Anthon, isn't much of a forehand thrower and hardly threw any, opting for hyzer flip and turnover shots on the holes that demand that left-to-right movement. Conrad also putted well, going 3/4 outside the circle, but was successful more perhaps because of his accuracy: he was tied for fifth in Circle 2 in regulation at 72%.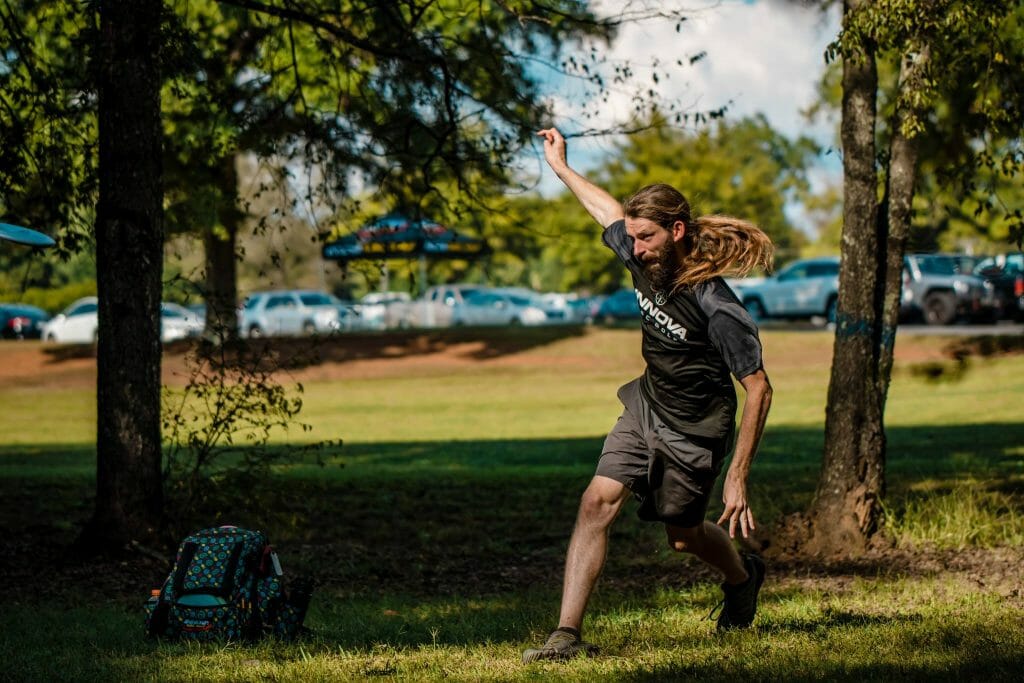 Logjam at 7-Under
Four players — Nikko Locastro, Gregg Barsby, Matt Orum, and Paul Ulibarri — finished their first rounds with a 7-under par 60. They will play together today on the chase card in what should be a great spectating opportunity.
All four players had some moments of greatness. Locastro, in particular, was electric, matching McBeth for the lead in Circle 2 in Regulation at 89%. Unfortunately for Locastro, he couldn't get his putter going. He went just 1/9 from Circle 2.
"It's hard to say what went wrong," he said. "I just hit the basket too many times, and I didn't hit dead center on the pole enough times. I think that if I can get my putts to fall for the next three rounds, I'll be in contention to win."
I watched Locastro warm up on the practice baskets for about 20 minutes before the start of the 3rd round at Worlds up in Vermont. At one point, I watched him make about 20 straight 50 footers. He looked like Steph Curry getting up threes before a game. That rhythm often seems to escape him when he's on the course. Maybe he should always carry a stack of putters in his hand.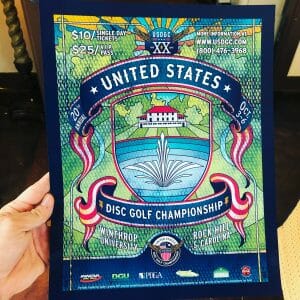 Hole 17 Punishes Former Champs 
Nate Sexton and Jeremy Koling, the 2017 and 2016 USDGC champions, respectively, both had very solid rounds going before stepping to the tee on hole 17: both were sitting at -7.
The menacing island green took its pound of flesh.
Sexton missed the green twice and carded a quadruple bogey 7. Koling went OB three times and took a quintuple bogey 8. Sexton finished the day with a 4-under 63; Koling shot a 2-under 65.
"Today was the 45th time I've played hole 17 in competition," said Sexton. "I've got a lot of twos, and I've got a couple sevens unfortunately. And today was one of the stupid sevens."
Big Deficits For Ricky, Eagle
Other top rated players face a long road to the top of the leaderboard. Ricky Wysocki was erratic both off the tee and with the putter and sits at 5-under, eight shots off the lead. Eagle McMahon is nine shots back at 4-under.
Notes & Quotes
Nick Wood with his ace disc.

After AJ Carey's ace on hole 1 early in the day, Nick Wood threw one on the iconic hole 17, just his second tournament ace of his career. "Out of my hand, it was perfect," he said. "Putter, dead straight at it. I practiced this course once. I played the hole twice, two putter shots. They were both in the circle. Just basically, ok, that's kinda my shot – straight putter. Out of my hand, it danced up and down because of the wind. Went in, went through the chains, sat on the back of the rim spinning…I thought it dropped on the outside, but it dropped in." Wood threw a glow KC Aviar and was beaming while chatting with fellow pros. "I might get a tattoo for this," he said.

"[The course] can get in your head. Every hole has teeth. You never know when you're safe or not." – Eagle McMahon
Ken "The Champ" Climo had already planned to withdraw from the event, but he played hole 1 to open the day as an appreciative crowd looked on before bowing out. Climo told me that he's just not ready to play a full tournament yet due to his hip injury. He hopes to rest up this offseason and get back out there next year.
"They don't call it the United States Forehand Championship for nothing." – Paul McBeth
"I threw great and putted horrible." – Steve Brinster on his 5-under round with six missed inside-the-circle putts
Matt Orum had one of the most impressive shots of the day after his tee shot went out of bounds left on the 18th fairway. He had to step up the hill with terrible footing and shrubs to his left impeded his delivery. He took a hard fall practicing the runup. "Not southern lie," he said. It didn't matter. He threw a beautiful upshot, sliding the disc down the wood chips and inside the circle to set up his par save. "I couldn't have done it no better," he said.
US Women's champion Paige Pierce (+14) and world champion Paige Bjerkaas (+17) both struggled during their first round. Bjerkaas was actually on pace for a very solid round but took a whopping 13 on hole 13 after going OB four times.
The booth for the livestream looks out onto the 17th green, and there are cameras dotted around the course, including three on 17 itself: a wide shot of the tee box from behind, a close up of the tee box from right in front of where players will throw, and a camera on a small platform over the water to catch the flight to the green. Here's a look at the technical setup: