Arkansas State and Hendrix will rely on veteran teams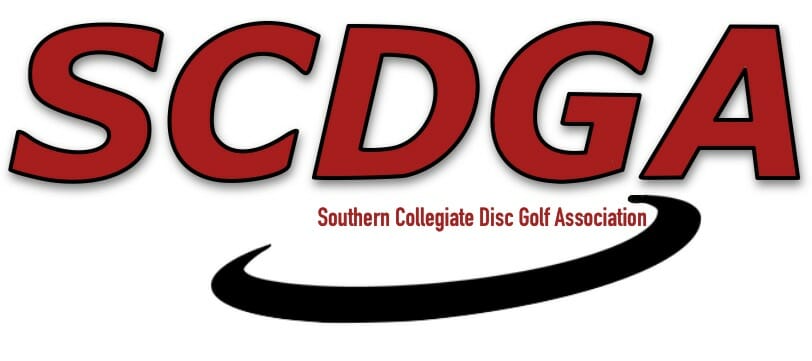 The leaves are turning, the smell from tailgates is in the air, and old rivals get ready to take battle. It can only mean one thing — the start of the college disc golf season.
The Southern Collegiate Disc Golf Association is back for its third year of competition with some familiar faces looking to hold off new challengers to make a run at a title. Nine schools will compete over a six week regular season, with the top six schools qualifying for the conference championship tournament to decide a champion.
The SCDGA was founded in fall 2016 with just five teams as a way to provide an opportunity for colleges in the south to qualify for the National Collegiate Disc Golf Championship, as well as providing a more structured environment for teams to play consistently and bring legitimacy to their programs.
Since, the league has grown to nine teams — University of Arkansas, Arkansas State University, University of Central Arkansas, Central Baptist College, Lyon College, University of Mississippi, Hendrix College, Southern Arkansas University, and the University of Tulsa — and provides a unique experience for college disc golfers. And with the league's growth, the more dedication and commitment it takes from these programs.
"What the SCDGA model has achieved is growing a highly-engaged group of college disc golf players," said Conference Commissioner Charles McCracken. "The battle rages throughout the entire season, as well as the offseason, as team programs increasingly push each other to practice and prepare for the two month sprint to the finish."
With the growing commitment also comes more prestige for the victors.
"Playing in the number one slot for your team, or gaining an All-Conference award is now something that collegiate players across three states strive for each year," McCracken added.
---
This year the SCDGA is moving to a points-based system. Each match consists of four matchplay events between individuals on each team — one point each — plus a team doubles round worth two points. Thus there is a minimum of six points available at each match. There is a possibility of a seventh point being available via a doubles playoff if the score is tied after both matchplay and doubles have been played. Matches cannot end in a tie.
---
For the first two years of competition, it has been Arkansas State who has dominated. The Red Wolves went on to finish third at the NCDGC in 2017, and with the team returning a veteran roster, including multi-year players Parker Sitton, Jesse Duvall, Eli Webb, and Kellan Mccann, the Red Wolves have their eye on the ultimate prize this season.
"Having the experience that we have coupled with the talent on this roster means we have some serious goals for 2018-2019," Sitton said. "The goal is to be National Champions at the end of the year. That's something we have had our sights on for a while now and we believe we have the team to accomplish that."
Sitton, who serves as captain, reflected on how far the program has come with the support of the university and local disc golf community.
"Interestingly enough, Jesse Duvall, Kellan McCann and myself were on the Arkansas State team that finished dead last at the 2016 Alabama Slammer," Sitton said. "Since then the growth we have experienced has been almost unbelievable. It seems like every person we add brings an exceptional level of skill to the table but also a desire to improve and help the team."
The road to a national championship first begins with the SCDGA, and the Red Wolves are on the hunt for their third conference title.
"Winning our third consecutive SCDGA title is another one of our goals for this year. This is the biggest and most talented the conference has ever been. Winning the championship in November would be tremendous," Sitton said.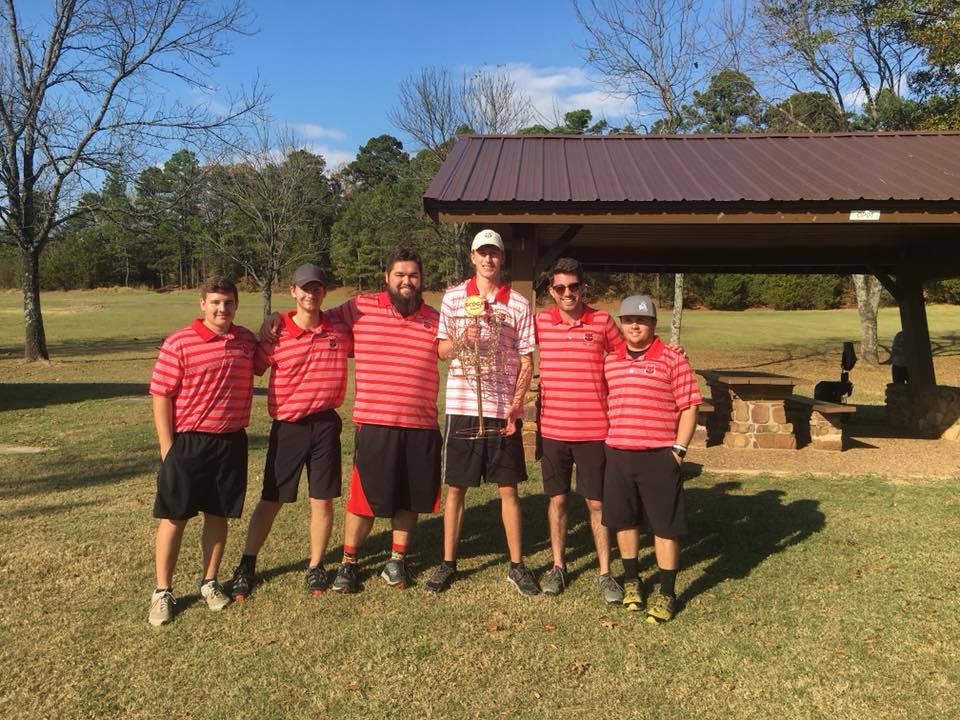 The Red Wolves got off to a good start to defending their title with a victory over Central Arkansas in the first week of play. Arkansas State won all four of their singles matches and also won doubles, a testament to the team's hard work and preparation.
"The work ethic on this team is the best I've ever seen," Sitton said. Before this past weekend's match against UCA, we had players asking their doubles partners to meet up throughout the week and practice their strategy. We had guys playing each other in singles matchplay to prepare that mindset. We want to be the most prepared team every single time we step on a course."
A challenger to the Red Wolves will be another charter member of the conference with loads of experience, Hendrix College.
Hendrix returns all four of their top players from last year, three of which have been competing since the program's inception in 2016. According to team captain Drew Coker, this gives them a leg up on the competition.
"We are really blessed to have such an experienced team this year," Coker said. "Charlie McCracken, Nate Mckenna, and I have been playing together now for almost three years and Patrick [Bell] was able to slot in with us really well last year. We know each other's playing styles, each other's bags, and what our strength and weaknesses are, which allows us to have a really strong doubles team this year."
Hendrix has been successful the past few years, but has yet to take a home a title. The team got off to a slow start this season, falling to Southern Arkansas in week one, but bounced back with a week two victory over Tulsa. The win gave Coker confidence in his team.
"We feel really confident going into this year and our goal is to take home a conference championship after coming close the past two years," Coker said. "To do that, we are going to have to commit to personal improvement and growth over the season, and continue to play to our potential that we showed this weekend against Tulsa. After a disappointing loss at SAU, it was really great to see the guys focus up and get a hard fought win."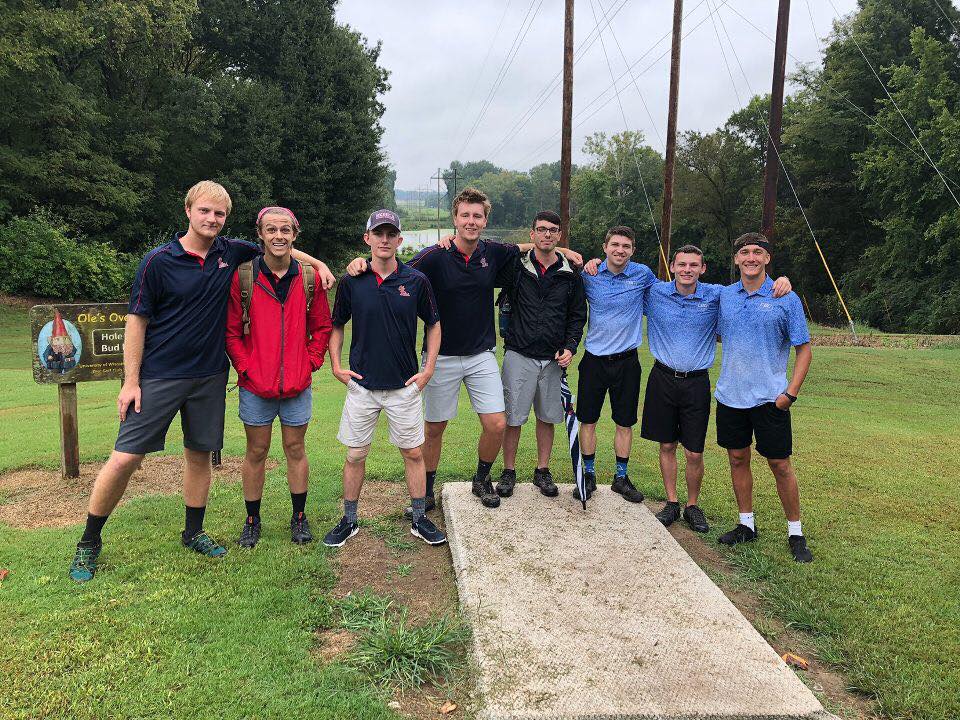 The first two weeks of competition showed that other programs will also be in the mix with the veteran teams such as Arkansas State and Hendrix.
In the first week, Ole Miss beat Lyon; Tulsa beat Arkansas; Southern Arkansas beat Hendrix; and Central Baptist beat Central Arkansas.
Week two saw Hendrix beat Tulsa; Ole Miss start 2-0 by beating Central Baptist; and Arkansas State beating Central Arkansas.
Week three action continues this weekend, and the six week regular season will be capped by the conference championship, which will be filmed by AnhyzerTV, on November 10-11.
The full schedule and standings can be found on the SCDGA's website.