10 meters, 10 quick hits. Notes on Michigan, the media scene, and the DGPT tour finale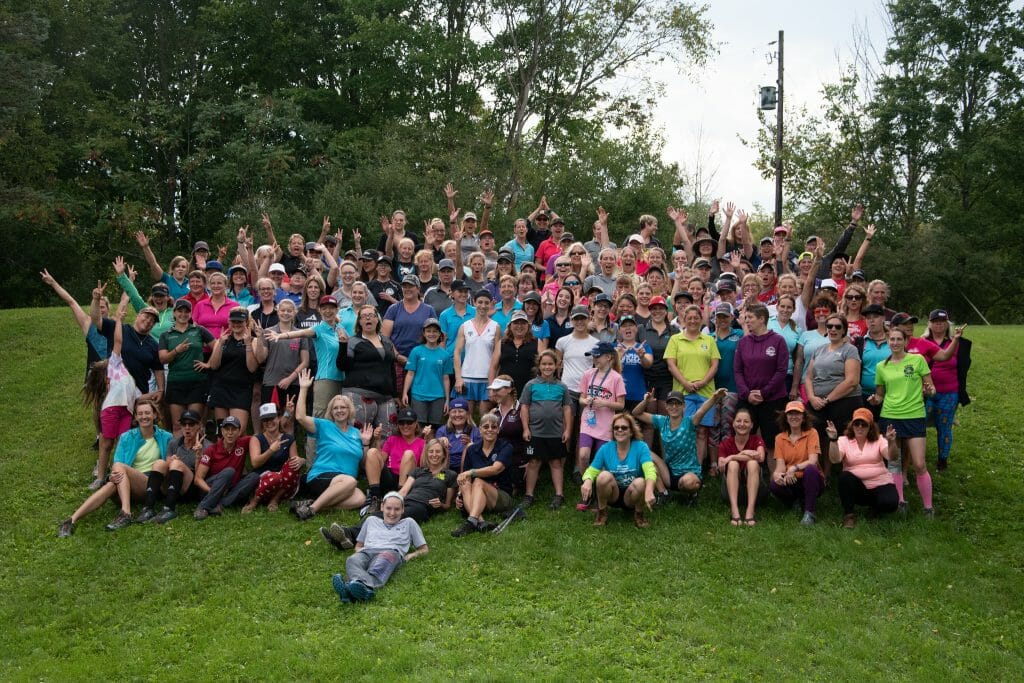 1m — Congratulations to Paige Pierce, Elaine King, Barrett White, Sandy Gast, Katy Hallgren, Carrie Ricketts, Caryn Shearer, Patricia Neprud-Mehls, Nancy Wright, Valerie Lucas, Jen Trombley, Veronica Burke, Lydia Lyons, Caitlyn Pair, and Ava Meyer — your 2018 USWDGC champions.
2m — What an exciting finish! In the Open division, seven women were in contention after the third round with only five strokes of separation: Paige Pierce (-12), Holly Finley (-11), Madison Walker (-10), Vanessa Van Dyken (-10), Kristin Tattar (-9), Zoe Andyke (-8), and Catrina Allen (-7).
3m — The storylines overfloweth heading into Sunday's showdown. Pierce was out front but only shot above her rating once and was trending ever so slightly downward. A worrisome sign? Holly Finley, 922-rated, was trending upward, surging onto the lead card with a 992-rated third round. Could she maintain her momentum and take home the biggest win of her career? Vanessa Van Dyken, 919-rated, shot a blistering 1016-rated second round on Saturday morning, momentarily catapulting her into the lead. Another 1000-rated round on Sunday would likely net her the W. Not to be outdone, Madison Walker recorded a 1012-rated round on Saturday afternoon and jumped from eighth place into a tie for third. A Major victory? Talk about a triumphant return to form after missing the second half of 2017 due to injury. Notably, World Champion Paige Bjerkaas and Delaware Disc Golf Challenge victor Sarah Hokom were already out of contention.
4m — I can't wait to see the final round footage of the USWDGC from Jomez Productions — Round 1 went up on YouTube earlier today. After eight holes, the top four were separated by two strokes. Pierce and Finley were tied at 13-under par with Van Dyken and Tattar just off the pace at 12-under par and 11-under par respectively. Tattar, who was making a run from the chase card, scored a birdie on the par 4 hole 9, moving into a tie for second. Moments later, Pierce regained her one-stroke advantage after carding the lone three on her card. The tenth hole proved consequential with each of the top four faring differently: Pierce birdied, Finley parred, Van Dyken bogeyed, and Tattar double bogeyed. What drama!
5m — Pierce saved her best for the last round. Apart from a bogey on the second hole, she played blemish-free golf on Sunday, including a nonchalant run of seven straight pars between holes 11-17. In each of her other three rounds, she recorded exactly five strokes over par per round. Overall, Pierce was a more consistent version of herself this weekend. She only deviated 20 rating points across four rounds and averaged 973-rated golf, one point higher than her current rating.
6m —I think that the PDGA should prioritize live coverage of the USWDGC next year. With all of the initiatives out there to grow the sport, especially among women, this seems like a no-brainer. Heck, I'm feeling proactive today, let's crowd-fund the thing. Terry! Hit me up! How much green do we need to get the SmashBoxxTV crew on the ground?
7m — If you haven't had the chance to watch Alyssa Van Lanen and Paige Pierce's vlog for the United States Junior Disc Golf Championship, check it out! I really like the co-host format. Also, not sure how I missed it, but AVL's Course Prep with Paige Pierce from Idlewild is also great. Succinct, high production value, unique insight — Van Lanen's film includes tournament footage and a post-tournament conversation with Pierce to assess how well she executed against the game plan. A-plus. Please make these the first entries in an ongoing series.
8m — The Disc Golf Pro Tour released their 2018 Tour Championship brackets last Thursday. For the uninitiated, the Tour Championship is a single-elimination tournament that hybridizes stroke and match play. I'm not sold on the format. On the one hand, the bracket tournament is exciting and different. Save for the biennial Presidents Cup, we rarely get to see professional golfers compete in formats other than stroke play. On the other hand, it seems gimmicky for a sport that prioritizes singles play — on a tour that emphasizes singles play — to conclude the season with such an idiosyncratic event. To top it off, this is the last big event before our intrepid road-warriors head home for the offseason! Maybe my waffling boils down to this: I like the format but not as a season finale. Now, if this tournament opened the year and was billed as a competitive icebreaker or a preseason warm-up? I'm definitely down with that. Maybe rebrand the tournament as a dash-for-cash style event. Seems more in keeping with the bracket tournament to me.
9m — I am cautiously optimistic about Fulcrum Media's planned USDGC live coverage. If you want to expand coverage to include the entire field, fixed locations and tower cams seem the obvious addition to shot-by-shot footage. This setup should capitalize on Fulcrum's experience covering ultimate frisbee. My concern is that they will under-utilize their access to the Jomez cams. Fingers crossed that their production shifts its focus to the feature cards down the stretch on Friday and Saturday.
10m — Mo' birdies, mo' money, mo' problems. I recently interviewed Nate Sexton for a forthcoming installment of View from the Top, and as you might expect, he's a fun guy to chat with. Having just written about smaller baskets in Circle 2uesday, I asked him how he felt about my column and the DGPT roundtable at the MVP Open. He chuckled and replied, "We should make the baskets bigger because the more birdies I've gotten the more money I've won." Sexton, who later expressed his preference to keep the baskets as they are, continued in this humorous vein, "I had no interest in going to the round table discussion — I was busy playing ping pong — but I joked that I was going to barge in there and say, 'Make 'em bigger! More birdies! All of us can shoot minus-18! We can all go on ESPN together!'"