The couple talks Worlds, Delaware, and highway toll stations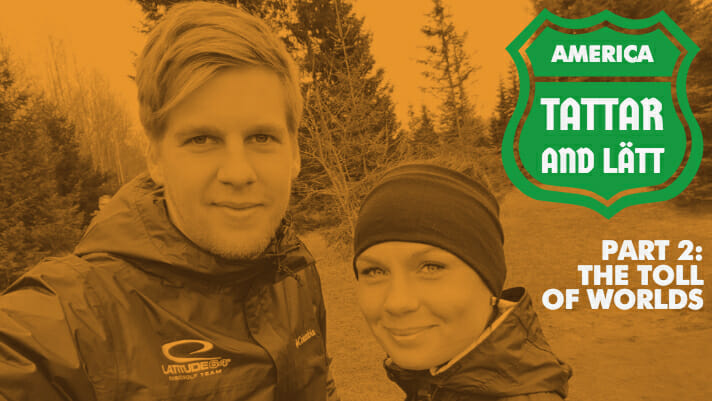 For those who didn't have the chance to read part 1 of this series, here are the basics:
Silver Lätt and Kristin Tattar are arguably the best Open and Open Women players from Estonia, and they're also a couple. The duo is traveling in the U.S. for five weeks, starting at last week's Disc Golf World Championships in Vermont, and ending with the United States Disc Golf Championship in South Carolina. Every week or so, I'm checking-in with them to find out how they're feeling about their adventures on and off the course.
Note: This interview was conducted before the Delaware Disc Golf Challenge.
Thoughts On Taking Second In The Pro Worlds Mixed Doubles Championship
It's likely many a disc golfers' dream to be able to turn over in bed one night and say, "Honey, do you think we should play the Pro Worlds Mixed Doubles Championship together?" and have the other person not only know what in the world you're talking about but also be possibly the person best suited to answer your inquiry. If that's the case, then Lätt and Tattar are living the dream.
Even more dreamy, the pair came in second at this year's edition of the event. They tied Matt Dollar and Elaine King for second, just two strokes behind champions Lisa Fajkus and Matt Bell.

"We had a very good first round but struggled a bit in alternate shot," Tattar said. "I missed a few short putts early in the round and I lost some confidence, but towards the end of the round we got back on track and made some good birdies to finish in the top three."
Even if Tattar felt she left a few putts out there, she's planning on having plenty of other chances to do her part for the mixed team in the future.
"We're happy with the result," she said. "And look forward to many more doubles competitions."
Reflections on Worlds: Lätt
As the couple had hoped, ratings higher than Estonia's norm were easy to come by at Worlds. The 996-rated Lätt (992 before the September update) averaged 1010-rated golf over the tournament's five rounds. However, like a true disc golfer, the greater part of his reflections focused on what he could have done better.
"It's almost impossible to play under my rating here, but I somehow still managed to do that in rounds one and five," said Lätt. "[I] started my Worlds with a ridiculously bad break on hole 1 when my approach hit the only tree on the fairway and rolled out-of-bounds."
Lätt then described how, after a short rebound, a spit-out on hole 6 once again derailed him and he just "ran through the round" from there.
Lätt put things back together, improving to a 1017-rated round two, absolutely destroying Fox Run Meadows on round three to shoot a 1060-rated round (his 9-under par 52 round at Fox Run was just one stroke off the day's hot round), and staying strong with a 1046-rated fourth round. These rounds helped him "ma[k]e a huge comeback from 161st to 31st place."
However, the five round format took its toll, and climbing higher wasn't an option.
"Final round was just too much for me," he said. "I had no concentration whatsoever, and it was a very slow and long round to handle."
That final 963-rated round saw Lätt finish Worlds in 48th place.
Reflections on Worlds: Tattar
As many readers probably saw, Tattar found herself on the Open Women lead card during the fourth round of Worlds, and things, to put it mildly, didn't go exactly to plan.
"I have been competing under pressure in a number of events, and I don't think the cameras and the excitement of being in the lead card got to me," Tattar said. "I just feel like nothing went my way. I don't want to say that I gave up, but I think at one point I did. I had 10 OBs in total for the round and that is way too much. I was pretty much fighting with tears the whole time and wishing that it would be over. After the round I was pretty emotional but there was nothing that I could do anymore – just get myself together for the last round."
The last round also got off to a rough start. Tattar took an eight on the first hole — "even in my worst nightmare I would never have thought it possible," she said — and then found even more OB later on. Luckily, Tattar was able to turn to Lätt at this moment, and he told her, "Kristin, you know you can play well, and that's all you need to think about." Lätt's support helped Tattar focus, and things quickly picked up.
"From hole 6 until the end of the round I was either in Circle 2 or 1 for birdie opportunities, playing the best golf I have ever played," she recounted. "That felt really good, so I was able to finish with positive emotions."
Tattar finished Pro Worlds in eighth place.
Previewing Delaware
Ultimately, both Lätt and Tattar are coming away from Worlds knowing the importance of a positive attitude, and they're hoping to transfer this knowledge to their performances at the Delaware Disc Golf Challenge.
"I was really confident while putting [at Worlds], so I hope it continues in Delaware," said Lätt. "I also hope to stay calm after bad breaks; there's no way anyone could avoid them in a course that narrow and wooded, like Iron Hill is."
Tattar is simply "trying to focus on all the positive thoughts." Most of all, she wants to keep Lätt's advice to be confident in her skills in the forefront of her mind.
"Also," she added, "the good news is that in Delaware there are no OBs!"
Ice Cream and Toll Stations
Of course, Lätt and Tattar haven't spent all their time on disc golf. They've taken some time to be good ol' fashioned tourists, too.
"We got a gondola ride up to Mount Mansfield in Stowe, [Vermont]," said Tattar. "I am afraid of heights and was nervously holding on to my seat the whole way while Silver was laughing at me, but once we got up there it was worth it."
For those who don't know, the 4,395-foot (1,340-meter) Mount Mansfield is the highest peak in Vermont.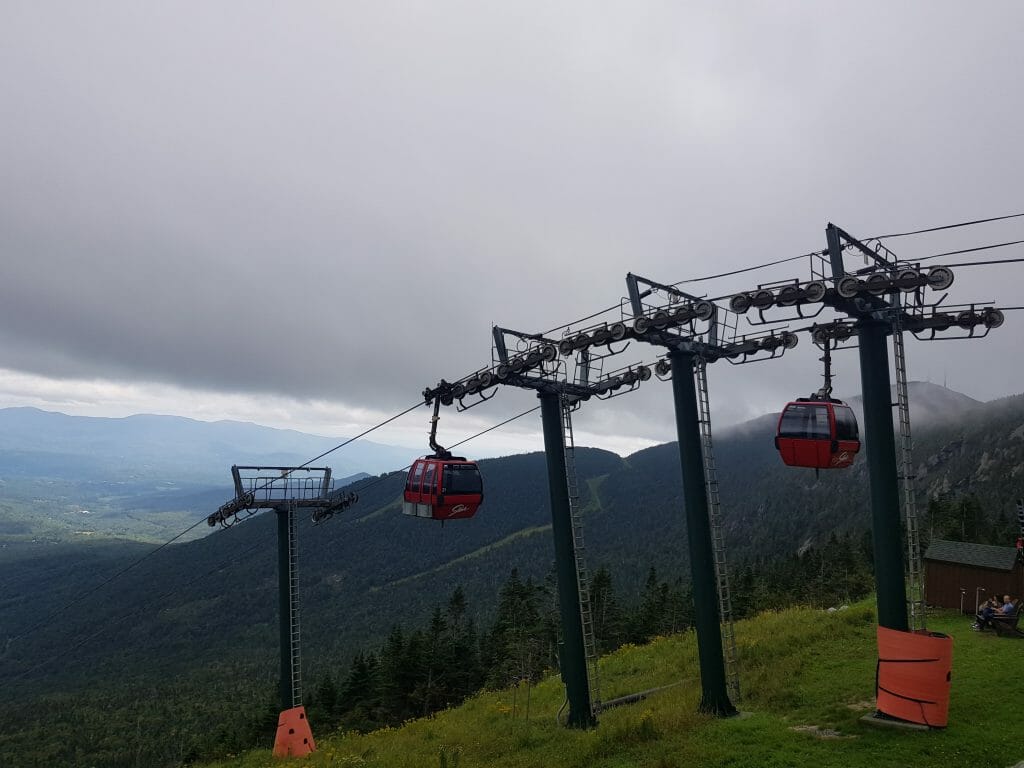 The couple also made good on their plans to visit the Ben and Jerry's factory where they "bought a ton of different flavors and loved them all." But, sadly, their whole journey hasn't been quite so sweet.
"While driving to New York at one point we stopped every 10 minutes or less to pay different amounts of toll," the pair recounted. "We were laughing about it all the time, but our faces got more serious once we made a wrong turn and had to drive an extra 30 miles to get back to the same spot and the pay the toll all over again. We've probably spent more money on tolls than on gas!…This system is very confusing for us because every time we pull over at a toll point, they look at us like we should know what to do but we don't."
If any readers have tips for them on this front, I'm sure they'd be happy to hear about them in the comments.