Tattar takes second in second American event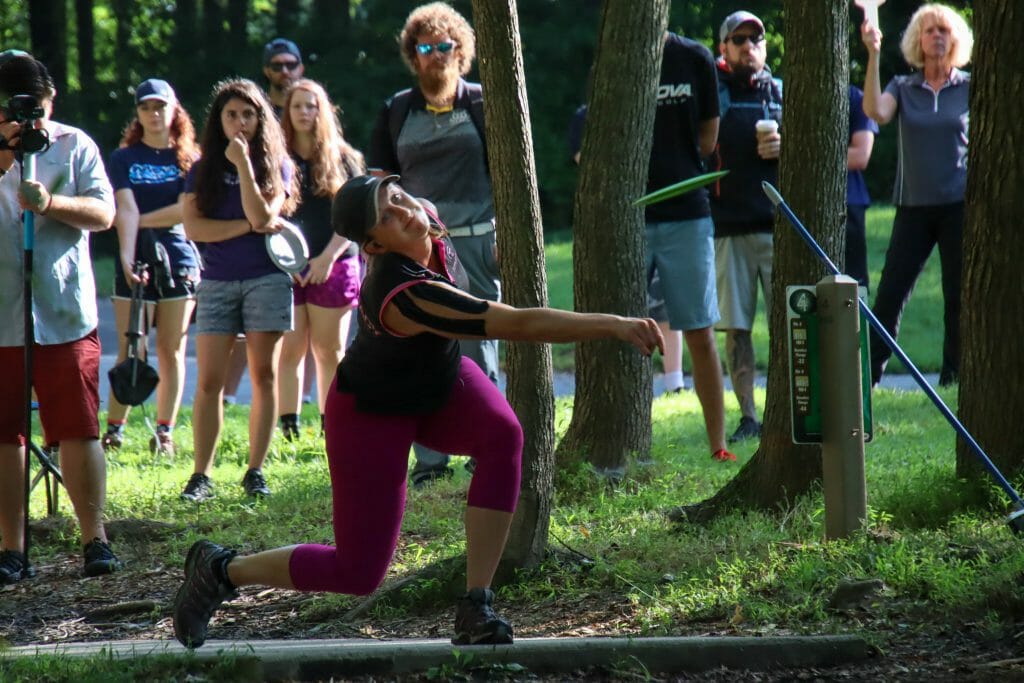 Sarah Hokom has been one of the three best golfers in 2018 with eight wins and several podium finishes. She can now add a National Tour victory to her yearly resume after winning the Delaware Disc Golf Challenge.
Hokom went into the tournament with a game plan focused on putting and playing smart golf. A 1-under par 71 final round brought her three day total to 7-under par 209, good for a five stroke win.
"My game plan was to get off the tee and have a very confident putt," Hokom said. "My putting was really off at Worlds, so I was focusing on that this week. And also to not get greedy, because a lot of times if you were off the fairway it was better to pitch-out and throw a clean open shot on the next one rather than try to mash through the woods."
On the often tightly-wooded Iron Hill course, Hokom knew that hitting lines was going to be paramount to find success.
"I think I managed my fairway drivers really well, which out there you really have to throw so many straight shots that go straight and finish straight. That's a huge key and I think I scrambled pretty well," reflected Hokom.
That plan paid off. While she struggled on the green in round one, she found her stride in the second and third rounds averaging 90-percent putting from Circle 1. Hokom also averaged a scramble rate of 68-percent over the weekend, good for second in the division trailing only Elaine King in that stat.
Coming off her third place finish at Pro Worlds, Hokom had some extra motivation to go after her third career win at Iron Hill.
"I had a little bit of fire in me because I didn't like how my performance ended at Worlds. It gave me some things to focus on this week, particularly putting. Also, the mental game, just staying positive and taking your medicine when you have to and not letting that affect your next shot," Hokom said.
However, with Worlds ending less than a week before the Delaware Challenge, and the United States Women's Disc Golf Championship starting this week in Lansing, Michigan, Hokom faced a difficult decision about whether or not to even play in Delaware.
"It was a long week at Worlds, and coming from a quick tournament at Nantucket, and then the MVP Open the week before, I've definitely been fighting fatigue for a little while," Hokom said. "That made things a little bit more difficult, I was even considering not playing the event because of the major…and the short time frame. But I really love Iron Hill and I love the people in that area. We got so lucky on the weather and I'm really glad I made the decision to go down there."
She credited Delaware TD Jimi McIlvain as being part of her decision to play the event.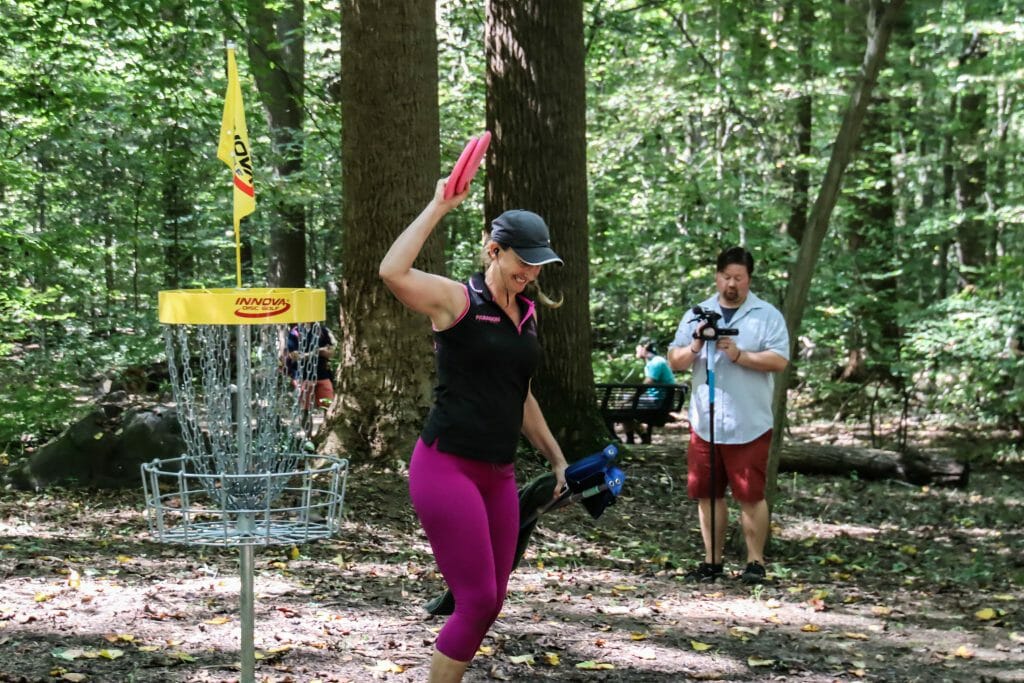 Kristin Tattar turned in a solid round three performance to take solo second place at 2-under par 214 total for the tournament. Tattar had a 33-percent birdie rate and 100-percent Circle 1 putting to lead all competitors for the round. Unfortunately, a double bogey on the treacherous par 5 hole 17 gave a couple of those birdie strokes back. But Tattar's strong backhand and forehand combo game helped propel her to an impressive performance at her first career National Tour event.
Paige Bjerkaas struggled in the final round, carding a 4-over par 76 to end in third place with a 1-under par 215 total for the tournament. Bjerkaas was able to hit the fairway 82-percent of the time, but only achieved a 44-percent scramble rate and 78-percent Circle 1 putting in the final round.
Catrina Allen turned in the hot round three, carding a 3-under par 69. She executed a very balanced game, with 94-percent Circle 1 putting, a 77-percent fairway hit rate and led all competitors with an 89-percent scramble rate for the final round. It was not quite enough to catch Bjerkaas however, and she ended the tournament in solo fourth place.
Several players, including Hokom, Tattar, and Bjerkaas now head to the USWDGC.
With her first place showing, Hokom will drop her Masters Cup NT points score, giving her a new total of 371.5, moving Hokom into third place in the season-long standings ahead of Lisa Fajkus. Allen will drop her Glass Blown Open score, and now have a total of 376 points. That puts her just 19 points behind the NT points leader Paige Pierce as they head into the NT's final stop, the Hall of Fame Classic in Augusta, October 12th.